It's Time To Recognize J.R. Smith Is An All-Time Great Shooter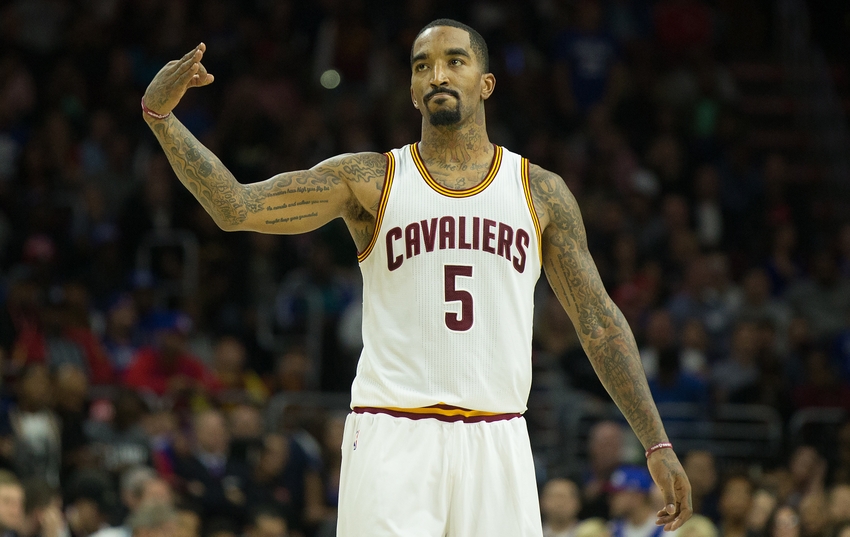 J.R. Smith needs to receive his credit for being an All-Time great shooter.
If there's anything that people have heard about J.R. Smith, it's that the "J" in J.R. stood for "jester" in his time with the New York Knicks. That's not an exact quote but the public sentiment could be summarized as such. Yet, while Smith did indeed fail to have some of his finest moments in the Big Apple, he still had a big game. In fact, he had two of his best seasons ever while playing with the Knicks.
In the 2012-2013 season, Smith won Sixth Man of the Year with averages of 18.1 points (a career-high), 5.3 rebounds (career-high), 2.7 assists and 1.3 steals per game while shooting 35.6 percent from three-point range. In that season, the New York Knicks won 54 games and Smith was the second-leading scorer behind Carmelo Anthony. In the 2013-2014 season, the Knicks only won 37 games but had career-highs in assists per game (3.0) and made what was, at that time, career-high 189 threes.
All that anybody ever brings up though, is this:
Yet, a not-so-brief look through of Smith's accomplishments is completely juxtaposes the general consensus of what was his character before he joined the Cleveland Cavaliers. Perhaps, it's why now that he's completely focused on basketball and family he looks like a much improved player.
It's not all to do with LeBron James. While James has been a tremendous influence on Smith's personal life and James' status as the best passing forward in NBA has put Smith in position to make a lot of open threes, Smith has only been James' teammate for 131 games out of the 847 total he's played. That's about 15.5 percent of Smith's total games.
In those 131 games, Smith has made 359 total threes. Smith has made 1,703 in his career. While 21.1 percent of Smith's three-pointers have come in his time as a player for the Cleveland Cavaliers, Smith has largely gotten to the 16th spot in three-pointers made in NBA history from his own accord.
The names that Smith has passed in the rankings, like Steve Nash and Stephen Curry, have titles associated with their playing days that reflect their positions as all-time great shooters.
Curry is only 62 threes behind Smith despite playing five less seasons and has a three-point field goal percent of 44.5 but he's the greatest shooter of all-time.
However Nash is 18 threes behind Smith despite playing in five more seasons. Nash still has the superior three-point field goal percentage (42.8 compared to Smith's 37.5). Yet, what's largely lost in all of this is that shooters like Nash or 15-year veteran Kyle Korver (202 threes ahead of Smith) who shoots a sparkling 42.9 percent from three-point range don't take the amount of tightly contested threes that Smith has taken.
There's no stat that I've found that gives statistics like how many contested threes Smith has taken per game.
However, just based on the eye test, only Curry, Jamal Crawford, Joe Johnson and Kobe Bryant have taken as many pull-up threes as Smith. Yet, if Smith continues at his pace of making at least 150 threes per year, he can pass Bryant for 11th all-time in three-pointers made in NBA history by the end of the season. There's even a chance he can pass former teammate Chauncey Billups at the end of the 2016-2017 campaign.
The crazy thing about it is all of those players have been in the league for at least 18 seasons. Bryant and Billups played for 20 seasons. What's more is only Billups, whose basketball mentality wouldn't have allowed him to take so many tough, off-the-dribble three-point attempts, has a higher shooting percentage than Smith and it's barely higher (38.7 percent for Billups compared to 37.5 percent for Smith).
When looking at Smith's career as a whole, and his place among the greatest shooters in NBA history, another stat jumps out. While Curry, Crawford, Korver and Vince Carter are all but certain to join Ray Allen, Reggie Miller, Jason Terry and Paul Pierce as the only players in NBA history with more than 2000 threes made, it's startling to see where Smith could end up all-time with ease.
If Smith plays until his 18th season (four more years) and averages 150 threes per season, Smith can finish his career with more than 2,300 made three-point attempts. Factoring in the likelihood that Curry finishes with the most three-pointers made in NBA history, Smith could have the fourth-most threes all-time behind only Curry, Allen and Miller.
Numbers like that don't just come along. If those are the numbers for who the NBA has deemed as All-Time great shooters then what does that make Smith?
Smith who, unlike Allen or Miller, has made a living of making tightly contested off-the-dribble threes off of a crossover in addition to his catch-and-shoot opportunities.
Smith has never been "the guy" on his team and in a way, that makes him comparable to Korver. Yet while Korver is a player many know will go down as one of the greatest catch-and-shoot players of all-time, Smith isn't commonly thought of as such.
It raises the question: "If Korver was making the types of shots that Smith has made, what would be his status among the all-time great three-point shooters".
Then again, Korver has never gave himself the public image that Smith has either. That's probably part of the difference in public perspective of these two players.
To hear people talk bad about me, it hurts me because I know it hurts him, and that's not who I am.
Still, while criticisms levied against Smith's immature character were accurate then, they aren't now. Just a few months ago, Smith was emotional in a post-game presser after the Cleveland Cavaliers won the NBA Finals. Smith broke down and cried when talking about the support of his father, Earl Smith Jr., saying, "To hear people talk bad about me, it hurts me because I know it hurts him, and that's not who I am".
Smith's past is no reason to downplay his status as an all-time great shooter. Smith will go down as one of the top four of five shooters in NBA history and as such, the Cleveland Cavaliers have a legend on their hand.
Not just a Cleveland legend who holds the franchise record for threes made in a game and who appeared shirtless at the Cleveland Cavaliers championship parade. An NBA legend.
Do you think J.R. Smith is an all-time great shooter? Let us know in the comments section or Twitter @KJG_NBA.
More from King James Gospel
This article originally appeared on