It's time for Erik Spoelstra to show some faith in Derrick Williams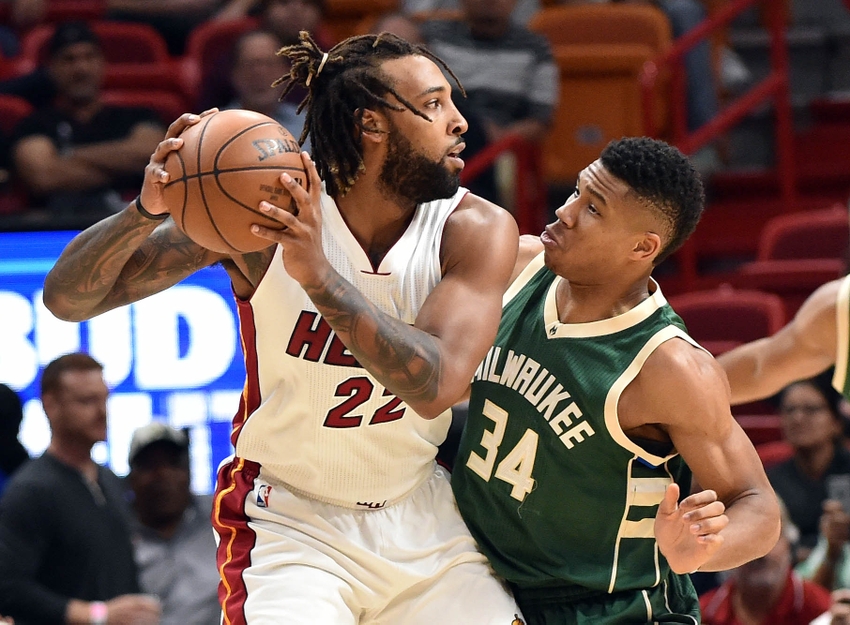 Derrick Williams signed with the Miami Heat in the hopes of fulfilling his potential. But so far, things haven't turned out as he would've hoped.
There's a fair chance that upon signing with the Miami Heat this past off-season, Derrick Williams was confident that Chris Bosh was unlikely to appear again in a Heat uniform. Having found himself in one frustrating situation after another, Williams was searching for some stability. And furthermore, a chance to demonstrate the skills that propelled to him to being the No.2 overall pick of the 2011 NBA draft.
In a pre-season sit down with Manny Navarro, Williams explained that he turned down more lucrative offers in order to sign with the Heat. Generally, players who do this are those in the latter stages of their career in the chase for an elusive title.
In Williams' case, opportunity and the chance to learn and improve under the Heat's system were the certainly the deciding factors. He noted in the interview:
"I've been here since August 2nd, and I just feel like I'm a much better basketball player already than I was at the end of last season. You learn stuff every day in this organization — not just on the basketball court, but the mentality is a lot different. The vibe is much different. Everybody is accustomed to winning. We're not about trying to win a certain amount of games. We're here to make the playoffs."
For his part, head coach Erik Spoelstra noted the following in the midst of the Heat's pre-season campaign:
"He really is in an extreme circumstance by playing for [four] teams and eight different coaches. That's not ideal. We think this is the right fit at the right time for him and us. I'm glad that we're able to have him. He's had great instability in his situation. We feel that our consistency and stability can be something that can help him."
Williams started in five of the Heat's preseason games and it seemed he was set to take over the starting power forward spot. However, things haven't panned out as Williams would've hoped to this point of the season.  Over the first seven games, Williams played a total of three minutes. Those three minutes of play came in the dying stages of a loss at the hands of the Oklahoma City Thunder. Granted, it is an 82-game season and as the saying goes, "it's a marathon, not a sprint."
Read More: Win or lose, it's too early for the Heat to panic
However, the start to Williams' Heat career has somewhat been a kick in the face. Particularly when you consider that Williams had not any stage missed more than two consecutive games in his first five seasons in the league.
Following the first game of the season, Spoelstra gave this explanation for Williams' absence:
"We wanted to keep the rotation tight, but it is not an indictment on how he's playing. I'm just trying to simplify the rotation, but we're going to need him."
A fellow newcomer, Luke Babbitt, was instead chosen at this position, and would start for the first eight games. With the Heat professing to play at an increased pace this season, Babbitt's starting role didn't seem to add up. Babbitt averaged 5.9 points and 2.6 rebounds while shooting just 32.7 percent from the field. Why it took eight games to look for an alternate starter is a legitimate question.
Williams showed promise in his first meaningful minutes for the season in a home loss against Utah. Coming off the bench he posted 11 points on 5-of-8 from the field and four rebounds in 20 minutes of playing time. He subsequently has started the past three games. However over these three starting appearances, Williams is averaging just 16.3 minutes per game. His numbers in this time have certainly not been pretty, averaging 4.3 points per game on just 31.6 percent shooting.
Naturally, critics may point to these numbers as a way of justifying Spoelstra's early season use of Williams. But a couple of things need to be taken into account. Firstly, Williams is of course new to the Heat this season. This naturally will bring with it an adjustment period on both ends of the floor. Coupled with this was the absence of point guard Goran Dragic for his first two starts of the season. As a new player, and one whose game is suited to high energy and cutting through the lanes for scoring opportunities, the absence of the Heat's leading point guard certainly doesn't assist with Williams transitioning into this role.
But the main issue at hand here with Williams is confidence. Not playing in the opening seven games of the season with a new team will diminish the confidence and self-belief of almost any player. It was a very curious decision to treat Williams in this manner. This wasn't a D-League call-up or a rank bench-player accustomed to being the 11th or 12th player on the roster. Williams is now in his sixth season. He had started 101 games prior to this season. He was a former No.2 overall pick, and has shown at times what an explosive contributor he can be when afforded the chance.
Case in Point No.1:
Williams' second start for the season was against the Atlanta Hawks. With just under nine minutes remaining, in the third quarter, Williams made an innocuous, accidental mistake which resulted in a turnover. This moment can be seen below:
As can be seen, Williams was a half-a-step over the baseline when he received the pass from Josh Richardson. One could easily argue that Richardson was just as much at fault as Williams for the error. The result was that after scoring six points on 3-of-8 shooting in 18 minutes, Williams was immediately benched and would not return to the game.
Case in Point No.2:
Against the Bucks, Williams started off the game shakily, shooting 1-of-4 for 2 points in the first quarter before the following occurred below:
Following this missed three-point attempt, Spoelstra immediately motioned to the bench. James Johnson would be inserted to replace Williams. This occurred at the mid-point of the opening term. As a result of this substitution, Williams would not appear again until the second half. When Spoelstra had the opportunity to replace Johnson, he instead reverted to Babbitt for the remaining three minutes of the first half. The second half would see Williams play in the first eight minutes before being replaced by Johnson for the remainder of the game.
Listen: How the Heat broke its six-game losing streak with win over Bucks
Williams appeared quite hesitant at various stages of this game in particular, and who could blame him. On more than one occasion he would receive the ball with less than five seconds on the shot clock, only to pass it off to a teammate. Having been benched the previous game for what at worst could be deemed a brain fart, Williams was naturally going to be looking over his shoulder for any missed shot or mistake.
These actions from Spoelstra's simply don't add up. If he were to bench either Dion Waiters or Hassan Whiteside for every boneheaded play or forced shot, he would making a hell of a lot of substitutions each game. Waiters, in fact, can be used as an example of how letting a player work through his mistakes can pan out. The early part of the season has seen Waiters at multiple times of each game make a terrible decision, whether it be a forced shot or an unrealistic pass attempt.
But in two of the Heat's past three games, Waiters has posted games of 27 and 23 points. Amazing what can happen when a coach has confidence in a player.
From a league-wide perspective, Nick Young of the Los Angeles Lakers is a prime example of a player flourishing with the coach's backing. Having struggled mightily in recent seasons under head coach Byron Scott, Luke Walton's arrival has seen Young revitalised. Known primarily for his scoring ability, Walton had faith in Young that he could turn his career around on the defensive end. As Young noted recently:
"Luke has been unbelievable. For him to give me a chance through everything, and for me to still be here, that's great. I'm just gonna go out there and give him 100 percent every night."
Williams has endured some substandard coaching himself, including two separate stints under Kurt Rambis, and the beginning of last season under Derek Fisher. Upon signing with Miami, Williams made mention of the guidance that Spoelstra could provide in helping him reach the next level in his career.
However, unlike the situations in which Young and Waiters have found themselves, Williams hasn't received the faith of the coach in his abilities. With the season still in it's infancy, lets hope Spoelstra can afford the faith and opportunity that Williams is seeking.
This article originally appeared on