It's All Coming Together for Nik Stauskas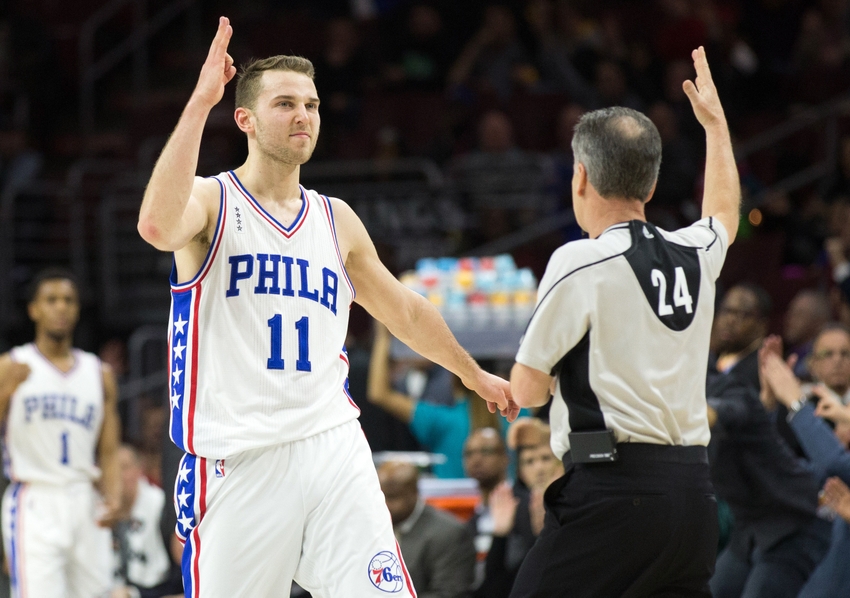 After having two relatively mediocre seasons to start his career, Philadelphia 76ers' Shooting Guard Nik Stauskas is giving the team a much needed spark of Sauce.
The Philadelphia 76ers have been a team with dire needs at a variety of positions. One of the major needs for the team was valiant guard play. That being said, it seems like Canadian shooting guard Nik Stauskas, among others, is finally fulfilling that role.
During the last few seasons, the 76ers have lacked in the guard department. Having to start guys like Damien Wilkins (2012-2013), James Anderson (2013-2014), and Chris Johnson (2014-2015) showed how thin the team was at that spot. When you have guards producing a measly 6.4, 10.1, and 6.0 points per game, you know its time to change things up. Moves needed to be made to fix this problem.
When the Sixers acquired Stauskas (a.k.a. "The Sauce") back in 2015 from the Sacramento Kings, he appeared to be the solution. Throughout his college basketball career, he was one of the key contributors to the 2013-2014 Michigan Wolverines team. Because of this, he ended up winning the Big Ten Player of the Year that season, too. That is no small feat.
More from The Sixer Sense
Unfortunately, Sauce's NBA sophomore season went sour. While he did improve upon his rookie year, it wasn't the sort of stride that the team needed. He only shot 32.6% from three point land. On top of that he scored a mediocre 8.8 points per game in 24.9 minutes of play. The Sauce Hypetrain was going nowhere fast. So much so that he almost got cut.
Luckily, that didn't happen. Now we're beginning to see it all click for the Stauskas. His three-point percentage is through the roof, at 45.1%.  The Sauce is top 10 in the league in that area, above the likes of Kevin Durant, C.J. McCollum, and Kyrie Irving. He's also shooting 51.2% from the field. This is all coupled a career high 10.3 points per game. The man is balling out, to say the least.
Now, the question now is, can Nik Stauskas maintain this momentum? Watching him play has been satisfying to say the least. Sauce plays the game at a more efficient pace and doesn't settle for bad shots. He isn't dependent on hitting the three, even though it works for him. Sauce can finish at the rim with the best of them this year. It almost feels like he's mimicking John Wall or Derrick Rose at times. It's truly a sight to see.
One thing that you notice with Sauce this year that he was lacking in last year is confidence. Obviously, the sports psychologist has been doing his/her job. It seems like he's playing with a swagger that we haven't seen out of him since his days as a Wolverine. Stauskas is becoming a legitimate player as a result of this rebirth in the Sauce swag department
Hence, this is the Nik Stauskas that we were promised when Sam Hinkie acquired him during the summer of 2015. This Nik Stauskas puts up points with his three point daggers as well as his ability to drive in the paint. With this sort of play Sauce Castillo is bound to make himself a mainstay with the Sixers for your years to come.
This article originally appeared on