It is time for Frank Vogel to shake up starting lineup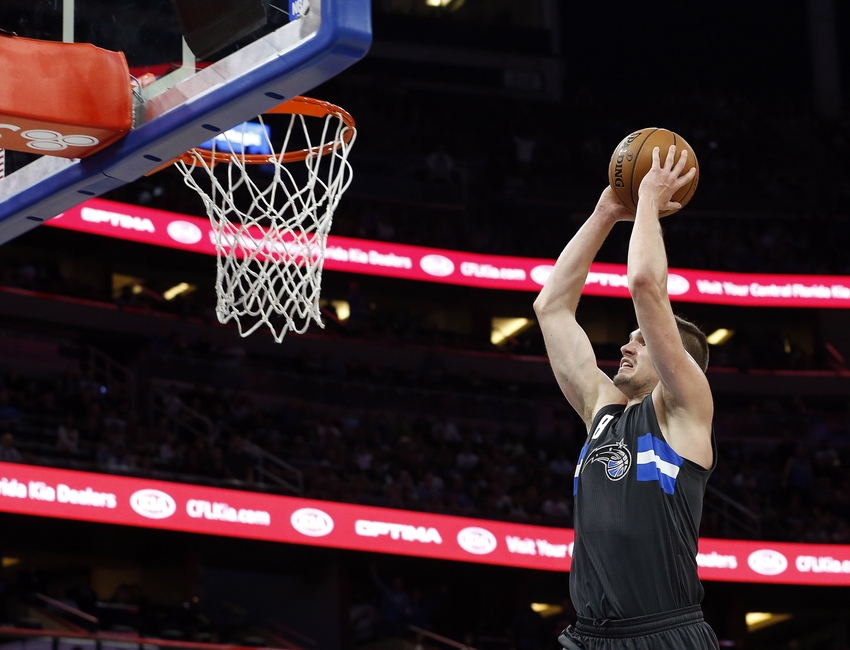 The Orlando Magic promised their fans a trip to the 2017 Playoffs. Frank Vogel may need to shake things up in the starting lineup if he still wants to deliver on the promise. 
The Orlando Magic currently sit 11th in the Eastern Conference. But their position seems much more precarious than that. The team is currently ranked 25th in offensive rating and 29th in defensive rating. Those are the ratings of a team destined for the Lottery, not competing for the Playoffs.
It is too early in the season to panic. There are still signs of major concern.
It is not too early to make changes.
And if the Magic do not make changes soon — but continues to make excuses about being blown out of games because of chemistry issues — coach Frank Vogel should change the chemistry.
The Magic have three wins this year and all three have not been won convincingly. Those victories came against the Philadelphia 76ers, the Sacramento Kings and the John Wall-less Washington Wizards. The Magic were down in each victory and could have lost all three games.
The last victory should have sparked a special cause for concern.
The Wizards almost won a road game — against a team who continues to boast about aspirations of a top-10 defense — without their best player.
All wins count, but some close wins can make young players forget about what they did wrong in the game without correcting it.
And so far, even in victory, the same patterns repeat themselves. The team struggles to start games — much like they did Wednesday against the Minnesota Timberwolves — and has to play from behind the entire game, digging themselves out of a massive hole.
To fix this they have to be willing to change. The Magic have to be willing to scratch out this starting lineup and create a lineup with more offensive fluidity and defensive aggression.
Radically small change
To do this Vogel has to be willing to bench certain players who he thought would remain starting at the beginning of this year. And it has to start with these two players: Elfrid Payton and Nikola Vucevic.
The Magic need to be more balanced on defense and offense. The lineup they are currently using simply does not do this.
By replacing Elfrid Payton with Mario Hezonja, moving Aaron Gordon and Serge Ibaka to the 4 and 5 and starting Jeff Green, the team should add more offensive fluidity and have a more balanced team.
It is a big lineup — Mario Hezonja, Evan Fournier, Jeff Green, Aaron Gordon and Serge Ibaka — but one that has better offensive and defensive balance.
That is a lineup that would still be able to defend the paint at a high level, and would be a threat from the 3-point line at all five positions. It is also a lineup that can attack the basket and finish with aggression in transition.
The Magic would move Ibaka to center (which might be a better move than him staying at the four alongside Nikola Vucevic). This move would literally make Ibaka the last line of defense.
Offensively, Ibaka would be able to take centers out to the 3-point line with consistency and open up lanes for the other starters.
Gordon would move back to power forward (which would be a good move considering he has looked better from beyond the arc this year as a stretch four) and continue developing as a Blake Griffin-type of talent. Gordon should be able to shine on the offensive and defensive boards when moved back to the power forward.
Green would move into the starting lineup and could very well be the leading scorer. Defensively, Green can defend both small forwards and power forwards so he would play a huge roll when the defense switches on screens.
Green also plays with more offensive aggression than probably anyone on the roster and that type of aggression is desperately needed to start and end games. His veteran leadership is needed more in the starting lineup on this team.
Evan Fournier would be the only starter to remain in his current role. Fournier would emerge in a lineup that spreads the floor offensively. Fournier would now be on the floor with four other players who can shoot from distance. This would help him flourish with more floor spacing. Fournier could also get open looks in transition while Green and Gordon are threats to attack the basket at all times.
Hezonja would struggle setting up players in a half-court set, but so does Elfrid Payton. The biggest plus for Hezonja is he is a better shooter from deep than Payton. And he is arguably a better finisher in transition.
He showed his rare transition skills against the Washington Wizards when he stole the ball and raced to basket for a two hand jam. Hezonja would get better at defending point guards throughout the season, especially with his 6-foot-8 frame and lateral quickness.
Balance to the bench
Of course, these changes would change the bench too.
The bench would be a threat to any bench in the NBA with Nikola Vucevic anchoring the offense and Bismack Biyombo anchoring the defense. The bench lineup would look like Bismack Biyombo-Nikola Vucevic-C.J. Watson-Elfrid Payton-D.J. Augustin.
Biyombo has proved he can be a defensive monster and change games on defensive. His help-side defense is elite. He has shown that he can erase a lot of mistakes from the perimeter players. When D.J. Augustin, Payton or C.J. Watson's man beats them off the dribble, the opponent will have to see Biyombo as the last line of defense.
Vucevic has proved he can put up good numbers on a bad team. But he needs to focus on being a critical piece to a playoff team. That may come with him being demoted to a featured sixth man role, similar to how Enes Kanter came off the bench for the Oklahoma City Thunder.
If he is truly a team player, he will understand that the starting lineup is a lot more athletic and more of a threat offensively with him coming off the bench.
Mario Hezonja's early pro basketball experiences slowing his growth
Watson has not proved he can play the small forward at a high level. And likely he cannot as a swing guard. The Magic may have to turn to C.J. Wilcox or Jodie Meeks, when he is healthy.
But when teams go small, Watson should be able to defend this position. Watson would still be able to get open shots with Vucevic demanding double teams. He is not a guy that can be left alone on the three point line.
Payton would be able to defend any backup shooting guard in the NBA. His minutes would be cut and deservingly so. This move would seal his fate but it would also help the team win games.
Payton has not lived up to his top-10 selection in 2014. This year looks like another disappointing year in the making. Payton could very well turn into a critical role player from a bench perspective because he does bring energy on the defensive end and a willingness to attack the basket.
These are drastic changes. Changes that should not be taken lightly. But the team needs better balance to succeed.
This article originally appeared on