Is the Jeff Green experiment working?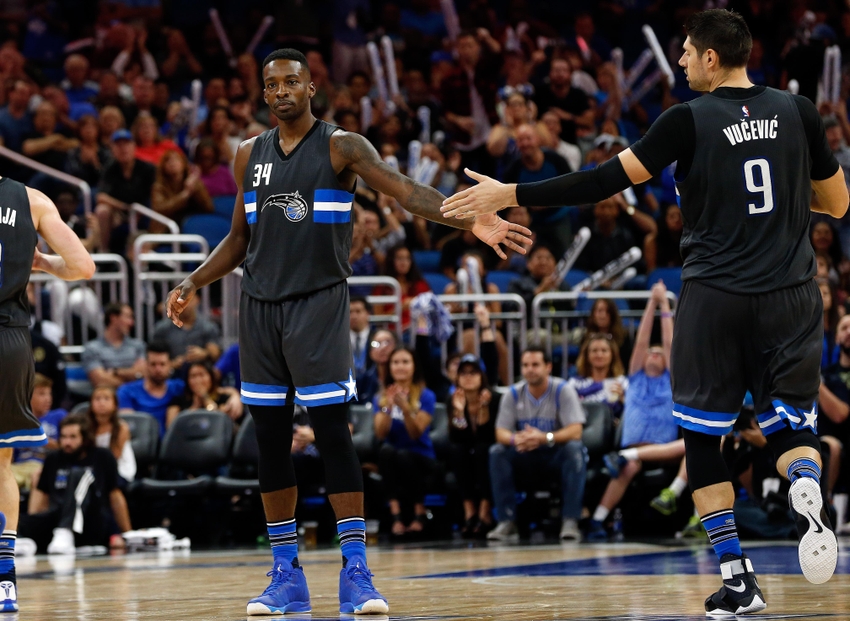 While Jeff Green has performed to most expectations this season, the Magic's best option for a complement to Aaron Gordon probably lies elsewhere.
Five teams in the past nine seasons have taken on the "Jeff Green experiment," hoping for him to contribute dependable offense and outside shooting at forward. The Orlando Magic are just the latest to do so.
They acquired him hoping his veteran presence would help settle the young team down and that he would be able to provide solid scoring off the bench.
With the Magic roster a strange fit, Green soon found himself in the starting lineup. He found himself asked perhaps to do a bit more than what the team originally needed from him.
Even now after 12 games, it is hard to say exactly who or what Jeff Green is. And even whether he has helped the team or not.
Luke Duffy wrote for Hoops Habit on Wednesday that despite all the preseason questions, Jeff Green has provided the Magic with some valuable contributions as an ideal "cover" for Aaron Gordon as he develops at the 3.
"If Gordon is having a poor night (which hasn't happened yet as he's averaging career highs in most statistical categories)," writes Duffy, "Green can come in and provide instant, dependable offense."
Duffy argues that because of Green's dependability, ability to shoot threes at a reasonably high clip and offensive production, he can provide an instant microwave off the bench – spacing the floor and helping kick scoring into gear for the Magic's second unit.
Naturally, Gordon will have his fair share of off nights as he tries to fit into a position that might not be ideal for his skill set. At the 3, Gordon has to shoot from outside more often than he has ever had to before.
In theory, having a dependable substitute for Gordon who can do everything on offense that Gordon is still learning how to do is exactly what the Magic need. In theory, the Magic need a dependable veteran presence on the bench who can play either forward position, help space the floor and ensure his unit is productive on offense.
The problem here is Green has been anything but dependable and anything but a scoring microwave. He has not fit that role to this point.
The team actually has scored around 14 fewer points per 100 possessions with Green on the floor. And he certainly has not helped the team's defense.
Against the New Orleans Pelicans on Wednesday night, Green often looked aloof and lackadaisical as he sputtered to an 0-for-9 shooting performance. A performance he expressed his own frustration with after practice Thursday.
In regards to spacing and shooting from outside, Green has been markedly worse this season than both Aaron Gordon and Damjan Rudez. Green is a historically mediocre 3-point shooter. But his current mark of 27.3 percent would be a career low.
He has also been notably unpredictable, shooting worse than 30 percent from the floor in five out of the eight games in which he played 20 or more minutes.
Damjan Rudez, however, has been an excellent contributor with the minutes he has received. Per Basketball-Reference and NBAWowy.com, the Magic score more and their opponents score less with Rudez on the floor. 
Gordon's numbers also improve when he is playing alongside him. Rudez's 3-point shooting has been lights out so far, which allows Gordon more space to work.
Playing the 6-foot-10 Rudez at the 4 helps provide coach Frank Vogel with the inside-out game he has wanted for the team.
Before the season started, Vogel expressed to ESPN.com his desire for Nikola Vucevic to shoot 3-pointers. This would allow Gordon to play more to his strengths inside on offense. But at this point in the season it seems like threes might be out of Nikola Vucevic's comfort zone.
Having a relatively versatile front court player like Rudez shooting from the perimeter not only makes up for weak shooting on the wing and in the backcourt, but it also allows Gordon to play inside more often.
While the Magic have been immensely productive with Rudez on the floor, with Green on the floor, they score only 93 points per 100 possessions and allow an egregious 113.
If the Magic consider that an "ideal cover," they are certainly in dire straits.
In addition to his effectiveness at the 4, Rudez is able to play alongside Gordon at the 3 and occasionally even the 2. This gives Vogel plenty of flexibility with how he can work the tandem into his rotations.
If Rudez starts to see more minutes, his numbers will likely come down to earth a bit. Either way, his contributions give the Magic a lot more reason for optimism than Jeff Green's so far.
Caling Green a good cover for Gordon — or even starting him over Gordon right now — seems like a bit of a stretch. Green is struggling as much as anyone on the team right now. He is not performing the role the magic have asked of him.
More from Orlando Magic Daily
This article originally appeared on