Is Serge 'I-Block-a' no more?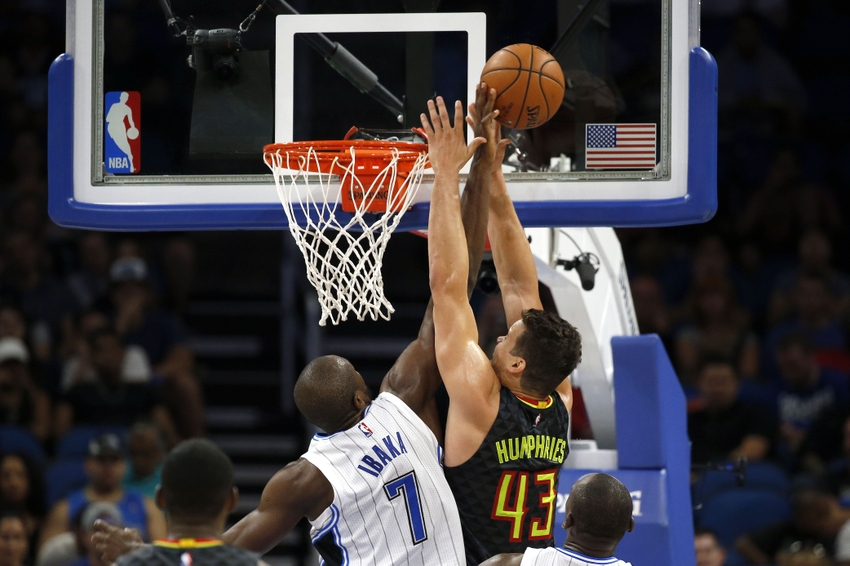 The Orlando Magic traded for Serge Ibaka this offseason for rim protection. So far he has not delivered. Is there a reason for his poor numbers?
The Orlando Magic traded for Serge Ibaka this offseason in hopes he can anchor the defense and cover up a little for the team's lack of rim protection. After six games in the books, Ibaka has not quite lived up to expectations.
Recently a group of ESPN fantasy writers had a roundtable debate. One of the topics was Ibaka's dwindling block production.
There was some hope Ibaka's block production would increase going to a new team where he would be featured more. That has not been the case. Then again, no one was particularly optimistic Ibaka would return to his 'I-Block-a' ways:
Jim McCormick: I'm not sure of the exact value of this correlation, but Ibaka's block rate began to descend when he made a sudden and dramatic surge in 3-point attempts in 2014-15. As he's become a stretch forward, his defensive metrics have suffered. It's disconcerting to see Ibaka's block rate take another dip, but I'm just as concerned with his deflated minutes, as he's playing the lowest rate in five seasons. With Jeff Green and Aaron Gordon fulfilling similar roles, I'm not sure he's going to vault above 30 MPG for a deep frontcourt rotation. I don't find Ibaka as a buy-low candidate and, instead, would seek to market him based on the value his past production might garner.
The conclusion seems to be that blocks tend to go down as a player gets older and Ibaka's move to the perimeter on offense and even on defense have affected his ability to block shots near the rim.
The addition of Ibaka was always looked at as a complement to Nikola Vucevic, who is a better offensive contributor than a defensive force. But Ibaka has not had the affect many envisioned, at least not yet.
Coach Frank Vogel has always praised Ibaka for his versatility. Because of that versatility Ibaka is comfortable in open space away from the basket. The NBA is moving in a direction that puts power forwards on the perimeter more often which brings Ibaka away from the paint.
In these first six games, Ibaka has faced power forwards who are comfortable on the perimeter. Some more than others like Luke Babbit, Marcus Morris, Kevin Love, Dario Saric, DeMarcus Cousins and Markieff Morris. That being the case, Ibaka is not stationed near the paint for many defensive trips.
While his block production (and rebounds) has declined significantly, it may be just a reflection of how the game is played today rather than a statement regarding Ibaka's ability. Ibaka has said his block production has declined some, but he is still challenging shots at the rim.
The Orlando Magic are figuring out each other's strengths and weaknesses in the early going. Ibaka may not reach those career-high numbers of 3.7 blocks a game again. But teams are still feeling his defensive presence.
More from Orlando Magic Daily
This article originally appeared on