Is Otto Porter A Max Contract Player?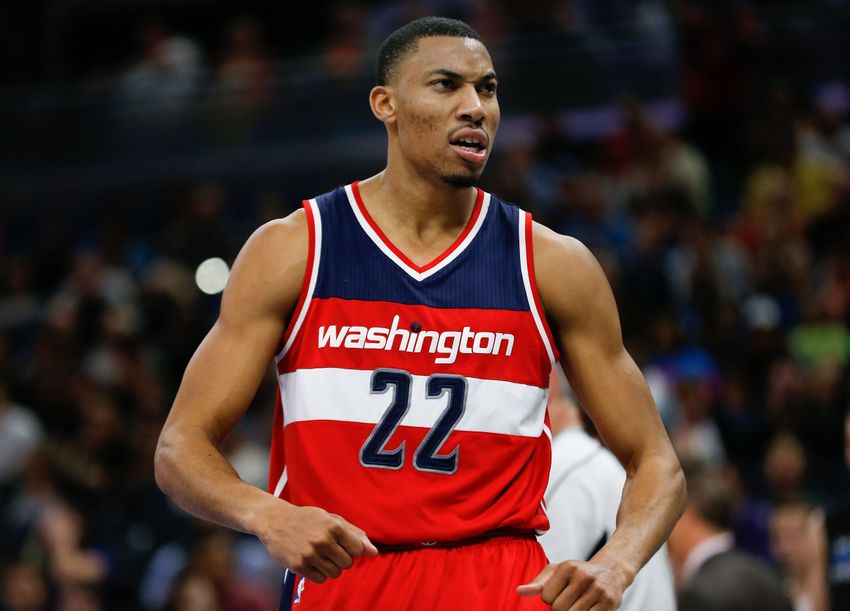 Otto Porter's impressive play for the Washington Wizards could earn him a major payday this summer.
The Washington Wizards have seen better days. The team is 8-13, winning two of their last five games.
They're 12th in the Eastern Conference and two-and-a-half games behind the Detroit Pistons for eighth place in the NBA playoff picture.
The Wizards' struggles have led to a fair amount of frustration in D.C. Center Marcin Gortat criticized the bench unit's effort back in mid-November after a loss to the Chicago Bulls.
Star guard John Wall also called out the second team after he put up 52 points after a recent loss to the Orlando Magic.
"Our job is to wake up and just play hard. Before you made it to the NBA or got a college scholarship, you played hard every day to get to where you wanted to".

"To still be talking about playing hard, that's something that you should be able to do after just waking up. Everybody has a job and they have to go work hard. Our job is to come here and play hard and compete. That's the easiest thing that you should do without any contracts or any money, just come in and play basketball. … If I had the answer we wouldn't be in this situation."
As the team struggles with wins and effort, the Wizards have had a bright spot developing within the starting lineup.
Small forward Otto Porter is averaging 14.1 points, 7.7 rebounds, and 2.0 steals in 21 games into this season. He is shooting 53.5 percent from the field and 40.8 percent on three-pointers. Porter also has five double-doubles to his name on the season.
Otto Porter's strong performance at this point in the year has turned the heads of some front office executives within the league.
The season is still young and we're just now seeing sizable numbers from a player that is in his fourth season of NBA service. But it is fair to consider: Is Otto Porter worthy of a max contract? There are signs that indicate he could be.
A "max contract" refers to the maximum salary a player is allowed to sign for within the NBA salary cap restrictions. The amount of money is based on how long a player has been in the league.
Coming into this season a player with six years of service or less — like Porter is — could receive a max contract of up to $22,116,750 or 25 percent of a team's salary cap, whichever is higher.
They could also receive a contract that is 105 percent higher than the final year of their old contract, even if that number is above the league limit.
The maximum salary is supposed to reward the best players during contract negotiations without sinking a team financially. Fans tend to consider only the NBA's elite to be "max contract players."
Players such as Anthony Davis,  Andre Drummond and DeMar DeRozan have been rewarded with as much money as their teams could give them. However, a number of talented, but not as elite, players received maximum contracts during the past summer.
Players such as Harrison Barnes, Mike Conley and Porter's teammate, Bradley Beal, were beneficiaries of the windfall of money the NBA received in the wake of their new media deal.
There was a lot of new money that needed to be spent and a limited free agent pool to give it to. Conley, specifically, is the holder of the largest contract in NBA history.
Otto Porter's development into a productive player has been a long time coming. Former head coach Randy Wittman slowly extended Porter's minutes each season, with Porter becoming a starter last season.
Now under new head coach Scott Brooks, Porter continues to hold his starting role. He now averages 34.4 minutes per game this season.
Porter has become the quintessential three-and-D small forward. He has a soft shooting touch, but also has the ability to ferociously attack the basket. He also has a big body that allows him to battle for rebounds and hold his position on defense.
Porter also has long arms that can disrupt ball-handlers and passing lanes. Those arms have helped him place within the top 10 in the league in steals per game.
The kicker is that while Porter is now in his fourth season of NBA play, he's only 23 years old. He only played two seasons of collegiate ball for Georgetown (which shares the Verizon Center with the Wizards) before declaring for the 2013 NBA Draft.
There is still room for Porter to develop, as an NBA player's prime tends to fall between 26 and 29 years of age.
Teams understand that a five-year maximum salary contract would cover a majority of Porter's ascent. He could become a major threat on both sides of the ball. Porter could even become a team's secondary or tertiary option if he's able to build on his confidence.
Otto Porter could reasonably receive a max contract this summer considering those factors.
Taking a peak ahead: Porter receiving max offers would put the Wizards in a tight spot. He is a restricted free agent with Bird rights, so the team has the means to sign him. However, the team already owes Beal, Wall, Gortat and Ian Mahinmi eight-figure salaries in 2017-18.
Paying Porter would make it hard to bring any other major talent to D.C.. It would also bump superstar Wall down to third highest-paid player on the Wizards. Both could potentially cause more issues on the court and in the locker room.
The 2016-17 season is still young, with more big games and rough nights for Otto Porter ahead. Teams will reward him this summer if he continues his productive play the remainder of this season.
This article originally appeared on