Is Nerlens Noel's Summer Training Distracting Him?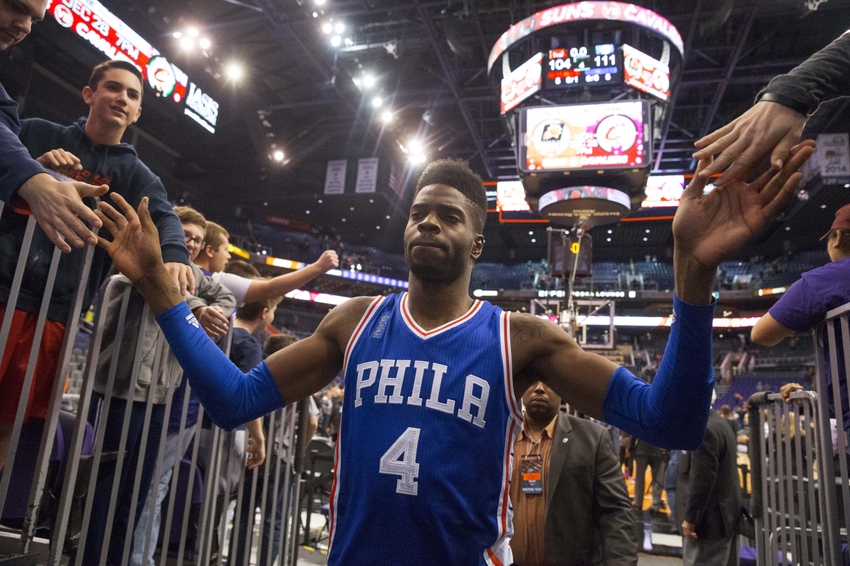 Philadelphia 76ers center Nerlens Noel has trained near his hometown for the past two years. Has that been distracting him and hurting his game?
Summer is winding down. The leaves are changing, the air is getting crisper, apple picking season is here. For many, this is sad, as the fun nights of hanging out on a patio, swimming, and beach visiting are over.
For Nerlens Noel, it means he's headed back to Philadelphia — provided a surprise trade doesn't move him to another team in the NBA — to link up with the Philadelphia 76ers as they enter training camp leading up to the regular season.
Over the summers, though, Noel doesn't stay in Philly. He heads back to where he spent his childhood, and trains in New England. Keith Pompey, writer for Philly.com, recently published an article about Noel's summer training. He trained with Todd Wright, the Sixers head strength and conditioning coach.
More from The Sixer Sense
Last summer, Noel had a similar offseason. Noel spent a bulk of his time in the New England area, working on his game, and working on improving in the areas that he was clearly lacking after his first season on the court.
One of those areas was shooting. Last summer, there was a large emphasis and a lot of excitement going into the regular season surrounding Noel and the season he would have (especially with his jump shot) because he spent nearly two hours a day working on shooting (also according to Keith Pompey).
Those two hours a day didn't do much for his shooting game, however. Noel had a disastrous shooting season as he moved from the center position to the power forward slot, shooting terribly away from the hoop despite all the hours he put in. He shot below 20 percent from beyond 10 feet away from the rim.
Could that be because training near his hometown distracted him? From a personal standpoint, I know it's tough to me for be in a rock solid mindset when I'm surrounded by friends I grew up with, family, and all of the other things that come along with being in your hometown. Not to mention that Noel isn't that far from the Boston area, which has a lot to offer as far as night life is concerned during the summer.
Truthfully, it does sound far-fetched that a distracting location would hurt Noel's game, but it's certainly possible. Going into this season, we should be aware of whether or not Noel has improved comparing season to season, because he did stagnate quite a bit in his sophomore year.
Head coach Brett Brown has been vocal that he wants Noel to take steps to become a rim protector and a player that is good offensively near the rim.
What's more critical than Noel training near his hometown and possible being distracted is the fact that he is being asked to fill into a role this season that actually fits him, rather than the forced power forward role he was asked to go into last season.
On top of that, last season, Noel was working with a coach who had ties to the Celtics. Although he was surely a good basketball mind, this year, he worked with someone who will be with the Sixers this season, allowing for a continuation this season on what Noel and the trainer worked on.
Last year, when summer training ended, Noel had to lose every day contact with the person who was working with him all summer and knew what he was good at and what he needed to work on. Now, he will see that same trainer in training camp and throughout the season.
Noel may be slightly more distracted near his hometown, but the bottom line is that he's much more primed for a solid season this year than he was last year. Nerlens should be looking to explode right out of the gate this season, entering his third — very important — season with the Sixers and in the NBA. After all, it is a contract year.
This article originally appeared on