Is Jimmy Butler a Flopper?
Daniel Coughlin/FanSided via Pippen Ain't Easy

Fansided
There's been a lot of change to Chicago basketball over the past two years. A new coach, the departure of three of the most recognizable names on the roster, and the arrival of two equally famous, or infamous, names around the league. Through it all, Jimmy Butler has continued to emerge as not just the leader of the Chicago Bulls, but also among the best players in the entire NBA.
There are several things that make Butler an elite talent. He is young enough, still multiple seasons away from hitting age 30. He's on a contract that becomes more and more team friendly which each passing season and raise in the salary cap. He's an incredible athlete. He has survived Tom Thibodeau and now he's strong enough to absorb contact and finish shots. He's also learning the finer points of the game. The kind of things that star players all need to develop – the art of getting the call.
There's a fine line between generating contact and the terrible 'F' word. When Steph Curry falls to the floor after an opponent runs through one of his 35-foot shot attempts, that he somehow makes, and just barely cuts under him and he sprawls out to draw the whistle, it's the art of generating contact. Players like Kobe Bryant, Kyle Lowry, and dozens of shooters around the league use this technique.
When LeBron James is racing upcourt and a linebacker-sized forward appears out of seemingly nowhere to foul him and he acts like he just got tagged with the Golden Gun in GoldenEye 007, he is employing intelligence. The foul was already going to happen. Now, James has crossed into the world of the 'F' word – flopping.
Chris Paul does this regularly, too. Often, he acts as if he's received a Taser directly to the face. James Harden has also employed this practice to great effect. It isn't particularly uncommon, though it is silly, frustrating and both fans and players generally look down on that type of behavior.
But, back to Jimmy. During his ascension in Chicago, Butler has learned how to draw the whistle. This has led to an interesting phenomenon among a certain pocket of fans. This group of fans presumably lives in the underground caves abandoned by the creature Gollum-Smeagol when he went in pursuit of his Precious. It's a mixture of fans from teams who were rumored to be interested in trading for Butler and the last vestiges of the Derrick Rose Hive that once thrived in Bulls Nation.
I'm going to look at five games that Butler has played this season and looking at the video, we will attempt to determine if Butler is indeed, a flopper.
It is worth noting now, before we get into each game, that Butler is averaging 9.7 free throw attempts per game. That number is a career-high mark for him, and is also good for third in the entire league, tied with DeMarcus Cousins, trailing just Russell Westbrook and Harden. Butler is also shooting his highest career percentage from the charity stripe by more than three percent over his previous best numbers, up to 86.6 percent for the year.
Butler had another great night on Tuesday, when the Bulls hosted the Dallas Mavericks. He come up just one rebound shy of a triple-double and was generally well above average. Unfortunately, Chicago came up just short thanks to a terrible play call by Bulls coach Fred Hoiberg. Buried under that disappointment and almost 3×10 was another astonishing night at the line for Butler, shooting 14-for-16 at the line.
If Butler is a flopper, we're about to find out. I'm going through the five games this season that have produced the highest number of free throws for Jimmy in effort to answer the question that Derrick Rose Hive and other dark corners of the internet assert – Is Jimmy Butler a Flopper?
First up, November 30 against the Los Angeles Lakers.
15 FTA vs. Los Angeles Lakers, November 30
I think I covered many more words setting up this piece than I will need to go through each of these clips, so that's the good news.
The bad news was Butler's stat line in this one. He shot just 22.2 percent from the field for the game with four turnovers and three fouls in a Chicago homecourt loss to the visiting Lakers.
Still, he finished the game with 22 points. How? Well, he shot 13-for-15 at the free throw line, or 86.7 percent, which is just 0.1 percent above his season average.
Butler had a very off game, but he still contributed to his team by getting to the line a whopping 15 times. That's an awful lot of attempts. Some people would tell us that something fishy is going on with Butler, there is no other way to explain his ability to reach the line so often.
Let's go to the tape:
Foul One: Bodied by Timofey Mozgov. That's a legitimate foul every time. Butler had the presence of mind to turn it into a jumper. No flop.
Foul Two: Fouled by Tarik Black while trying to make an outlet pass for transition fastbreak. No flop.
Foul Three: Jimmy gets Black off his feet and then turned around. Once the arms get tangled, Jimmy flails. I'll go flop, though barely.
Foul Four: Butler bodies Clarkson and uses his strength to continue into Larry Nance, Jr. No flop.
Foul Five: Julius Randle just barely gets under/into Jimmy. The ref calls it, no extra sauce from Butler. No flop.
Foul Six: Jimmy gets bodied by Mozgov again. Clearly a foul, attempts to finish. No flop.
Foul Seven: Absolutely hammered by Brandon Ingram across the arms. Not even close to a flop.
Foul Eight: Uses his strength to go through Thomas Robinson. No flop.
It might seem cumbersome, but what we're looking to build here is a case for Butler as a flopper or not a flopper. In this particular game, Jimmy had 15 free throws. He was fouled in the above shown instances. Of the eight fouls shown in the clip, Jimmy embellishes contact to the point where it may be a borderline flop just one time.
After one game, it's 7-1 in favor of not a flopper. The Bulls lost, 96-90.
16 FTA vs. Miami Heat, December 10
We've had an example to reference from November, now we're into December. Butler attempts zero 3-pointers in the entire game, still finishes with 31 points on 15 shots at 53.3 percent. Impressive.
A fun note from this game: Chicago won, but only shot eight 3-point attempts the entire game and they only made one. In 2016, a NBA team won a game, scored more than 100 points and only made one 3 the entire night. That's just remarkable on its own. This is borderline "does not compute" territory.
So Butler scores 31 points, makes just eight field goal attempts. That is because he shot 15-for-16 at the free throw line. A staggering number and an equally intriguing stat line to match the fun factoid of the team's 3-point shooting.
Roll that beautiful Butler footage:
Foul One: Rodney McGruder gets slap happy on a Butler drive at the rim. Jimmy hits the brakes and a suddenly out of position McGruder flails. Not even close to a flop.
Foul Two: Hassan Whiteside loves to block shots and crosses the lane to help the overmatched Tyler Johnson, except he can't get the ball, but in his complete lack of verticality, he does get Butler for the and-one. No flop here.
Foul Three: Butler is just incredible here and gets dirty on Josh Richardson who knows what he has done, though he probably had no idea how he got there. No flop.
Foul Four: Did I mention Whiteside loves to block shots and can't help but throw his whole body into it? Butler baits him. Nothing here even comes close to resembling a flop.
Foul Five: Willie Reed got bossed. Again, Butler has incredible athleticism and strength. No flop.
Foul Six: Butler can't be contained by his man, gets to the lane and is met by Whiteside and Derrick Williams. Pretty sure this one was called on Whiteside for extending his arms into Butler. Yet again, no flop.
Foul Seven: The untimely passing of Johnson. Give him credit for trying to take it in the body for a charge, but nah. That's not happening. Absolutely no flop.
Fouls Eight and Nine: Two intentional fouls, no flopping required. The game was coming to a close and Jimmy just stood still.
The outcome was better this time. Butler's incredible stat line stood out for his few shot attempts but many points. Also, it tied him for the third most free throw attempts he has taken in any game this season. Chicago won this game, 105-100.
That's 8-0 in favor of no flopping in this game. The running total is 15-1, not a flopper.
16 FTA vs. Dallas Mavericks, January 17
Butler flirted with his first triple-double of the season, but came up just one rebound short. Still, he scored 24 points on 12 field goal attempts thanks to 14-for-16 shooting at the line.
While the outcome a loss, the overall performance was much better than the game in which they were demolished in Dallas earlier this year. In that game, on December 3, Butler still managed to get to the line 12 times, but it wasn't enough as the Bulls were blown out, 107-82. The win bumped the Mavs to 4-15 on the season. It's been a roller coaster season in Chicago, but this was a low point.
It seems like the Mavs have their number as they couldn't do enough to get the win again in January. However, Butler still managed to get to the line, a lot. This is the first of three games in January when Butler has really started to take over:
Foul One: Butler once again uses his strength to go right down the lane and absorb the contact from Dwight Powell, no small man. Also, no flop.
Foul Two: Salah Mejri can't deal with Butler. Very much a foul, very much no flop.
Foul Three: Butler get tied up with Wesley Matthews, goes up and kicks out his legs to embellish. Again, not a flop, but we'll count it just because the flop category is starting to feel lonely.
Foul Four: Butler rolls off a Robin Lopez screen, Matthews wants the block but just commits the foul. Not great by him, no flop.
Foul Five: Butler again rolls off a Lopez screen, this time he goes right instead of left into the lane. He absolutely explodes toward the hoop and into the animated tree trunk that is Mejri. No flop.
Foul Six: Grade A flop by Butler. Matthews is heated and earns a tech. This is some Paul, Harden or LeBron level theatre from Butler.
Foul Seven: I didn't see a foul anywhere, but I could be wrong. The leg kick triggered a phantom foul call, but no flop by Butler.
Foul Eight: Who doesn't love Dirk Nowitzki? Also, who would expect Nowitzki to contain Butler without fouling him? No flop. Very clear, intentional foul.
Foul Nine: Devin Harris spoils the party by preventing Butler from hammering home a slam dunk. Check out how Butler was essentially defenseless in the air and how he landed. The refs reviewed to make sure it wasn't flagrant. Clearly, not a flop.
It was a thrilling game. Ultimately, Dallas won this contest 99-98 thanks to a particularly horrendous Hoiberg decision. No screener, just Bulls standings around, expecting Butler to work more free throw magic, I guess.
The total for this game is 7-2. The running total is 22-3. Not a flopper is running away with this one.
20 FTA vs. Toronto Raptors, January 7
20 free throws! The Raptors probably hate playing Chicago by now. It's been several years, literally, since Toronto has toppled the Bulls.
Doug McDermott is usually the Bulls that goes hard against the Raps, but he might have just been a distraction in this one. Butler put up a huge 42 point, 10 rebound performance. He shot 40 percent from the field, 50 percent from 3-point range and 90 percent at the free throw line on 20 attempts.
Butler was on a tear at this point, and was shortly after to be named the Eastern Conference Player of the Week. Before receiving that honor, he needed to help torch Toronto using a huge fourth quarter and overtime performance to help secure the win.
Fouls on Butler? There were many:
Foul One: Butler gets DeMarre Carroll off his feet and it's all over. No flop.
Foul Two: More incredible Butler, just attacks and no defender has time to set up in front of him, eventually the call goes against Jonas Valanciunas. No flop.
Foul Three: Too fast, too furious. Butler can't be stopped and attacks the rim drawing the clear contact and foul from Lucas Nogueira. Not a flop here, not a flop there, not a flop anywhere.
Foul Four: Butler works his magic and draws an iffy foul on Carroll. No flop.
Foul Five: No chance that Terrence Ross can stop Butler, who initiates contact and gets another call. No flop.
Foul Six: Carroll is the victim again. He gets his body in the way, but isn't under control. The strength of Butler allows him to simply play through Carroll for the whistle. No flop.
Foul Seven: Oh, DeMarre. It just wasn't his night. Butler kept him on his heels and in the air so often. No flop.
Foul Eight: Not even sure who they called it on, either Valanciunas for not remaining vertical or Carroll, yet again, for reaching in. Clearly no flop.
Foul Nine: More rim attacking from Butler, right into Nogueira. This is only a flop if a flop is what happens when you collide with a center in midair and land on your back. No flop.
So Butler had another monster game, hit the line 20 times, didn't flop even once on any of the times we've got documented footage of him benefiting from a whistle. His double-double was huge and he absolutely took over the game at the end of regulation and in overtime. Chicago won this game, 123-118.
With a sweep, 9-0, in this game, the running total is now 31-3 in favor of not flopping.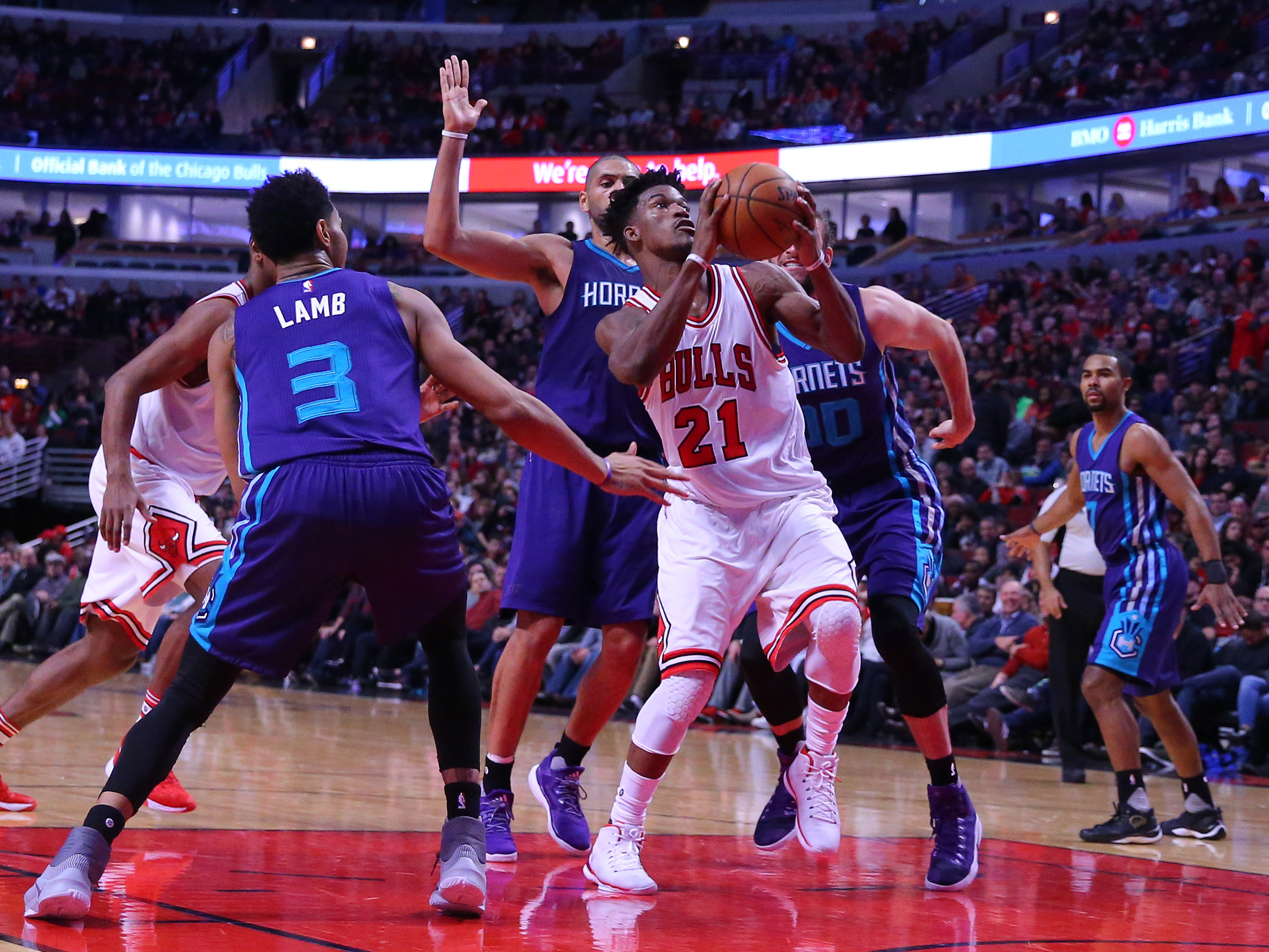 22 FTA vs. Charlotte Hornets, January 2
What a way to ring in the new year, I suppose. Butler went off. He scored 52 points with 12 rebounds, six assists and three steals. There was also a statistic put out there somewhere showing that Butler is the first player to score at least 52 points on 24 or fewer shots since 1994. That is impressive.
So if he only took 24 shots, making 15 of those attempts, where did the rest of his points come from? You already know the answer. Butler shot 21-for-22 at the free throw line in this game. There's bound to be a lot cover, so let's jump in:
Foul One: Spencer Hawes couldn't contain Butler's drive to the rim. No flop in sight.
Foul Two: Recurring theme here: Defender, Nicolas Batum, isn't fast enough to stay in front of Butler. Butler is also too strong to get lost in the contact, can finish the rim run. No flop.
Foul Three: Frank "The Tank" Kaminsky commits the sin of leaving his feet and receives his due punishment. Another non-flop foul call for Butler who smartly launches into a shot as soon as he sees that he has Kaminsky in a vulnerable position. No flop, dude.
Foul Four: Batum tries to fit through a Lopez screen. To beat the screen, he has to go into Butler. Again, Butler recognizes this and puts up a shot. No flop.
Foul Five: Roy Hibbert very much makes sure that Butler can't finish the transition break with a slam dunk. No flop.
Foul Six: A soft call against Michael Kidd-Gilchrist. The referee definitely didn't like the way MKG was tracking Butler through the Lopez screen with his arm. Butler clearly feels the contact and by simply tipping his shoulders forward so that they are no longer over his hips, he gets the call. No flop.
Foul Seven: Kemba Walker didn't see the footage of Johnson trying to take the charge in the Miami vs. Chicago game. He tries, isn't going to get the call whether he should have or not. Pretty impossible to flop when you charge right into someone else.
Foul Eight: Butler toys with Hawes before blowing by him, leaving the living, breathing man bun no choice but to foul. No flop.
Foul Nine: Not even on Butler, but Kidd-Gilchrist is so heated after dealing with Butler all night that a technical gets issued against Charlotte. Butler converts the free throw. Not even possible to flop that one.
Fouls Ten and Eleven: Intentional fouls at the end of the game, no flopping involved.
So Butler got to the line over and over by using his physical strength and deceptive quickness. In each clip, the defender is out of position or required to do so much work to track Butler that they can't stay in control of their body to the same extent that Butler is able.
Chicago won this game, 118-111.
We have covered all five of Butler's highest total free throw games. The total from the Charlotte matchup was 11 fouls, 11-0 in favor of no flops.
The final score is: Not Flopping 42-3 Flopping.
At this point, I feel comfortable concluding that Jimmy Butler does not flop. His ability to draw contact while maintaining control of his body using superior speed and strength creates a mismatch that defenders have difficulty coping with. He can draw fouls and convert free throws at rates that are among the very best in the league and he is the singular reason that the Chicago Bulls aren't scouting Lonzo Ball or Markelle Fultz instead of their next NBA opponent.
This article originally appeared on