Is it time for Pat Riley, Miami Heat to make a move?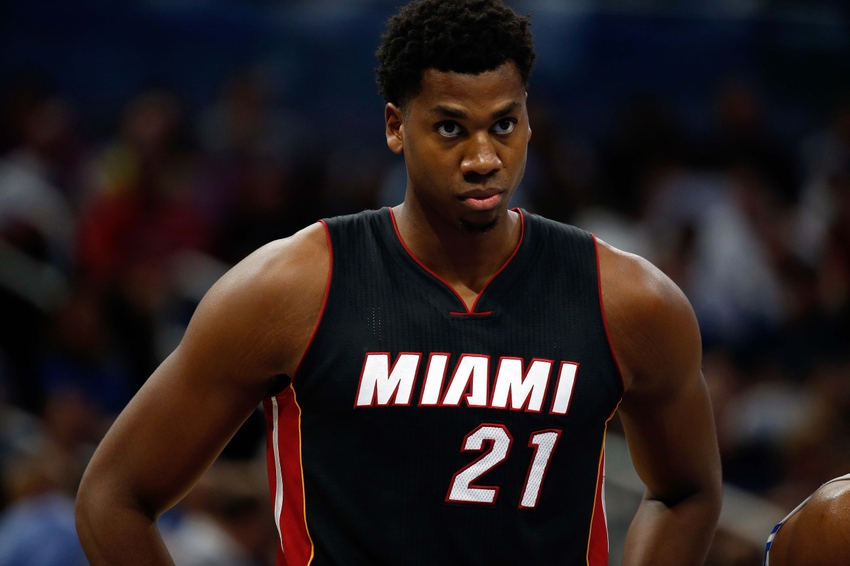 Following a lacklustre 2-8 start to the season, questions surround the future make-up of the Miami Heat.
Pat Riley and the Miami Heat will have some big decisions to make in the coming weeks. And it's probably come quicker than they would've anticipated. With the Heat kicking off the season with a 2-8 record, there has already been much conjecture as to the future direction of the team. Will they blow it all up? Will they flat-out tank in order to move up higher in the draft? Or will they stay the course for a little longer and allow this new-look team to develop it's own identity?
Knowing Riley, he won't die wondering. In a recent interview, he alluded to the fact that he planned on building around the young nucleus he had obtained in recent years – Hassan Whiteside, Justice Winslow, Tyler Johnson and Josh Richardson. He was particularly high in his opinion of Whiteside, stating:
"We expect Hassan, somewhere, will be an all-of-the-time guy, and like every great center that I've coached and had the ability and was fortunate enough to coach, they had 20 games a year when they were none-of-the-time guys. You have to live with that. We really feel fortunate, and lucky, that we were able to sort of semi-stumble into him, but be on top of it and have Hassan in the fold here. And I think he's going to have a great career for us."
He also added that he would be interested, if possible, of obtaining an extra pick for next year's draft. If Riley is keen on this move, point guard Goran Dragic would be the most logical trading chip. He is currently in the second year of a five year, $90 million contract. Dragic would represent a terrific option for rival teams for a couple of reasons.
Dragic would be a great addition for an up-and-coming team (Philadelphia, Minnesota, Milwaukee name a few). This is not only due to his play-making abilities and experience, but also his appealing contract. Dragic signed his contract under the previous salary cap, prior to this past summer's explosion to player salaries. When compared to the contracts signed by players this offseason, it certainly measures up more than favourably.
Trading Dragic for a combination of draft picks and perhaps a developing player would certainly plunge the Heat deep into rebuilding mode. At just 30 and with a favourable contract, the Heat would certainly have multiple suitors if they decide to follow this path.
Rebuild
This is certainly one direction Riley is not afraid to head down. And despite his latest offerings to the media, this option will surely be getting serious consideration. In his bestselling book, The Winner Within, Riley detailed a number of the rules that he abides by as part of formula for success. One such rule is:
"You're either IN or you're OUT. There's no such thing as life in-between."
Naturally, this could apply to a number of areas of pro basketball. However, Riley is all about winning. And sitting idle on a team that is showing very little sign of becoming something worthwhile is certainly not on his agenda. And this really would be life in-between. Over their first 10 games, the Heat have already hosted four teams playing on the second night of a back to back. They have won just one of those games, against Sacramento in overtime. Although there is noticeable talent, the Heat does not currently have one all-star on its roster. And whilst the likes of Winslow and Richardson have certainly demonstrated great potential, it's hard to see anyone on the roster capable of eventually becoming the best or second best player on a championship calibre team.
Therefore, an all-in approach would require making all players on the Heat roster available. It's obviously very difficult to ascertain the value that the current players would have with competing teams. A package of players, such as Winslow and Tyler Johnson, or Whiteside and Richardson, along with draft picks would be need to be offered in order to grab the attention of prospective suitors.
Trade Targets
Some of the most notable players who the Heat may target as being "gettable" could be the following:
LaMarcus Aldridge, San Antonio Spurs: 2016/17 Salary: $20,575,005; three years remaining on contract; 31 years old
Riley has some history with Aldridge, having courted him, albeit unsuccessfully, in the summer of 2015. Furthermore, there were reports just prior to the beginning of this season that Aldridge was unhappy with his current role. Aldridge is posting numbers of 17.5 points and 7.1 rebounds per game this season, both below his career averages. The off-season addition of Pau Gasol can partly help explain the drop-off in his production. Further, although the Spurs have began the season with an 8-3 record, they have looked rather shaky.
Klay Thompson, Golden State Warriors: 2016/17 Salary $16,663,435; three years remaining on contract; 26 years old
When adding a player of the calibre of Kevin Durant, there was always going to be someone whose production would take a hit. To this point, Thompson has felt the effects. He's averaging 18.8 points per game and is hitting just 31.9 percent from behind three. These numbers are down from 22.1 points per game and 42.5 percent from three. Mind you, it is only 10 games into the season and the Warriors are still adjusting to their new look. Despite a recent rumour of the Boston Celtics potentially exploring a deal being false, the logic behind it could end up making sense. The Heat should see this as a situation of "where there's smoke, there's fire." The Heat could certainly offer an attractive package to shore up the lack of depth for the Warriors.
A Winslow/Tyler Johnson/Richardson combination may start a discussion.
John Wall, Washington Wizards: 2016/17 Salary: $16,957,900; three years remaining on contract; 26 years old
With Washington currently 2-7 and seemingly still adjusting to a new coach and style of play, a phone call to the Wizards wouldn't hurt. Wall may be unhappy in D.C., but is still playing at an All-Star level, posting 22.3 points and 8.3 assists per game as he still progressively gets better following surgery to both knees this offseason. A package of Dragic and Richardson would seemingly be a good fit for the Wizards, with Richardson's defensive abilities sure to please new coach Scott Brooks. Plus, pairing Wall with Whiteside would be an opponent's nightmare.
DeMarcus Cousins, Sacramento Kings: 2016/17 Salary: $16,957,900; two years remaining on contract; 26 years old
Rumours have abounded over the years regarding Cousins' future, and this season they have already begun. His is widely regarded as incredibly talented, but also incredibly volatile. Any team willing to trade for him will be under no illusion of the risk he may present. And although Whiteside presents an amazing presence for the Heat, this would and should certainly be a risk that Riley is prepared to make. With Cousins and Whiteside as the core pieces of the deal, both teams would be shoring up their center position for the years to come.
Keep the nucleus
The simplest option for the Heat is to simply stand pat and play the season out with their current roster. Provide as many opportunities as possible for the young nucleus, determine which future free-agents they wish to re-sign at seasons end, and go from there.
If things continue as they currently stand, the Heat will have a high-end lottery pick and another building block for the team to work with moving forward.
December 15 is the magic date where players who signed contracts this offseason are eligible to be traded. This gives Riley and the Heat a few weeks to weigh up their options, and determine the future of the franchise. Hence, we will all discover very shortly how much Riley can tolerate the team's win/loss column, and to what extent this will decide the next move for the Heat.
This article originally appeared on