Is it possible that the Suns could be legitimate contenders with only one move?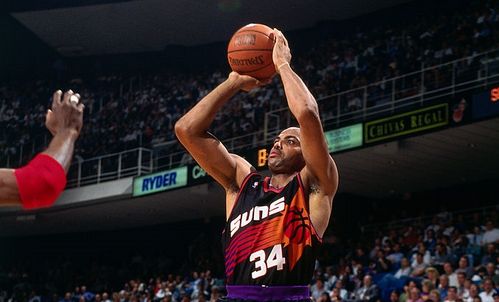 My Grandfather – a Huge baseball fan – occasionally will recite to me his favorite old-time baseball phrase "Spahn and Sain and pray for rain."
The phrase dates back to the late 40's when Warren Spahn and John Sain pitched for the Boston Braves, and were – as the epigram notes – the best two pitchers on the roster. Expect wins from them, then hope for a rainout so they can jump over the other starters in the rotation and pitch again.
This is relevant for the Phoenix Suns for one crucial reason: The Suns have talent in the guard and wing positions – incredible talent – but nearly nothing coming offensively from the power forward and center spots, pretty much guaranteeing that defenders will never need to double team down low, meaning less kick outs, meaning less open shots, meaning lower shooting efficiency and percentages, meaning, Booker and Warren, and pray for, well, you get the idea.
The Phoenix Suns need a scoring power forward bad.
The question is how quickly does General Manager Ryan McDonough want to acquire one?
Where the Suns are in Their Rebuild?
A friend of mine text me following the conclusion of the loss to the Los Angeles Lakers bemoaning that it appeared that the Lakers' rebuilding project was going better than the Suns'.
That arguably may be true, but the Suns and Lakers are in a different stage in their rebuilding processes and Phoenix is probably a year behind the Lakers at this point. (I also do not believe that D'Angelo Russell is a front line starting point guard in the NBA and will never carry a franchise on any level, so truthfully, that will only hurt the Lakers moving forward.)
So far in the early going it has become pleasantly obvious that the Suns are going to be very competitive all season – barring injuries, of course. At the moment, however, they are not going to win many games. If the Suns have an off shooting night (or guards are not hitting a high percentage of their outside shots, something that is regularly articulated in the Valley of the Suns' pregame previews) then it is very easy for a good defensive team to choke off the Suns' backcourt and wing scorers, leaving the team with nearly nobody to score with any modicum of ease.
And yet, based on what we've seen, the guard play has been so good, that if Phoenix wanted to jumpstart their playoff aspirations, it does appear that if the Suns had a scoring power forward that they would be a playoff team, now.
How Bad Do You Want the Suns to Make the Playoffs?
I was a huge proponent of everything General Manager Ryan McDonough did to address the power forward position this offseason.
Bringing back Jared Dudley was essential for a few reasons. He is a fan favorite; he brought in veteran experience; and he is a vocal leader and teacher. The Suns were never going to count on him to lead the team in scoring – or any statistical category – but he would happily lead the young up and comers as they develop, then take a backseat if/when one or two of them step into the starting role. (Which literally just happened – see Paul Coro's tweet).
On paper, Dragan Bender had the most upside as a future true power forward in this year's draft (I say true since Ben Simmons is more ideal as a small forward) and Marquese Chriss has proven to have the most athleticism in that position since, dare I say, Shawn Marion and Amar'e Stoudemire. But those two rook's will not be ready for at least a year or two to have any significant impression, and truthfully, as 19 year olds, it may be several years longer.
And yet the Suns are competitive now. They have a solid starting lineup with tons of scoring potential, but all from the guard and wing positions. A winning team does not need a scoring presence at all five positions, but since a dominant offensive center is nearly impossible to come by, and Tyson Chandler is such a defense force, the Suns can easily win without a regular scorer from the center position.
Plus, odds are that Ryan McDonough will not just sit on his laurels this season and let the roster stay as is, and a trade of some kind is definitely possible. The franchise has not gone a full season (not including the lockout season of 2011-12) without making some trade since the 2006-07 season. Odds are that at some point McDonough will pull off a move with active players on the roster.
Many point to the Suns' position of strength at point guard as with whom they can make trades with. Even with the release of Archie Goodwin, the Suns have a plethora of ball handlers and can easily replace, say, Brandon Knight, with their own 'next man up' mentality.
The Suns also have plenty of first round picks coming up in the next five years that can be used as well. Trading picks might not necessarily be the most beloved move by Suns fans, but they still have two Miami first round picks with which they can make a move with, and still keep their own – or via versa.
Not to mention, unless the Suns tank or collapse due to injury, they very likely will be out of the top-5 in next season's draft. The draft is a crapshoot no matter where a team picks, but the farther they are, the less likely their pick will be impactful. Is it possible to find franchise players outside the top-5? Sure! See the previous examples of Marion and Stoudemire, then remember where Steve a Nash was selected. But for every pick hit on the head, there are flops, and if a team can trade a pick for a player who is already established, then it almost doesn't matter if the player selected with that pick ends up being successful or not.
What If a Trade Cannot be Had?
Now as I mention this, I realize that the Suns are going to be one of about 30 teams that would love the services of some of the top names in free agency hey become available this off season. And with the salary cap increasing, at least financially, every team will be in play.
Couple that with the understanding that if the Suns do not show enough of an improvement this regular season, that from a winning perspective Phoenix is less likely to be a destination of choice for said star free agents. This which makes jumping into the free agency pool potentially much less desirable.
That being said, if the Suns find themselves completely allergic to attempting to win right now, or a trade never materializes, then free agency in 2017 could be an option. There are two power forwards who will be highly sought after and would provide the offense at power forward in Blake Griffin and Serge Ibaka. Griffin is younger, has full superstar qualities, and ultimately would be the best player available should the Los Angeles Clippers not lock him up in the mean time, trade him, or match whatever offers he receives in free agency.
Ibaka would provide additional interior defense but could also be counted on to step back and shoot a three. This would make the Suns the ultimate spread offense and would almost guarantee an open shooter on ever possession, but he is not a 'go to' scorer, so while he would be a positive improvement, he would not necessarily make the Suns the contenders they wish to be.
The great positive about the free agency scenario though is that the Suns are able to keep all their future draft picks, keep all three of their 2016 draft picks (and Brandon Knight), and allow Bender and Chriss to not only grow while in a reserve role. This provides Head Coach Earl Watson with significant depth off the bench which will be absolutely necessary for playoff runs, and in no way hurts the Suns' rebuilding process, but only enhances it exponentially.
So What Is the Answer?
As has happened to me in the past, literally as I am writing a piece about a fix or potential move that I believe the Suns need to make, they make it. And with this piece, as I am sitting here putting the final touches on it, Paul Coro tweeted that the Suns will be replacing Jared Dudley in the starting lineup with Marquese Chriss, potentially adding an offensive and defensive boost.
This move might solve the issue at power forward to some degree, and if it proves to be successful on any level, may negate any moves at the position in the near future.
That being said, Chriss is still 19 years old. While they, we, and I, are all hopeful that he is the answer, if Chriss is still a few years behind in growth, and the Suns are otherwise knocking on the playoff door, then a move for a star power forward may still be in the offing.
At that point a move that solidifies the power forward position will solidify Phoenix Suns playoff runs for a very long time.
Follow Valley of the Suns on Twitter at @ValleyOfTheSuns and on Facebook at Facebook.com/PhoenixSunsBlog
More from Valley of the Suns
This article originally appeared on