Is Isaiah Thomas Bound to Regress on Defense?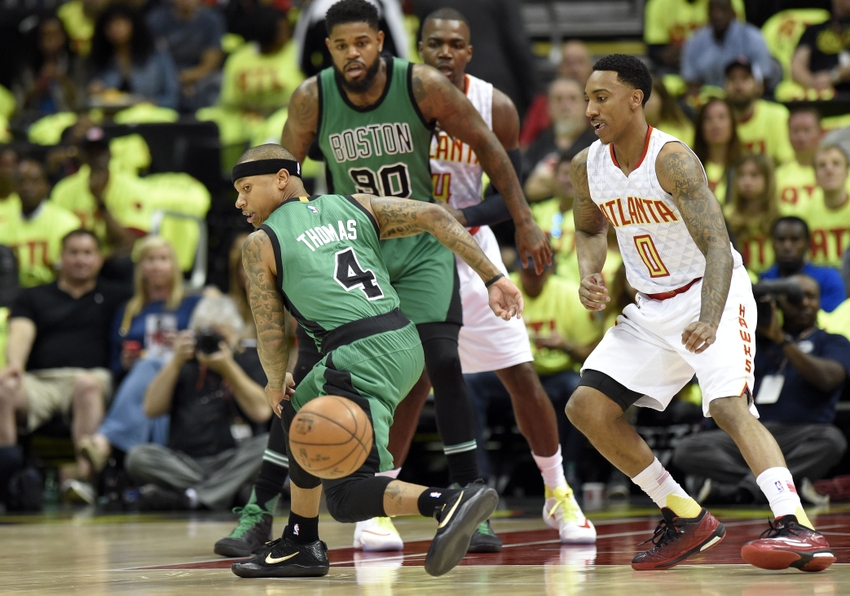 Evaluating how Isaiah Thomas can avoid being a liability on defense for the Boston Celtics
With the interior getting stronger with Al Horford, opponents only have one legitimate option to attack on the Boston Celtics' starting unit, Isaiah Thomas. Defense has never been a strong area for Thomas, and that is the one area he may never be able to make up for how undersized he is. Thomas has found ways to use his unique size to his advantage in the paint, but it is far more difficult to find any defensive advantage because of his size.
Despite being a weaker defender throughout his career, Thomas has managed to be quite solid for the Celtics. He has not been a difference maker on that end, but he has been serviceable and has found ways to avoid being a liability. Thomas has played with standout defenders in Avery Bradley, Marcus Smart and Jae Crowder and he has done a great job of figuring out what he needs to be on the defensive end.
Boston's biggest strength last season was the defense of their back court. Even with Thomas in the lineup, teams were better off attacking the Celtics in the interior. The Celtics had plenty of ways to make up for Thomas on the defensive end, but they had none of that with their bigs. Now that Horford is in the picture, teams will be forced to attack the Celtics differently.
More from Hardwood Houdini
Thomas has a career defensive rating of 111, but his two seasons in Boston have been his best. In that first half season, Thomas brought it down to 109. And, it is no surprise that as the Celtics elevated their defence as a team, he hit a career best 107 defensive rating last year. Again, Thomas has never been a difference maker on defense, but he has done a phenomenal job of avoiding being a liability during his time with Boston.
Thomas has also greatly helped his case with his ability to generate steals. His 1.1 steals per game were fourth best on the team. Thomas realized that steals was the only way for him to be a contributor on the defensive end, and he did a great job of feeding off the great defenders around him and pouncing any time there was an opportunity. Thomas is in a great position to be aggressive on defense. He has defenders around him that will make up for shortcomings and that has given him a lot of freedom when it comes to generating steals.
Thomas has rarely been a focal point of the defense and teams have not been able to take advantage of him in Boston the way they did earlier in his career. Unfortunately, that could be changing this year, even if the reason for that will make them an overall better defensive team.
Horford gives the Celtics that interior presence they needed and that will make them one of the most balanced and dangerous defenses in the NBA. Thomas, however, will be tested more than even before in Boston, and it is hard to trust that he can handle offenses attacking him even more.
One thing that has saved Thomas' defense in Boston is the help around him. They have great on ball defenders and they have great off ball defenders. Thomas' liabilities are not because of missed assignments or glaring mental mistakes on the defensive end. Stevens knows that he can get Thomas to play defense a certain way and that is how he can optimize the help around him.
If opposing offenses are putting more energy into attacking Thomas, that also means Stevens will put more energy into helping Thomas. The Celtics spent much of last season trying to make up for the liabilities in the interior, and now that help can be focused onto Thomas if he becomes a problem on the defensive end. Given how good the Celtics still managed to be with their interior defense last year, they should have no problem accommodating Thomas.
Thomas is far too important on offense to cut any kind of playing time, even if he becomes more of a defensive liability. The Celtics will know that Thomas is the weakest defensive player on the starting unit and they will do everything they can to take that potential additional responsibility off his shoulders.
Thomas has continually proven that he will improve and adjust in order to optimize his game for the team that he is on. Thomas did a great job of making an adjustment to become more of a distributor last season and it paid off big time. Thomas will continue to look to improve his offensive game, but now he needs to prove that he can make the necessary adjustments on the defensive end.
The Celtics have an opportunity to be the best defensive team in the league and after what they did last year with no interior defense, they will be better as a unit no matter what. The key to making their defense the most feared in the league will be making sure that teams cannot exploit Thomas, leaving them with no way of attacking them.
This article originally appeared on