Is George Hill the All-Star Utah Jazz Were Searching For?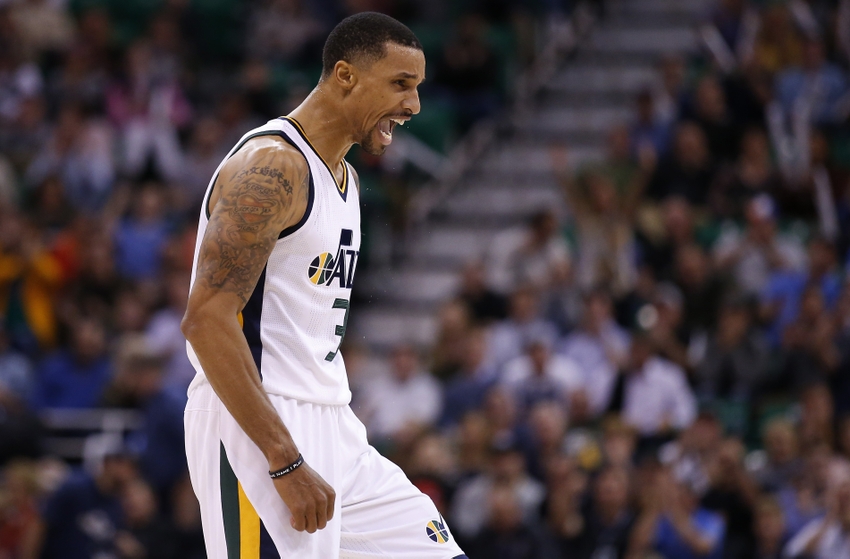 The Utah Jazz have spent the better part of the last decade searching for All-Star replacements for Deron Williams and Carlos Boozer. Is George Hill the player they've been looking for?
As the hype train was cruising along this season, talking heads often cited the Utah Jazz's lack of an All-Star as a reason they couldn't make any serious noise in the playoffs. Google "Utah Jazz lose close games" and you can read all about how Utah failed in the clutch.
There are only so many plays that teams run, and by the end of the game, the opponent usually has a very good idea about what is going to happen. Especially in Utah's case; with the game winding down, it was an isolation play with Gordon Hayward or Rodney Hood. There was the memorable Mavericks game where it worked out well, but any well-prepared team knew what was coming.
In that case, you can see it was defended well. Gordon just hit the shot.
Sometimes the difference in these situations is having a legitimate closer or star who can rise to the occasion.
Utah has been holding out hope for a star for some time. The conversation is always how can Utah win without a star. I wrote about it myself just this season. We know what Hayward can do and we all have high expectations on what he can become with the talent around him.
This is still his team, but what if George Hill can be that guy?
On the surface it seems unlikely. A career 11.4 PPG scorer doesn't usually make a leap to becoming an All-Star in his ninth season. What Hill's career numbers don't point out is that he is a remarkable team-first point guard whose only concern is winning. He was drafted by the San Antonio Spurs and recently said after the big win on Tuesday that coach Gregg Popovich is the single most important person in he basketball career.
As a member of good teams with other stars, Hill was never asked to lead the team or handle the offensive burden. In fact, he was deemed as someone who stood in the way of Paul George's development.
Traditional thinking would say that Hill's production will come back to the norm after this hot start. But Hill has had this type of production before. in 2014 after George broke his leg during a Team USA scrimmage, Hill was asked to step up in his absence. However, Hill had his own injury issues and sat out the first 28 games of the year with a knee injury. After returning to action briefly, he tore his left quadriceps and missed more games.
He played less that 30 minutes per game for the month he returned from his leg injury. But the following month of March in 2014, Hill averaged 19.4 points on 14.4 shots, 52 percent shooting and 35 percent from three with five assists. With all of his struggles that season, he ended up with a career-best16 points on 12.4 shots, 48 percent shooting and 36 percent from three with five assists.
For comparison's sake, Jeff Teague, who was named to the All-Star game that year, averaged16 points on 12.2 shots / 46 percent shooting and 34 percent from three with seven assists.
Utah has long coveted the big point guard and has made him feel like a necessary piece of the puzzle. They noticed an elite talent that was under-utilized and the early returns are excellent. 21.4 points on 14.6 shots, 55 percent shooting and 43 percent from three with 4.6 assists. Granted, it's a small sample size, but currently Hill is two percentage points away on his free throw shooting to qualify for the elite 50-40-90 club (50 percent shooting, 40 percent from three, 90 percent from the line).
Having watched as closely as I have, I don't see Hill's numbers simply being the result of a ridiculously hot start. His production is just slightly more efficient than his 2014 year when he got an equal number of shots. He has been a calming force on a young Jazz offense with the past tendency to grow stagnant at times. He is getting his numbers within the offensive game plan. This is why I don't believe he will suffer from a massive drop off when Hayward returns next week.
Joe Ingles and Joe Johnson will be the most likely candidates for losing shots and minutes to Hayward. This offense can sustain two wing scorers averaging 20 points per game.
More from Purple and Blues
Now let's be real. Utah plays in the Western Conference with some incredible point guards you may have heard of. Chris Paul, Russell Westbrook, Damian Lillard, and now James Harden technically counts. There aren't many places open on the All-Star team. But what about George Hill makes you think he cares about that? He cares most about winning and will do whatever he is asked to do.
If it turns out no one has ever asked him to lead, and he's this good at it, shame on everyone else. Indiana chose Jeff Teague over George Hill, but I'm not complaining.
This article originally appeared on