Is Enes Kanter a legitimate Sixth Man of the Year candidate?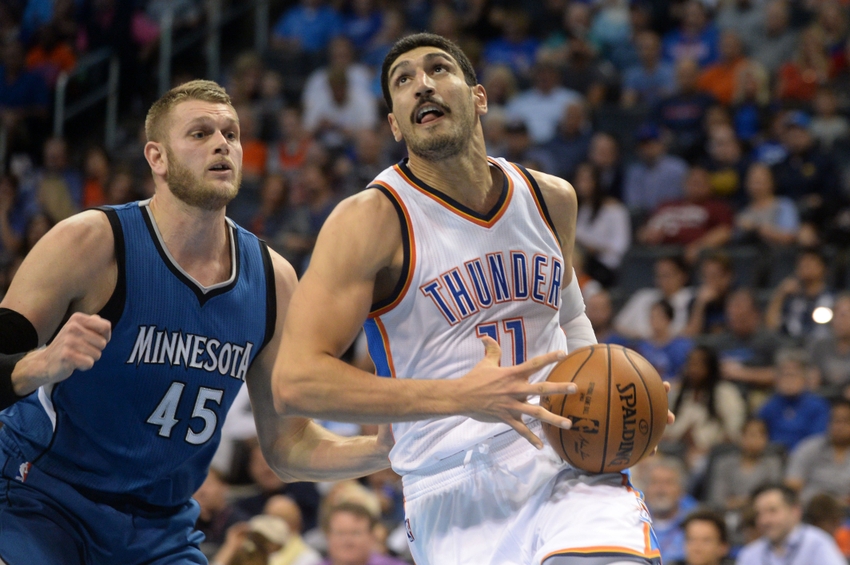 The Oklahoma City Thunder are 14-8 through 22 games this season, sixth place in the tough Western Conference. While superstar point guard Russell Westbrook has been the talk of the town for averaging a triple-double, he's getting some help.
Westbrook may own the headlines, but Victor Oladipo has quietly been playing the best basketball of his career and the Thunder do have a serious Sixth Man of the Year candidate coming off the bench in backup center Enes Kanter.
Kanter has been outstanding coming off the Thunder bench, averaging 12.8 points and 6.0 rebounds, in under 20 minutes per game. Those translate to averages of 23.9 points and 11.1 rebounds per 36 minutes, and he's doing it with a 61.1 true shooting percentage. Kanter's PER of 23.8 is second among non-starters, behind Los Angeles Lakers shooting guard Lou Williams at 24.4, and he is playing the best defense of his NBA career under second-year coach Billy Donovan.
Kanter was always going to be a frontcourt scorer in the NBA with his size, mobility, polished post moves and soft touch, but he left a ton to be desired defensively while with the Utah Jazz. His Defensive Box Plus-Minus this season is -1.1, below average but still the best of his career. Oklahoma City's defense is worse when he's on the court, as you would expect, but only about a point off from playing at a league average mark. When you factor in his offense, that's a worthwhile trade for 20 minutes a game.
He has the credentials to be considered a legitimate candidate, the question is whether he can buck the trend of that award going small.
Since the 2000-01 NBA season, only three forwards have won Sixth Man of the Year: Corliss Williamson for the 2001-02 Detroit Pistons, Antawn Jamison for the 2003-04 Dallas Mavericks, and Lamar Odom for 2010-11 Los Angeles Lakers. Since the NBA started handing out Sixth Man of the Year, only three players classified as either forward/centers or pure centers have won the award: Bill Walton for the 1985-86 Boston Celtics, Roy Tarpley for the 1987-88 Mavericks, and Clifford Robinson for the 1992-93 Portland Trail Blazers.
Sixth Man of the Year is a fairly predictable award. It typically goes to the highest scoring player off the bench, and usually that player is a wing or guard, especially in today's era dominated by perimeter scorers. Kanter's biggest challenge for the award then has to be the Lakers' Williams, who won the award back when he was playing for the 2014-15 Toronto Raptors, and who is averaging 18.3 points per game off the bench.
Should Williams win Sixth Man for the second time, he would be the fifth repeat winner of the award joining Kevin McHale, Ricky Pierce, Detlef Schrempf, and Jamal Crawford. Don't be surprised if Crawford puts it all together for Los Angeles Clippers this season to win his fourth Sixth Man. Golden State's Andre Iguodala is another strong possibility.
Truthfully, it will be tough sledding for Kanter to win Sixth Man. However, if his scoring totals stay high, he's going to be a finalist for Sixth Man in the eyes of many voters. Advanced analytics will only help his case, but jump-shooters like Williams or Crawford are more likely to catch the attention of NBA Awards voters than a solid, low-post player like Kanter.
This article originally appeared on