Is DeMar DeRozan Entering NBA Elite Status?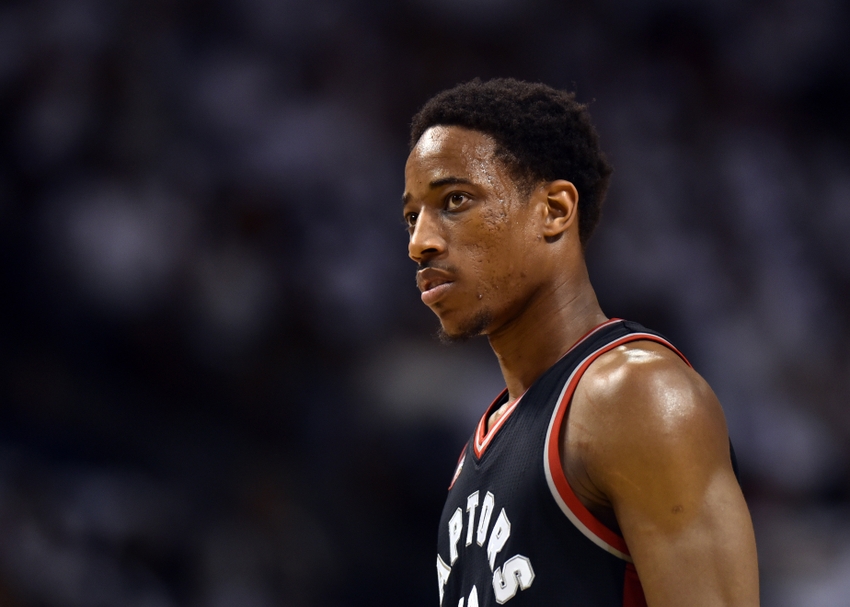 A look into the hot start of DeMar DeRozan's season and if he approaching the level of NBA elite
The Toronto Raptors are off to a 7-2 start, looking to be the Cleveland Cavaliers biggest threat in the Eastern Conference. And a big reason behind all that is DeMar Derozan.
DeRozan is on absolute fire and he doesn't look to be slowing down any time soon. Nine games into this early NBA season, DeRozan leads the league in scoring at 34 PPG, shooting 52 percent from floor which lands in him in the top 20 and a 31.5 PER (tied for second in the league).
In eight of his nine games this season, DeRozan has posted 30+ points, becoming only the seventh player in NBA history joining the likes ofMichael Jordan, Wilt Chamberlin, Tiny Archibald, and Elgin Baylor to do so. DeRozan is on his scoring rampage in old-school fashion with mid-range jumpers and driving to the basket, in fact he has only attempted 14 point from three point range this season (3-14, 21%).
More from Sir Charles In Charge
The percentage from long range is the only low point to DeRozan's stellar season, as his percentages from every other spot on the court are beyond impressive. 
DeRozan, a two-time all-star and olympic gold medalist, came into this season averaging 18 PPG , 3.9 RPG and 44 FG% for his career and he is well on his way to setting career marks. DeRozan has a spectacular 37.5 usage percentage  (only Russell Westbrook ranks hire) and a 8.2% turnover rate, which is impressive for anyone who controls the ball as much as he does.
The NBA elite is a short list of names that the NBA community deems the best of the best. The NBA elite are scorers, playmakers and winners. DeMar DeRozan is all of those and he is on his way to joining the exclusive club of the NBA elite.
Having lead the Toronto Raptors to three straight playoff berths, including an Eastern Conference Finals last a season, DeRozan has put Toronto on the map of the NBA's best. As an individual this looks to be the fifth straight season he will rank in the top 20 in scoring.
In the coming week, the Toronto Raptors have big matchups with Cleveland and the Golden State Warriors. Not only is it a test for the team as a whole, but for DeRozan as an individual.
Surely his torrid pace will cool off, but as long as DeRozan keeps up as a premiere playmaking scorer and the Raptors keep winning, DeMar DeRozan certainly deserves to be mentioned in the category of league elites.
This article originally appeared on