Is D'Angelo Russell in over his head?
By Raymond Boone
The Los Angeles Lakers made some noise earlier this offseason when they passed on Duke freshman center Jahlil Okafor in favor of Ohio State guard D'Angelo Russell as the No. 2 overall pick in the 2015 NBA Draft.
The expectations for Russell to succeed in Laker Land are through the roof.
The Lakers, once a powerhouse, are now reduced to rubble. The team is coming off of a 21-61 record – the first 60-loss season in the history of the franchise. In addition, the face of the franchise, Kobe Bryant, is surely on his way out of the league and into the obscurities of retirement.
The obstacles that Russell will face will be difficult to overcome, and he seems to not be making it any easier on himself.
Earlier this month, Russell posted a tweet claiming that if not for the injuries, former NBA star Tracy McGrady "might have been the GOAT."
This may not have been the smartest thing to say considering that Kobe Bryant, the darling of the Lakers organization and fandom, is his teammate. Bryant, an all-time great and future Hall-of-Famer, should not even be mentioned in the same breath as McGrady.
Russell's defense of his tweet – which has since been deleted – did little to silence disgruntled Laker fans.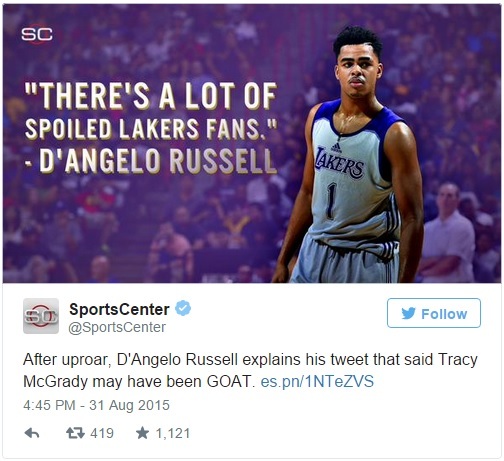 Calling the fan base of your own team "spoiled" may not have been the best idea. Especially considering that he is a rookie guard who has never played a second of NBA basketball.
If Russell is able to live up to the hype that comes with his draft status, then this incident may very well be forgotten. Russell will have to prove himself when the regular season rolls around, or his time as a Laker may not last very long.
More from The Sports Quotient: