Is Bismack Biyombo underperforming or being misused?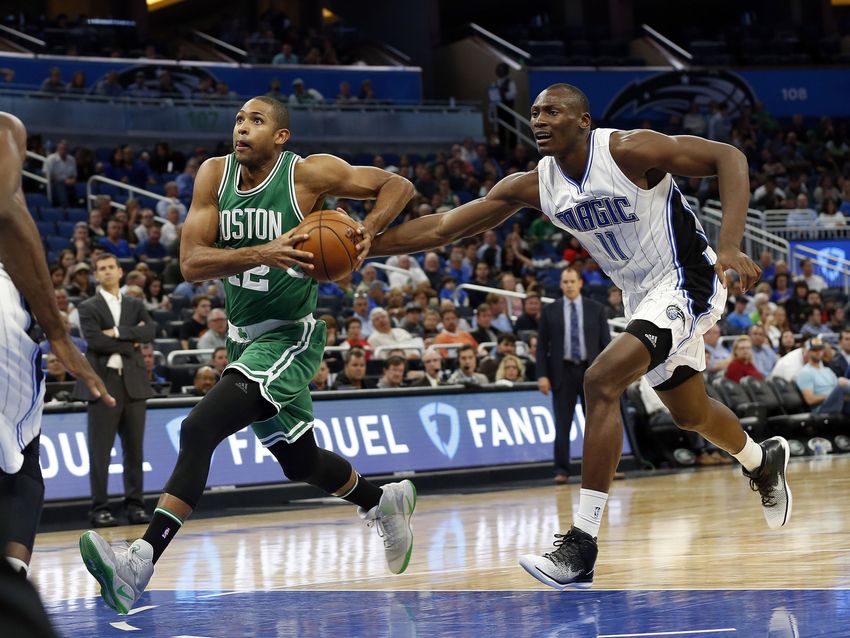 Signed in the offseason to provide the Orlando Magic with staunch post defense, Bismack Biyombo has not quite lived up to expectations so far — and it may be time to reevaluate his place in the rotation.
As the Orlando Magic's season unfolds, many of the team's tendencies have progressed (or regressed) to the mean.
The team has started to win like they are supposed to – with defense. The team's defense is performing much closer to expectations than it was at the beginning of the year, gradually climbing the statistical leaderboards to reach where it currently sits in the top 12 in points allowed per 100 possessions (down from the top five in the past week).
Stats around the league as a whole have begun to stabilize around the league because of a growing sample size, and Magic fans should feel optimistic about most of the team's trends at this point in the season.
But there is one surprising blemish – Bismack Biyombo has been underperforming on defense. At least in some key areas — Biyombo is still 15th in the league with a 2.8 defensive box plus-minus, according to Basketball-Reference.
Frank Vogel has made a few rotation changes over the last couple of weeks that seem to work around the weaknesses Biyombo has been showing — defending post-ups, bogging down the paint on offense, and defending away from the basket. And the results have been good so far.
Defending Post Ups
Last season, Bismack Biyombo was one of the best post defenders in the entire NBA. This season, he has been significantly worse.
Among players who defended post-ups at least 75 times last year, Biyombo was the eighth best giving up 0.72 points per possession on posts ups. That landed him smack dab between Marc Gasol and Tim Duncan.
But, this year, Biyombo and Serge Ibaka have combined to allow almost as many points on post-ups as the entire Milwaukee Bucks team has. Among players who have defended post-ups at least 30 times, Biyombo is in the bottom 10.
As a result, the Magic are near the bottom of the league in post-up defense.
Opposing players' field goal percentages improve significantly when Biyombo defends them. In fact, they increase from their normal field goal percentage more than they increase against any other Magic defender with 10 or more games played.
Bigs have simply had their ways with Biyombo on offense. They have been able either to muscle him down for a higher percentage shot or use footwork to move around him for an easy look.
Take this play for example:
Here, Andre Drummond receives the ball around 10-15 feet away from the basket, and it takes him about two dribbles to get to his sweet spot for an easy hook shot.
To be fair, Drummond is one of the strongest post players in the NBA. But, to anyone who has watched Biyombo the past couple of years, watching Biyombo get bumped down like that might is surprising.
A month prior to this, Demarcus Cousins was able to use his quick feet and post move combinations to simply outmaneuver Biyombo when they were matched up.
For a center as agile and athletic as Biyombo, this should not be happening as frequently as it has.
This play is from a few years ago, but here Nene posts up against Biyombo.
Nene, a big known for agility, light feet and quick movement, uses virtually the same exact move Cousins used, but is forced into an errant shot because of Biyombo's quick footwork and instincts.
While he might be more notorious for powerful, emphatic blocked shots, quick feet are just as essential to Biyombo's defensive game as is his wingspan — as is the case with almost any post defender.
But in the past couple of months with the Magic, Biyombo has appeared to be just a step slow.
In his defense, his matchups have not exactly been a walk in the park, having faced almost all of the league's best centers already — Marc Gasol, Hassan Whiteside, DeMarcus Cousins and Andre Drummond to name a few.
That said, regardless of his opponents, these numbers are very uncharacteristic for Biyombo.
The good news at least is Biyombo is defending opponents well at the rim, leading the Magic's rotation post player in that category, giving up 47.3 percent shooting at the rim.
The Magic are certainly hoping this post defense trend will turn around and the numbers will start to look better as the season goes on. But this could also be a sign of aging that will not just go away anytime soon.
Bogging down the interior
On offense, Bismack Biyombo has also bogged down the paint and prevented other Magic scorers, such as Aaron Gordon and Elfrid Payton, from playing to their strengths.
With Biyombo on the floor, the Magic allow almost four more points per 100 possessions than they score.
Payton and Gordon both are forced to shoot from farther away from the basket with him on the floor, resulting in inefficient scoring and fewer points per shot.
This is a clear sign Frank Vogel needs to continue playing Evan Fournier, Jeff Green and D.J. Augustin — players who do not necessarily to play inside to score effectively — alongside Biyombo.
It is also worth noting that with Serge Ibaka on the floor and Biyombo off, Aaron Gordon is able to take more than half of his shots within nine feet of the basket.
Gordon has been lights-out close to the basket as well, ranking around the top of the league in field goal percentage on post-ups, post touches and paint touches. Admittedly, these are relatively small sample sizes, but even compared to players with fewer touches and attempts his performance has been elite.
With Biyombo on the court, Aaron Gordon is forced away from the basket.
Less than one-third of his shots have come within nine feet with Biyombo on the floor and Ibaka off, with the plurality coming from 16 feet or more.
Even if Gordon plays the 3, a position that typically requires its player to score from outside, pairing him with stretchy bigs like Serge Ibaka and Nikola Vucevic gives him the opportunity to play inside more and exploit size mismatches against opposing 3s.
If the defense keeps their big man inside to guard Gordon, then he can kick it back out to Ibaka or Nikola Vucevic for an outside shot, ideally over a smaller defender.
On this play, with Biyombo lurking closer to the perimeter, Gordon and Ibaka run a pick-and-roll.
Because Al Horford is not exactly an ideal matchup for Gordon inside, he is able to kick it out to Ibaka for the pick-and-pop three.
Had the Celtics switched, Gordon would have instead been matched up with Jae Crowder in the post with Horford outside guarding Ibaka. That would have given Gordon a height advantage and a much better look inside.
Additionally, if Vucevic were at the elbow instead of Biyombo, Amir Johnson would have been forced to defend closer to his man and farther away from the basket.
On this play, when Gordon brings the ball inside, Johnson steps into the paint. With Horford staying down low and not switching onto Ibaka, Gordon is effectively denied an easy look.
If the Celtics had switched on the pick and roll instead, Ibaka probably would not have been able to sink that triple because Horford's length would have denied him the space a confused Crowder allowed him. But, in that case, Gordon would have ended up with a more favorable matchup against Crowder down low. Had Vucevic been at the elbow, Johnson would not have been able to offer Crowder any help, giving Gordon a favorable one-on-one matchup.
If he had come down to offer help, Gordon could have kicked it to Vucevic for an open jumper.
To sum it up, having Ibaka on the floor with Gordon here allowed the Magic to exploit the Celtics' defensive lapse switching on the pick-and-roll. But if Vucevic had been at the elbow instead of Biyombo, the Magic would have had even more options to beat the Celtics defense even if they had made the right moves at every turn.
With that in mind, Gordon does not necessarily even need to play the 4 to play inside and succeed. Playing him at the 3 in the right lineups, with Vucevic and Ibaka, could pay dividends for him and the team.
Orlando Magic's defense continues to struggle
In Toronto, Biyombo spent most of his minutes alongside teammates with fantastic midrange and outside scoring acumens in DeMar DeRozan and Kyle Lowry. Because those stars do not need to post-up or drive or play near the basket to succeed, Biyombo's weaknesses on offense were not very significant to the Toronto Raptors.
But the Magic need bigs that can draw their matchups outside in order for Gordon, their franchise star, to play to his strengths.
Biyombo will never be an outside scorer. And because of his defensive contributions and the skill sets of his teammates, he has never needed to be.
But if Biyombo continues to allow opponents to post him up and score at one of the highest rates in the league, the Magic will inevitably have to ask why he is on the court in the first place – especially if Vucevic continues to defend as well as he has.
Defending away from the basket
The beauty of having a strong, athletic and nimble big man is having a center who can switch onto guards and stay in front of them.
Tristan Thompson and Steven Adams are two great examples of bigs as versatile as anyone else in the league — the Cleveland Cavaliers and Oklahoma City Thunder respectively were able to use them to counter the Golden State Warriors' notoriously fast pace and high-octane ball movement designed to create mismatches.
According to Nylon Calculus's Defensive Range Adaptability measuring tool, Biyombo was among the best centers in the league at defending versatile wings and perimeter specialists.
His quick feet and defensive instincts allowed him to respond to his matchups' quick motions and fakes. And even if he did not block their shot, he was able to prevent them from driving or finding an easy look.
Although Biyombo is not able to block Goran Dragic's's shot here, Biyombo is able to stop him from driving all the way to the basket and then sticks with him to the perimeter.
While many guards and wings would theoretically consider this to be an advantageous matchup, Biyombo does not bite on Dragic's fakes. He uses his length to  force a miss despite staying a few feet in front of his man.
This season, however, opponents are shooting nearly a full 10 percent better than they did last season when Biyombo defends them around midrange.
It bears repeating the Magic have been an overall above-average defensive team up to this point, so there is no real reason to sound the alarms here. It could be a reason for optimism. If Biyombo starts defending like he normally does, just how high could this defense's ceiling be?
But until then, Frank Vogel and the Magic have to keep looking for solutions.
This article originally appeared on