Interview: George Hill Talks Utah Jazz, Hearts & Hoops Initiative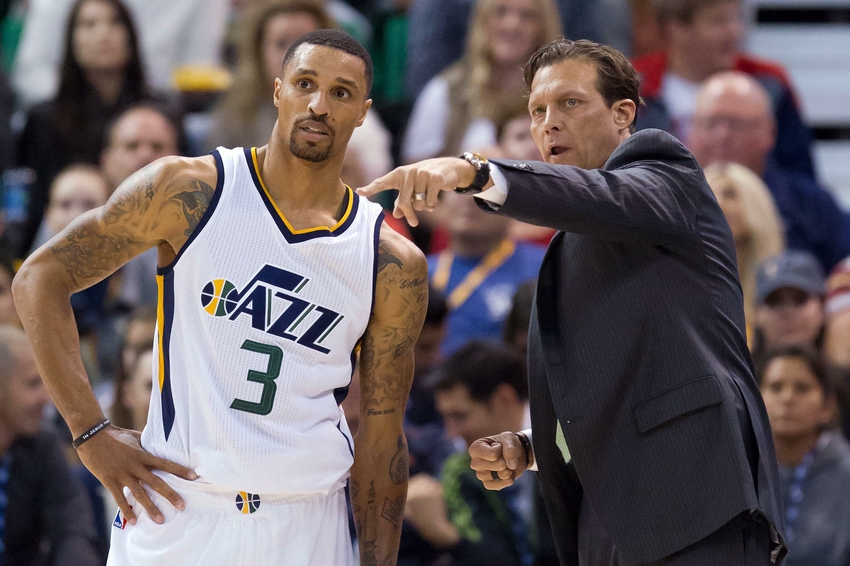 Utah Jazz point guard George Hill talks about the team, his future and the Hearts & Hoops initiative to benefit the Utah Food Bank and Toys For Tots.
George Hill is a pretty active guy and not just on the basketball court. Sure, his strong play to start the 2016-17 season recently netted him Western Conference Player of the Week honors, but his work off the court has been equally impressive during his short tenure with the Utah Jazz.
Most recently, the Jazz point guard has teamed up with CenturyLink for the Hearts & Hoops initiative to collect food and toys for families in need this holiday season.
I had a quick chat with George today about the initiative, the Jazz and his future in Salt Lake City. Here are his thoughts —
George, you've had a pretty strong start to the season. Is there something specifically about Coach Quin Snyder's system that is working for you?
George Hill: Definitely so; it fits me well. You know, Quin was kind of like the same type of player. So, when he's putting in the offensive schemes and things like that, he's pretty much doing it where all the players can be effective and he puts everybody in the right spot out there so we're playing to our strengths and not our weaknesses.
I think his system does wonders for me just based on my game.
How's that injured thumb?
GH: It's doing good. You know, it's recovering pretty well. Just taking it one day at a time and trying to get back.
Do you think it will be good for Thursday's game with the Chicago Bulls?
GH: I'm not sure. It's hard to say. I'm going to try and do some things today and see how it feels. The thing is, you don't want to do something where it gets aggravated or hurt again from not letting it heal and I'm out longer. So we're just being cautious about it.
In your absence, some players have had to step up and do some different things. What has Dante Exum shown you recently?
GH: He's doing great, you know. He's still a young, young player, learning every day. But, in the games, you see flashes of a lot of the excitement he can bring to this organization and city. So he's continued to work very hard every day on his craft and his shot. And he's doing a great job of taking in information like a sponge and learning and applying it to the game.
Tell us about the Hearts & Hoops initiative and where we can see you next.
GH: Yeah, I partnered with CenturyLink for the Hearts & Hoops initiative to collect food and toys for families in need for this holiday season. So, you know, it's a great way for, not just me, but also the Jazz fans in this community to give back and try to make this community a better place.
This month we're collecting boxed and canned foods for the Utah Food Bank. In December we're going to do a big event where we collect toys to benefit the Utah Toys For Tots. CenturyLink has been a blessing, to even give fans the opportunity to just give back and CenturyLink is giving fans an opportunity to win.
Each month they're going to pay for a deserving fan to get a VIP Jazz experience, with two lower bowl tickets, two Jazz jerseys and other great prizes. You can do that by coming in to give for the raffle for that. You can donate food at some of our collection locations or you can also go to Jazz.com/HeartsAndHoops.
You can come out tonight, from 4 to 5 at the Gateway Center. Me and CenturyLink are going to be there collecting boxed foods and canned goods to try to give back to the Utah Food Bank. So everyone come out and have a great time with us and meet people.
Since we're talking holiday giving and toys, is there a specific present or Christmas memory that has stood out to you in your life?
GH: Definitely so. When I was a kid, you know, the Playskool plastic courts that were white backboard, blue base that you put water in and the rim was dunk breakaway. That was one of the first gifts that I actually remember — only because I broke it the first day I got it. So that sticks out in my head a lot. It's one of the best gifts I ever got as a child.
You've done a lot in the local community since arriving in Salt Lake City. What has your experience here been?
GH: It's been pretty good. Everything that allowed me to come here to Utah has been great. You know, the fans, the city have embraced me. The Jazz culture and family have welcomed me with open arms. Any time you have those things clicking on all cylinders, it just makes for a great place to raise your family and be a part of.
Having said that, do you see this as a place you could stay long-term?
GH: Definitely so. That's always my goal. I'm not a big fan of moving from city to city. So, if the opportunity is there, we'll have to figure it all out.
More from Purple and Blues
For more information on George Hill and the Hearts & Hoops initiative, you can get updates from George on Twitter @George_Hill3, from CenturyLink @CenturyLinkUT or go to Jazz.com/HeartsAndHoops for information on collection locations and more.
This article originally appeared on