Indiana Pacers: Time To Think Of Trading Paul George?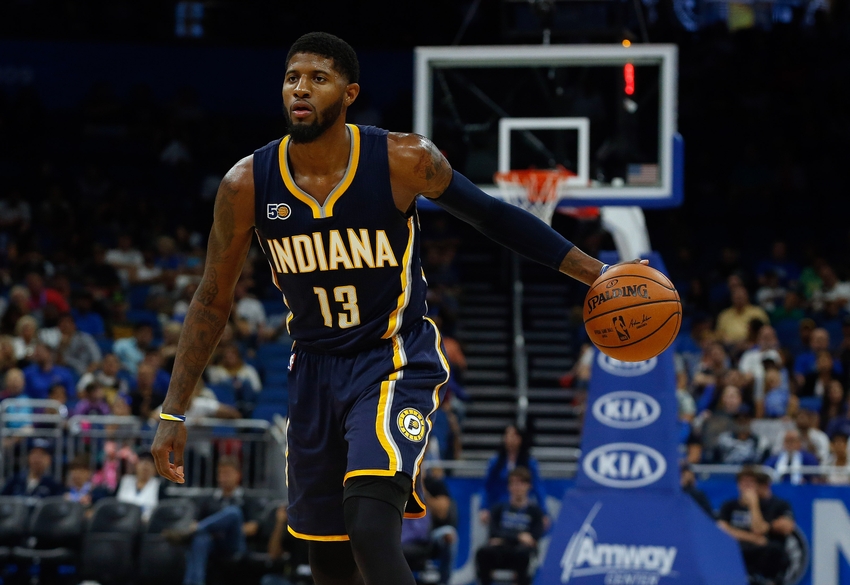 Paul George can opt out of his contract after next season. Should the Indiana Pacers deal their star or risk losing him for nothing?
The Indiana Pacers are in trouble, but we don't quite know it yet.
Short-term, the focus is on how the new additions and new coach are meshing together now that nearly a quarter of the NBA season is behind us. At 9-10, the Pacers are just a game out of the eighth playoff spot with plenty of season left.
The short-term question is a distraction to a much bigger issue that the Pacers have to deal with: the status of their star player, Paul George.
George is under contract through next season with a player option for 2018-19 that he will almost certainly decline in order to become a free agent.
George signed his deal under the old salary cap and will be making $19.5 million next season. The deal is a bargain compared to what he'd make in the open market if he were to become a free agent today.
His yearly salary is in the same ballpark as guys such as Ryan Anderson, Allen Crabbe, Tobias Harris, Evan Fournier and Evan Turner.
George is on another tier from those players and will be paid accordingly when he hits free agency, making it almost certain he will decline his option in order to become a free agent in the summer of 2018.
That's nearly two years away, but the Pacers can't afford to wait until next season to take action with George. Over the summer, the Pacers and George discussed an extension to keep George in Indy but didn't result in a deal.
The extension can still be agreed upon before George hits free agency. George could sign a short-term extension to stay in Indiana and get an immediate raise like Russell Westbrook did. Westbrook signed for an extra season in exchange for an immediate raise on his current deal.
We'll know that by the start of next season. Larry Bird and the Pacers' front office have to have some sort of idea on George's future and where the Pacers stand in his eyes.
The problem is that by next season, George will have lost plenty of trade value and he'd have more control over any potential deal.
If the Pacers and George fail to reach an extension, any trade suitors would be trading for a season of George and risk losing him after that season.
Any team taking a chance on a one-year rental for George would likely have serious reservations about giving up a package for what a star like George is worth.
Fort Wayne Mad Ants Improve to 7-1 Following Win over Windy City Bulls
What the Pacers cannot do is lose George for nothing in free agency. It's a tough decision for any franchise, especially one that isn't exactly a hot spot for stars in free agency. Teams will do whatever it takes to acquire a star player to headline the franchise for years.
Look at the Philadelphia 76ers, who have spent years tanking to have a better chance at a higher draft slot in order to land a franchise-changing star.
Once you get those types of players, you don't let them go.
However the recent trend of stars switching teams has to worry the Pacers. Do you think the Oklahoma City Thunder wish they would've traded Kevin Durant and received a package of promising players to surround Westbrook? Absolutely.
The case for George staying isn't the strongest. The Pacers' recent free-agent acquisitions haven't really moved the needle.
Players like Monta Ellis, Jeff Teague and Myles Turner are solid, but if Durant can leave Westbrook and if LeBron James can leave Dwyane Wade and Chris Bosh, then George can leave what the Pacers have.
If George hits free agency and has the choice to play for teams that are already better than the Pacers and on the rise, it'll be tough for George to turn down. Especially if those teams reside in bigger markets where George can increase his visibility and profile.
George will surely get a max deal, so salary will not be an issue. For surefire max players, their decision hinges largely on three things: basketball situation, location and how a new team could help them off the court. This doesn't bode well for the Pacers' hopes of retaining George.
Trading George would obviously not be a move to make the team better now. You don't trade players of George's caliber with the goal of becoming better immediately. It would likely begin a rebuild around Turner and whatever they could get in return for George.
Right now, a player like George would be worthy of a king's ransom in a trade. Trading George would jump start a rebuild that would become infinitely more difficult if George were to walk after next season in exchange for nothing.
For Pacers' fans, the thought of George in another uniform is a tough pill to swallow. But it's much safer to trade him in exchange for a bundle of assets as opposed to losing him for nothing. The front office is in a tough position with no ideal alternative to having George re-sign.
Trading George would appear to be unlikely, but it would be wise for the Pacers to explore that option sooner rather than later if George is indecisive on his future with the team.
This article originally appeared on