Indiana Pacers: Sleeper Team Of The 2016-17 Season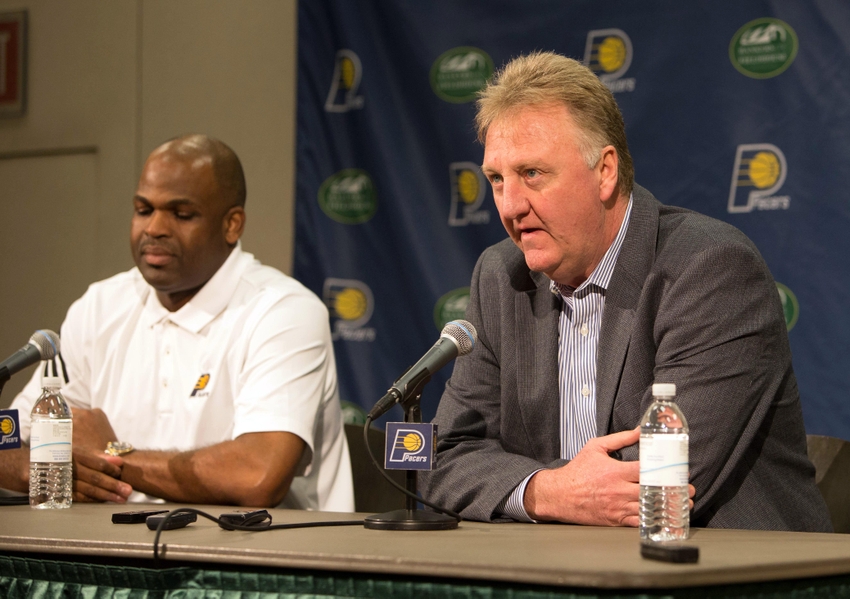 With some low key additions this summer, the Indiana Pacers are going to surprise a lot of people this season.
One franchise that has flown under the radar this summer is the Indiana Pacers. Despite having a top-10 player in the league in Paul George, they are not getting spoken about the way they should be.
In fact, most of the media attention surrounding them this offseason came when they parted ways with Frank Vogel, as the former head coach got his marching orders despite keeping the Pacers above water while George was out with a broken leg.
Nate McMillan was promoted from within to take over, and everybody went back to fawning over other organizations and the moves they made.
Despite being perceived as a smaller market team however, the Pacers did well to build a competitive roster around George. So much so in fact, that it may be the best version of the team we've seen since their titanic postseason clashes with the Miami Heat.
Looking at their roster, there is so much to like, to the point where you could even argue the Pacers are stacked.
It begins and ends with George of course, and it's no wonder team president Larry Bird is already talking about extending his current deal and offering him a max contract.
The Pacers were the seventh seed in the playoffs last year, and yet they pushed the Toronto Raptors to seven games.
Throughout the regular season, George actually posted better numbers in various statistical categories than before his injury. He was in the MVP conversation before his leg break, but in fact he was even more impressive last year.
The main issue was he did not have the help he looks to have around him now every night. Consider these numbers. In 2013-14, George played in 80 games, averaging over 36 minutes a night.
To hell with it! I got the Indiana Pacers going to the Eastern Conference Finals. PG is that good, added much needed pieces.

— Slim Hardaway (@HoopeFiasco) August 31, 2016
He posted brilliant numbers across the board in scoring (21.7 PPG), rebounding (6.8 RPG), assists (3.5 APG) and offensive plus/minus (+2.9). He had a Player Efficiency Rating of 20.1 (with the league average being 15).
It's hard to improve on those numbers, but in his first full season back with the team, George went out and did the following. He only missed one game all year (starting the other 81) while averaging 23.1 points, 7.0 rebounds and 4.1 assists per game.
He managed to up his PER to 20.9, while also increasing his three-point percentage as well (from 36.4 percent to 37.1).
Perhaps most impressive of all, he increased his numbers across the board while playing fewer minutes per game (from 36.2 MPG to 34.8). Make no mistake, the Pacers have their superstar, and he is an efficient one.
It is about what the supporting cast can add, and this is where Indiana will surprise people. Flipping George Hill, a serviceable point guard, and turning him into Jeff Teague was a masterstroke.
Teague has been an All-Star, and is possibly the most underrated point guard in the league today. At 28 years old, he is only entering his prime.
He is durable (appeared in 377 of a possible 394 games since 2011), has improved his outside shooting (sizzling 40 percent three-point shooter last year, a career high) and perhaps most importantly, is not a ball hog.
Teague is the kind of guy who can post All-Star numbers, but is quite comfortable playing second fiddle as well. With the Atlanta Hawks, he co-existed with other stars like Paul Millsap and Al Horford.
The only worrying aspect of adding Teague is that he is entering the last year of his current contract. Should be turn out to be a one-year rental, at least the Pacers did not part with much to get him.
Alongside Monta Ellis, the rotation of guards the Pacers can turn to is among the most intriguing in the league. Ellis has found a home in Indiana, and is a more controlled gunslinger these days.
His numbers may be slowly declining, but alongside Teague and George, he'll get better looks. He needs to improve on being a career 31.3 percent three point shooter, however.
But this is surely his last chance in the league, and he will be canned if he shows any signs of messing up team chemistry.
The prospect of Teague forming a partnership with new center Al Jefferson is another exciting prospect. The league has now moved into the pace-and-space, three-point shooting era.
The Pacers have the personnel to play teams that way. However, with the addition of Jefferson, the team can dump the ball into the paint and get buckets that way.
Teague should in theory be able to get the best out of the old-school big man with his style of play. Add George to that mix and you have the makings of a tough starting unit.
But there is more to adding Jefferson than just on the court production. Injuries have slowed him down in recent years, but one individual who will benefit hugely from his arrival is Myles Turner.
Turner may well be the X-factor for this team in the near future, and at only 20 years old his ceiling is high. As a rookie, he did a little bit of everything for the Pacers.
He played in 60 games, starting 30. He chipped in with scoring (10.3 PPG), rebounds (5.5 RPG, a number that needs to improve) and even attempted the occasional three-point effort (21 percent from long range). Offensively he doesn't offer you a lot, but he's already a notable rim protector (defensive plus/minus of +1.4).
Consider this: Bismack Biyombo is four years older than Turner and got paid this summer, but Turner scored almost twice as many points as Biyombo last season, and wasn't too far behind him in terms of defensive production either (Biyombo averaged 5.5 PPG, while posting a defensive plus/minus of +2.3).
He won't be the starter for this team, yet can also fill that roll if called upon. The Pacers have done well to combine two big men at different points in their careers who will be able to contribute for 48 minutes.
The final piece to the puzzle came with the acquisition of Thaddeus Young from the Brooklyn Nets. Young is not a modern floor spacing power forward, but he does a lot of things right on the court.
He averaged 15.1 points a game last year, and if he can contribute similar number as the fourth option on this team, the Pacers will be onto a winner. He's another solid addition, much like Teague and Jefferson.
When you sprinkle in the star dust that George (and potentially Turner) brings, however, it's easy to see the Pacers being a top-four team in the Eastern Conference.
When they start the season strongly and beat your favorite team away from home with a mix of long range shooting, superior defending and old-school play, don't say you weren't warned.
This article originally appeared on