Indiana Pacers: Pacing In The Wrong Direction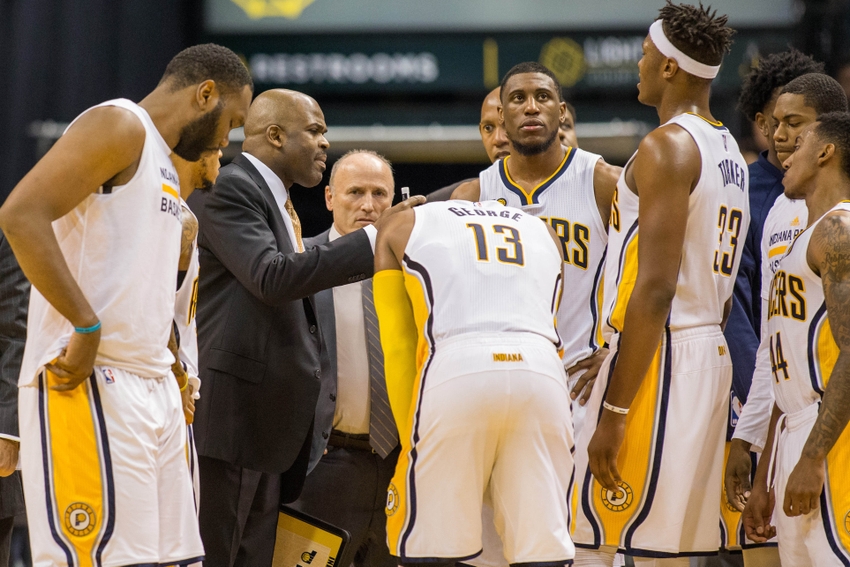 This looked like the year where the Indiana Pacers would be fighting for the top spot in the East, just like they were a few years ago, but things haven't been going so smoothly for them
Going into this season, Paul George was excited to get back on the court with some new additions to his team.
On July 7, 2016, the Indiana Pacers acquired Thaddeus Young and Jeff Teague through a trade. In this move, the Pacers lose one of their centerpieces, George Hill. Letting go of Hill may have been a tough decision but this team was already looking better on paper nonetheless.
Two days later, Indiana signed Al Jefferson to a three-year, $30 million deal. With the signing of Jefferson, this brings veteran leadership and a low post scoring threat off of the bench. At that point, Indiana looked like they could give the Cleveland Cavaliers a challenge in a playoff series.
More from Sir Charles In Charge
Now that we're in the beginning of December, roughly a quarter through the NBA season, the Indiana Pacers are one game under .500. If the playoffs started today they would not make it.
The New York Knicks are playing better basketball than them at this point, and people probably didn't expect that. This is not the Pacers team everyone has come to know in the 2010's era. After winning 49 games in 2013 and 56 in 2014, it looked like they'd be a contender for years to come.
With Paul George leading the way it would be hard to doubt that.
George is having somewhat of a quiet season. He's already missed some games due to a few nagging injuries. His numbers are good but they don't quite compare to the other superstars in the league.
I see Paul George always being compared to Kawhi Leonard and Jimmy Butler. A big part of that is because they are all two-way stars who play the 3 position. The fact is that Butler and Leonard are both playing better than George right now.
Coming into the 2016-17 season, Paul George was widely considered as the second best player in the entire Eastern Conference. If things continue to not workout for the Pacers, then Paul George will have to do significantly more on the offensive end.
Jeff Teague may not be shooting the ball well from the field but he's still playing hard. Teague is averaging career highs in steals and rebounds.
Thaddeus Young is scoring efficiently, at 53 percent, but is struggling in other areas. He's shooting a career low 48 percent from the free throw line. Young's scoring average is also the lowest it has been since his rookie year (11.8).
The Pacers should look to get Young more involved in the offense. It would help him develop a rhythm and as a result they should see an improvement in both his individual success and also their team's success.
Offensively, Al Jefferson can help a lot but one disadvantage is his defense. Most of the time Jefferson isn't going to run very hard to get back on defense. His playing time is very limited these days. One thing you can count on is a few points from him on the inside. Dump the ball to him in the paint, and he'll be sure to hand out a few buckets.
Is Al Jefferson the same player from four years ago? No. Can he still contribute to a team? Yes.
Even though the Indiana Pacers have a lot of guys who need the ball in their hands, it's still surprising to see that Monta Ellis is longer taking 15+ shots a game. He's having a decent year but the Pacers could use some more of him. They could use some more of everyone. That's the reason why they're not playing as good as everybody thought they would. That's the reason why you're reading this right now!
Is it safe to say that Monta Ellis is no longer… Monta Ellis? Is he even 70 percent of his old self? I won't go that far but maybe others feel differently.
2015 first-round draft pick Myles Turner looked like he was about to join the conversation of elite centers on opening night. Turner poured in 30 points, 16 rebounds and 4 blocks in a win against Dallas. Further into the season, he has yet to even come close to that performance. Turner is averaging 14 points, six rebounds, and two blocks – solid, especially for a sophomore, but not the elite player many thought he'd be this season.
So, what's the problem with the Indiana Pacers? There are so many questions that need to be asked. Is the team not fitting well? Are they not buying into Nate McMillan's system? Should they have kept Frank Vogel? You decide.
It's still too early to panic Pacers fans, but it isn't looking too good. Don't be surprised if this team pops up in trade talks. it's starting to look like they need that type of change if you consider what the Indiana Pacers' expectations are.
This article originally appeared on