Indiana Pacers @ Golden State Warriors: Game 21 Preview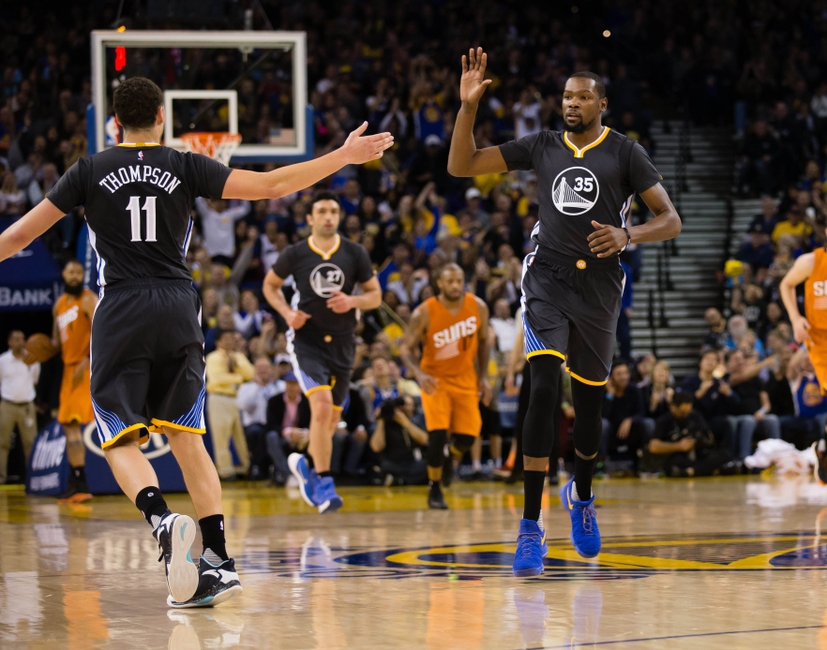 The Golden State Warriors will be hosting Paul George and the Indiana Pacers for their second and final game of the season series.
Where to Watch – 10:30 pm – CSBA/FSIN
Game Preview Notes
Golden State is 1-0 on the season against the Indiana Pacers coming into this match-up. Their previous contest on November 21st, was at Bankers Life Field House where the Warriors got a 120-83 victory over the Indiana Pacers.
This will be the first match-up against the Warriors for the Indiana Pacers' star forward, Paul George. Paul George led the Indiana Pacers to 111-102 road victory over the Los Angeles Clippers.
Stephen Curry's 31 points on 66% from the field led Golden State to a 138-109 home victory against the Phoenix Suns. Kevin Durant scored 20 points, shot 71% from the field, and posted 3 blocks to go along with 8 assists. Klay Thompson scored 26 points on 58.8% shooting.
Starting Line-ups
The Golden State Warriors are out to a 17-3 record. They are leading the league in team points per game at 119.1 points, and the ball movement has been excellent as they lead the league in team assists per game at 31.4. The Warriors are middle of the pack in other categories such as rebounding (44.1 per game), and points allowed (106.4). The Dubs will look to crank up the pace tonight and score at will with their free-flowing offense, high pick and rolls, and off-ball screens. There are no current injuries so their starting line-up will be the same; They will need to have an answer for Paul George, who they will be playing against for the first time this season.
Point Guard- Stephen Curry
Shooting Guard- Klay Thompson
Center- Zaza Pachulia
Power Forward- Draymond Green
Small Forward- Kevin Durant
The Indiana Pacers have amassed a 10-10 record thus far this season. The team as a whole has had some trouble with injuries, however they have managed to be .500 despite not having Paul George for some time. Fortunately for the Pacers, they are no longer undermanned. The Indiana Pacers are scoring 104.2 points per game and producing 22.7 assists per game. They are 24th in rebounding (42.4 rebounds per game), and 21st in points allowed (106.3). The Pacers will definitely have a shot at winning if they can find a way to limit the amount of three-point shots generated by Golden State and it's high-powered offense. The starting line-up will feature Paul George.
Point Guard- Jeff Teague
Shooting Guard- Monta Ellis
Center- Myles Turner
Power Forward- Thaddeus Young
Small Forward- Paul George
The Indiana Pacers make for an interesting match-up with Golden State when they are at full health.
Key Match-ups
The Warriors and Pacers have a lot of talent between the two of them. Guys like Paul George, Kevin Durant, Stephen Curry, and a few other players who could easily be identified don't come around that often. Each of these players can be match-up problems that would sway the course of the game one way or another.
There will be two big match-ups that are going to decide the outcome of the game. Stephen Curry and Jeff Teague will be an exciting match-up at the point guard position. Kevin Durant and Paul George will definitely give each other fits over the course of the game. It will be interesting to see how Golden State does against Indiana on defense as well. Indiana uses a lot of pick and roll to take advantage of the two-headed monster they have in play-making (Paul George and Jeff Teague). This will be a good test for the Golden State Warriors.
Keys to Game
Golden State Warriors
Ramp up the pace of the game, using a lot of early offense and high pick roll sets. Run in transition.
Win the battle on the interior. Solid team perimeter defense and smart help defense.
Avoid a lot of turnovers
Indiana Pacers
Play Physical Defense, Limit 3-point opportunities, Limit Transition
A Big Game from Myles Turner and Paul George
Put pressure on the Warriors' interior defense
Predictions/Final Score

105

120
This game will be a tightly contested one assuming that both teams play up to par. Paul George, Kevin Durant, and Stephen Curry should have big games. Klay Thompson will do what he does on both sides of the ball. As long as the Warriors win the interior battle or dictate the pace of the game to their speed, they should win.
Turnovers, foul trouble, and bad defense will increase the odds of an upset here. If Paul George goes beserk, then we could also be looking at a different game. My prediction is that it is a tightly contested game through three and half quarters and the Warriors will pull away late in the fourth.
More from Blue Man Hoop
This article originally appeared on