In Atkinson's First Year, Brooklyn Nets Are Running Like Never Before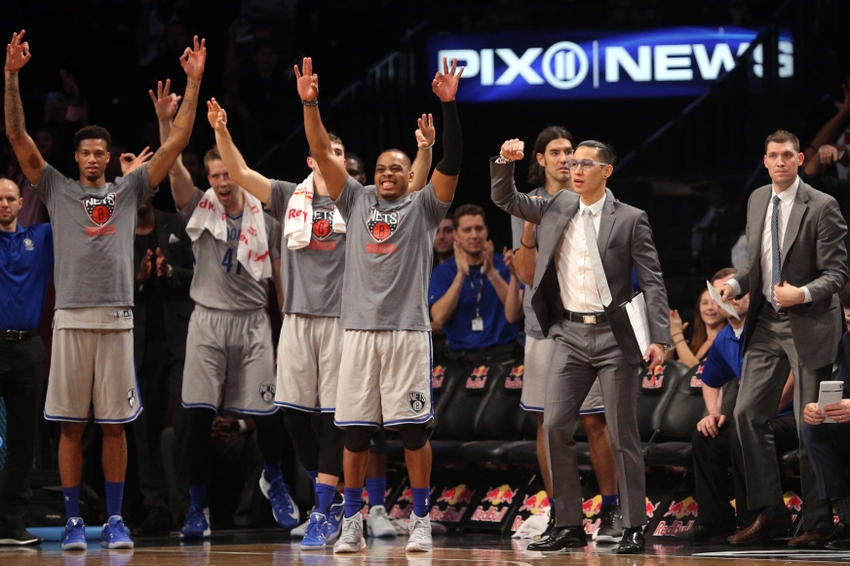 In his first season as head coach of the Brooklyn Nets, Kenny Atkinson has his team playing at the league's second-fastest pace. It's one of many signs that this rebuilding Brooklyn team is truly headed in a different direction.
Head coach Kenny Atkinson took over a rebuilding Brooklyn Nets team in need of a large makeover. He's made more than a few dramatic changes, but one of them sticks out above the others. This Nets team is running like never before.
Want your voice heard? Join the Nothin' But Nets team!
As of Tuesday morning, the Nets are currently averaging 104.53 possessions per 48 minutes, a figure good enough for second in the league, per NBA.com. For context, the league's 30 teams are averaging 99.1 possessions per 48 minutes, according to John Schuhmann.
The Nets average a full five possessions more than the rest of the league. It's hard to overstate how much of an increase in pace that is.
Last season, the Nets averaged 97.37 possessions per 48 minutes, good for 20th in the league. The year before it was 94.97, 23rd in the league. They've finished in the bottom 10 in pace each of the last eight seasons. Indeed, Brooklyn hasn't averaged more than 100 possessions per 48 minutes since the 1988-89 season, per Basketball Reference.
Playing so methodically made sense for a long time. The Nets have largely built their offense around Brook Lopez since drafting him in 2008, and running isn't exactly easy for seven-foot-tall humans.
Atkinson has changed all that. The Nets have put the pedal to the metal from the jump this season and, as their mediocre 4-9 record indicates, it's had both positive and negative effects.
More from Nothin' But Nets
A few of the possible motivations for Atkinson's decision to play with more pace are easy to sympathize with. First, speeding up the game obviously creates more possessions and gets more reps for what is a very young team. The more opportunities on the fast break that Sean Kilpatrick sees, the more he will learn to attack the defense when it is vulnerable. For a team that lacks draft assets and will likely be relying on internal development for the next few seasons, those few extra reps a game could make a huge difference.
It's early, but already, the Nets are averaging 1.08 points per transition possession this year. That ranks only a middling 15th in the league, but would seem pretty good for a young team that has only begun playing uptempo.
Of course, playing this fast isn't easy. It requires all five guys to expend a lot of energy every night. It makes the lives of lumbering players like Lopez a little more difficult. It also increases the likelihood that games will involve sequences that include chaos. Teams like the Warriors, Spurs and Clippers, veteran teams that aren't easily frazzled, will capitalize on that chaos. Younger teams like the Nets are in danger of simply running around like chickens with their heads cut off. Fatigue, especially in the second game of a back-to-back, becomes an even more pressing concern. 
It may seem counterintuitive to begin the first year of a patient rebuild with such a heightened, frenzied pace. But dig deeper and the reasoning makes sense. More than anything else, playing uptempo requires effort. It allows Atkinson to instill a culture of hard work and hold all of his players accountable. When everyone is playing fast, it becomes even easier to spot the one guy who might be dogging it.
So far, none of the Nets are. Atkinson has successfully molded a team that plays hard every night. Now, he just has to help them develop their talent. And keep them plenty hydrated, of course.
This article originally appeared on