Iman Shumpert: What Percentage Of NBA Players Smoke Marijuana?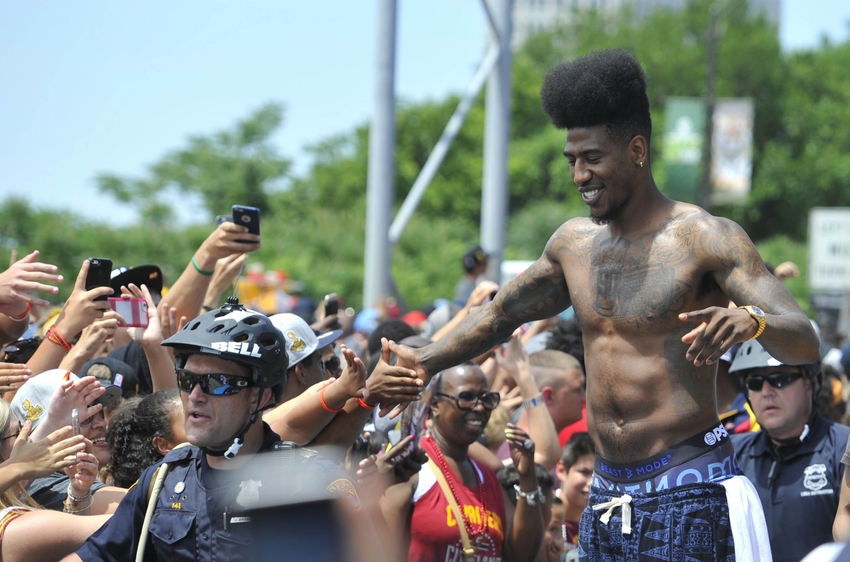 Iman Shumpert was, according to a report from the Fayette County Sheriff's Office, driving along a highway in Georgia with a jar of marijuana and a bag of cigars last Friday night.
After being pulled over for a lane violation, Cleveland Cavaliers wing Iman Shumpert struggled with a standard walk-and-turn sobriety test.
According to Cleveland.com, which obtained the official incident report, Shumpert's rental car resonated "a strong odor consistent with burnt marijuana" while his eyes were "bloodshot red."
Iman Shumpert submitted to a blood test before admitting to the local sheriff's deputy that he had smoked pot before entering his vehicle. They charged him with possession of marijuana (less than one ounce).
No court date has been set, as the investigation is ongoing.
For his DUI charge, Iman Shumpert faces a two-game ban from the NBA. Under the league's marijuana policy, Shumpert could face a five-game suspension if this were his third offense.
Mitch McGary has made no bones about his affinity for the herb.
The Oklahoma City Thunder forward, who declared for the NBA draft after failing a drug test in Michigan, is set to miss the first 15 games of the season for failing to abide by "procedural guidelines set forth" in the NBA's anti-drug policy, per The Vertical.
During his final year in college, Klay Thompson was charged with 1.95 grams of reefer.
J.R. Smith, Michael Beasley and Mario Chalmers, besides ex-players Allen Iverson, Marcus Camby, Cliff Robinson, Rasheed Wallace, Brad Miller and Damon Stoudamire have all be arrested and/or suspended by the league. In 2010, Zach Randolph was arrested for allegedly pushing large quantities of weed across Indianapolis.
Larry Sanders, out of the league for two years, said in 2014 that he believes in the medical side of marijuana, before adding that the drug gets a bad rap due to "the stigma that it's illegal."
This is Joakim Noah's refrigerator:
Enough said.
However, this video from gossip website TMZ must be taken with a pinch of salt.
While Kareem Abdul-Jabbar has never admitted to smoking weed during his playing career, the greatest points scorer in history revealed in his autobiography "A Season On The Reservation" that he has a prescription from the state of California to legally use marijuana because of migraines.
In 2004, Carmelo Anthony was caught with marijuana while boarding a team plane. He alleged that the weed belonged to an out-of-town friend who borrowed the backpack the week before.
Sure, Mr. Anthony.
Recreational or PED?
As of this writing, 25 states have recognized marijuana as a legal medical option for both physical and mental ailments. And yet, it's rather difficult to prove that the herb benefits athletes.
The only question is: For the players, is marijuana a recreational tool or a performance enhancer?
Jay Williams, who recently estimated that 80 percent of the players smoke, cited the legal medical marijuana dispensaries across California as the reason for an increase in marijuana users in the NBA.
"You see pictures of guys in California going in and getting their medical marijuana cards. And I'm not just saying athletes, let's talk about society. I know a lot of people that use it. It's something that the whole world is becoming more progressive with. So it's about time some of these entities do as well."
In 1997, a league wide survey revealed that at least 70 percent of the players were getting high. In 2001, Charles Oakley was certain that more than half the league smokes pot.
If the previous estimations are to be taken on face value, Williams' speculation could ring true since the NBA has severely eased its stance against marijuana in recent years.
Unlike the NFL, which slaps players with harsher fines for marijuana use, the NBA has admitted to "adjust to the times" while in conjunction with their players' association.
Commissioner Adam Silver told GQ Magazine in 2014 that the league's anti-drug policy is more concerned with HGH testing and performance-enhancement drugs rather than marijuana testing.
Eugene Monroe, the now-retired footballer, has been urging the NFL to allow players to substitute opioids with medical marijuana to recover from chronic pain and head injuries.
The NFL relies heavily on opioids to get players back on the field as soon as possible, but studies have shown medical marijuana to be a much better solution. (Medical marijuana) is safer, less addictive and can even reduce opioid dependence," the former Baltimore Raven wrote in The Players' Tribune in May.
The NBA is progressive…
The NBA is definitely a cut above almost any other sporting league in the world when it comes to progressing with the times.
But does that entitle players to exploit its policies?
Iman Shumpert is facing a suspension for his DUI arrest and not for possession of marijuana. The defensive specialist needs to be arrested two more times with possession of the substance before the NBA would suspend him for five games.
As the NY Daily News recently reported, NBA players are not tested during the offseason.
"Players are subject to four random drug tests throughout the season, but they are not subject to testing during the offseason."
Former Dallas Mavericks All-Star Josh Howard once told an ESPN radio show he smoked pot in the offseason before reassuring that "everybody in the media world and in the sports world knows that NBA players do smoke marijuana."
And going by the NBA's prevailing marijuana policy, it's safe to assume that the players who get caught are either 1) smoking during the season, 2) or partying incessantly and asking for trouble.
It's not unfathomable that Iman Shumpert and his many peers smoke pot in the offseason, but how difficult is it to get a doctor's prescription while residing in one of the 25 legal states?
Shump was just stupid enough to drink and drive, and get caught in the process.
This article originally appeared on