Iman Shumpert's Improvement At Point Guard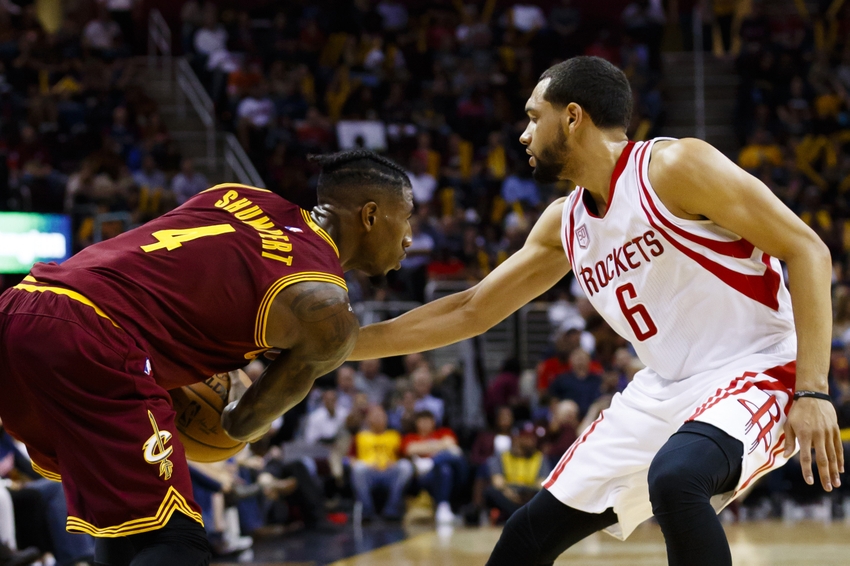 Iman Shumpert isn't playing terribly at point guard, he just isn't taking command of the offense.
Iman Shumpert is being asked to handle backup point guard duties, however, he's looked anything but natural with the ball in his hands that much. True to the nature of the role he's played for the majority of his career, that of a 3-and-D combo guard, Shumpert has grown accustomed to operating off-the-ball for catch-and-shoot opportunities or straight-line drives off-the-dribble.
Early in his career, Shumpert was a point guard prospect but Jeremy Lin took the league by storm. Lin, who is the better NBA point guard, was able to get his teammates involved at a higher rate than Shumpert. Lin, unlike Shumpert, had control of the offense. His teammates looked to him as their point guard when he demanded the ball.
That simply doesn't happen for Shumpert and that's the first area where he needs to look for improvement.
Shumpert has to literally be seen as the Cleveland Cavaliers point guard. Even if he has to walk around with a name tag you wear during orientations, except instead of putting "Iman Asante Shumpert" after "Hey I'm …", he writes "Your Point Guard". Once his teammates see him as that, they'll more readily pass the ball out to him to make decisions for the team.
Once Shumpert demands the ball more, he has to actually make point guard plays. Where this starts with Shumpert is getting his teammates involved in the pick-and-roll.
The Cavs have a number of rotation players who he can try to set up with the pick-and-roll like Tristan Thompson, LeBron James, Kevin Love and Channing Frye. However, what Shumpert does instead of get players involved in the pick-and-roll is pass the ball to one of the Big Three and get out of their way. He then posts up in the corner for the remainder of the offense instead of being ready to come back out if they play breaks down and find a player in a different position to score.
The main reason Shumpert seems to do this is a lack of comfort or confidence in breaking his opponent down off-the-dribble. Most of the time, this occurs when opponents force Shumpert to go left. Because of this, Shumpert gets the ball out of his hands so quickly he has little opportunity to make a point guard play.
It isn't feasible to think that Shumpert will be taking the ball left with ease and confidence all of the sudden. However, with the use of screeners and the pick-and-roll, Shumpert will be able to compensate for this sole deficiency in his ball-handling ability. Ultimately, Shumpert should be able drive to the rim more than he usually would, so long as he keeps the ball in his hands in these situations rather than gives it up immediately.
Once he's in 'attack mode' and headed towards the paint, he'll be able to suck in defenders because he's actually a threat to score around the rim with his athleticism. As defenders try to collapse the paint, Shumpert should be able to whip the ball around to various shooters and cutters. This all relies on Shumpert keeping his head on his shoulders and on a swivel on his drives to the paint.
What do you think Iman Shumpert needs to do in order to improve as the Cleveland Cavaliers backup point guard? Let us know in the comments section or Twitter @KJG_NBA.
More from King James Gospel
This article originally appeared on