If DeMarcus Cousins is traded, where could he land?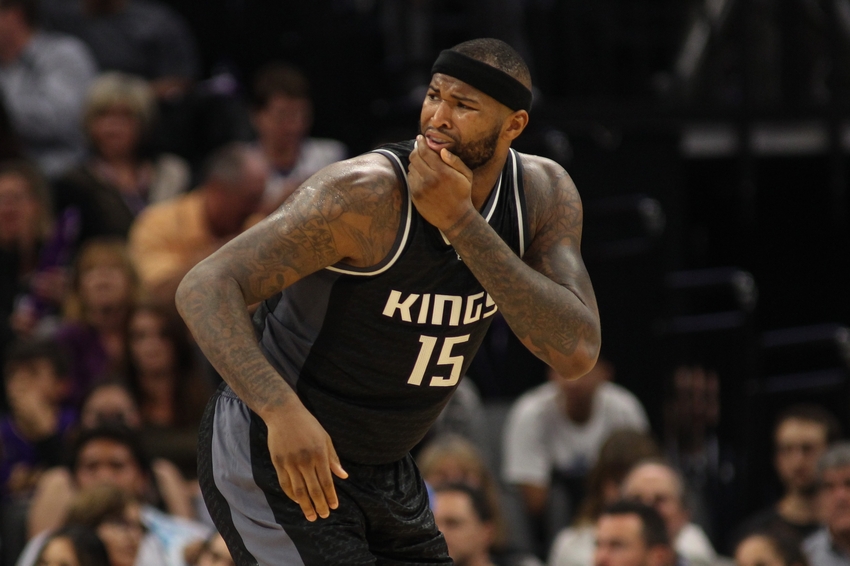 The Sacramento Kings might soon be losing their crown jewel. One anonymous NBA executive told Sporting News that center DeMarcus Cousins might be traded before February's deadline. There's even a chance that he's playing elsewhere by mid-December.
Cousins in an Olympic gold medalist and arguably the most gifted offensive center in basketball. His on-court talent is undeniable, but the disgruntled Kings big man has been a constant headache for the revolving door of head coaches in Sacramento. Yes, the Kings want to see if he and new head coach Dave Joerger can make it work. However, Sacramento has a tough five-game home stand against elite NBA teams starting Wednesday night versus the San Antonio Spurs.
If the Kings fail to be competitive in the coming weeks, Cousins may finally tune out the Sacramento brass for good and demand a trade.
Should Cousins be on the way out of town, there are five teams he could play with. There is also one team that will not work, no matter what the spreadsheets say.
The front-runners
Let's just assume that the Sacramento front office will refuse to trade Cousins within the Pacific Division. Of the 25 other teams he could be dealt to, these three make the most sense: the Denver Nuggets, Portland Trail Blazers, and Washington Wizards.
Denver would be an ideal trade partner for Sacramento. Cousins would get the opportunity to reunite with his favorite former Kings coach Michael Malone. They had great chemistry together and he would love to play in a moderately paced Malone offense in Denver.
The Nuggets have the cap space and the intriguing assets to make this deal with Sacramento work. Every asset Denver has would be available for the Kings should they wish to trade Cousins to the Nuggets. Presumably a first round pick and either Kenneth Faried, Danilo Gallinari, and Nikola Jokic would have to be in the package.
Read More: Why this season was always going to be about Boogie
Washington would be an interesting fit for Cousins, as he would be reunited with former Kentucky Wildcats teammate John Wall. The Wizards would have to send a future first round pick and at least either Bradley Beal, Marcin Gortat, or Markieff Morris to pull this deal off. This trade only works if he plans to sign a new deal with the Wizards. We have to assume that Wall really wants to play with Cousins again.
If Cousins demands to be on a certain playoff team, Portland is the club he should request a trade to. The Trail Blazers need to get better down low to have a shot at winning an NBA championship with Damian Lillard at point guard. One would assume that Lillard is off limits in a trade with the Kings, so C.J. McCollum has to be included in this deal. Portland would have to give up a ton to land him, but Cousins would make the Trail Blazers a contender almost immediately.
On the outside looking in
There are two other teams that could be in the Cousins sweepstakes, but aren't as promising as Denver, Portland, or Washington. Those teams are the Houston Rockets and Milwaukee Bucks.
Houston might be crazy enough to put Cousins and the enigmatic James Harden in the same starting five. The Rockets could be that desperate to land a second superstar. Does he even want to run Seven Seconds or Less with Mike D'Antoni? Houston would score a ton of points, but would be abysmal defensively — perhaps more so than they are right now.
Milwaukee may want another star player to pair alongside Giannis Antetokounmpo. The Bucks would have to make it a three-team trade with somebody in need of bigs. Spacing would be clunky in Milwaukee otherwise. The Kings already have too many front court pawns than they can handle. Would the Bucks want to trade for Cousins anyway?
Listen: What's wrong with the Timberwolves?
For some, there is one glaring team missing from possible Cousins trade suitors. However, Cousins to the Boston Celtics would not work at all. The friction he and Celtics head coach Brad Stevens could have would start forest fires. Let's not forget that he and Al Horford cannot co-exist in the same front court, either. Horford is a finesse big. Cousins has improved his shooting range in recent years. Horford doesn't commit himself to being a strong defensive rebounder. It drives his front court teammates crazy. A Cousins/Horford front court tandem would be oil and water.
Didn't Cousins also pick Darren Collison to be his Sacramento point guard over Isaiah Thomas anyway? Are Cousins and Thomas cool once again? Why couldn't they make it work in Sacramento?
Overall, the Kings have the upper hand in this situation. They will control the Cousins narrative for the next year. Denver, Portland, and Washington are potential Boogie destinations. Houston and Milwaukee could be in the discussion. Boston lost its shot to land him after signing Horford this summer.
Let the games begin.
This article originally appeared on