ICYMI George Hill Won't Change Social Media Name, Other News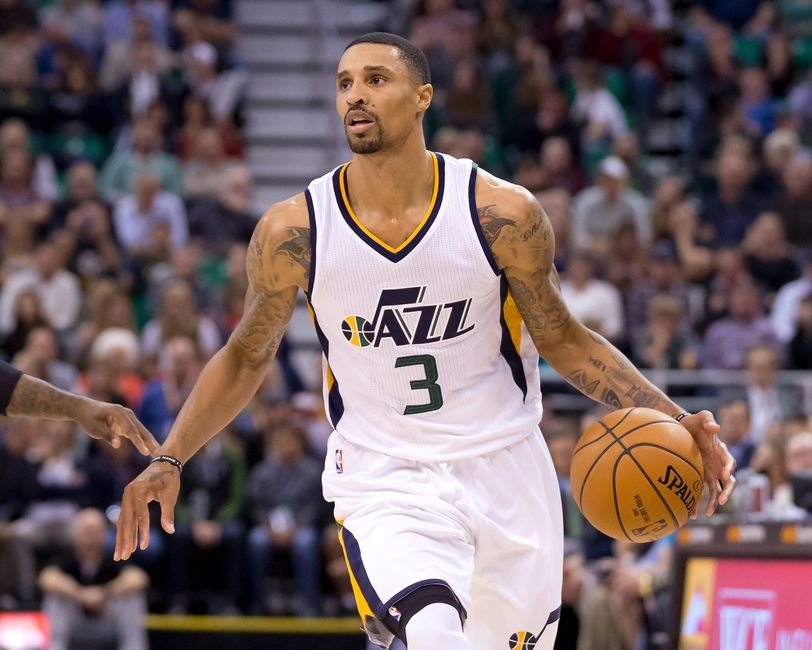 Utah Jazz point guard George Hill has made quite a lot of news lately as he's defended his social media usernames, won Western Conference Player of the Week and missed his first game of the year with a sprained thumb.
George Hill has been the most consistent and perhaps the most effective and encouraging part of this 2016-17 Utah Jazz team so far. Through seven games he is averaging 20.4 points and five assists while shooting 54.1 percent from the field and 43.2 percent from deep.
Hill has quickly won over his teammates, the coaching staff and Jazz fans alike as he provides a steadying force and promising leadership on both ends of the court.
However, some fans have been a bit inquisitive as to why George Hill has yet to change his Twitter and Instagram names which include mention of Indiana, where his former team the Pacers are located, to a name that shows some love for his new Utah squad. On Instagram he goes by "indianageorge3" and on Twitter his name reads as "Indiana George Hill."
Clearly fed up with the inquiries as to why he hasn't made the change, Hill responded with a video on Instagram last week. Click the link in the tweet below to view it:
Pretty simply put, Hill was born and raised in Indianapolis where he played his high school ball at Broad Ripple High School and his college ball at IUPUI. His connection with and affinity to Indiana go way back to even before his time as a Pacer where he spent the previous five years of his career.
As he stated in the video, even during his time as a Spur, he referred to himself as Indiana George.
So Jazz fans needn't get in a tizzy thinking that Hill is trying to show more love for his former team than his current one. If anything, he's been overly praising of the Utah Jazz and everything this team is aiming to become and has even expressed interest in signing an extension.
And that's the reason why in his recent social media post, he said "#SoStopAsking" because not only does "Utah George" just not have the same ring to it, but Utah isn't his birthplace and certainly doesn't match the cool "Indiana Jones-like tattoo" he has on his left forearm (see the video).
I imagine if Hill had come over from any other team besides the Pacers and was recognizing his hometown in his social media usernames, there would be less concern. Given that many Jazz fans weren't familiar with Hill's hometown and assumed the inclusion of Indiana in his usernames was only a shout-out to the team he was formerly a member of, I understand the confusion and questions.
But as Hill made it clear in the video, he's Indiana George and he's "not changing it." And with how well he's played to start out the year, I imagine Jazz fans are fine with whatever he wants to call himself as long as he keeps up his solid play.
In other George Hill related news, it's no secret that he was the recent recipient of the Western Conference Player of the Week as our very own Zack Padmore covered earlier in the week. Those of us Jazz homers were obviously very pleased with Hill's selection and saw just how great an impact he had in Utah's three victories last week.
While I certainly consider myself one of those homers who was thrilled with Hill's selection and thought he was very deserving, there was a bit of an uproar across social media as several claimed that James Harden was far and away the deserving candidate for the award.
There have been many that have thought the NBA has been out to get James Harden since his All-NBA teams snub last season. And with the numbers Harden put up last week of 33.3 points, 7 rebounds, 14.3 assists, 55.4 percent field goal percentage and 47.2 percent three-point percentage, one can see why many are clamoring that Harden deserved the nod.
Perhaps it was the fact that the Jazz went 3-1 with a big win over the Spurs while the Rockets went 2-2, or maybe it's because James Harden has built a reputation of playing such sorry defense that his offense doesn't compensate, but for whatever reason, Hill was the one deemed worthy of the recognition.
As someone who watched each of Utah's games last week and admittedly didn't follow the Rockets' contests, I'd say from the standpoint of willing a team to victories and playing with such incredible efficiency, it was great to see George Hill receive the award.
Nevertheless, it is undeniable how good Harden has been this year. Setting the Western Conference Player of the Week Award to one side, I'm just going to leave this here:
The final bit of news about George Hill is a bit more concerning. He obviously missed Monday's contest against the Philadelphia 76ers with a sprained thumb that occurred during the Jazz's win over the Knicks, and recent reports still have him listed as questionable for Wednesday's game against the Charlotte Hornets.
This is bad news for the Jazz as the Hornets have been red hot. They currently boast a 5-1 record, their best start through six games in franchise history, and are coming off a huge win over the Indiana Pacers.
And, oh yeah, their incredible charge is being led by the prolific Kemba Walker who so far this season looks like a man on a mission.
He is currently averaging 24.3 points per game on 49 percent shooting from the field and 48.7 percent from deep. Last season, he torched the Jazz for 52 points in their match-up in Charlotte. Utah will definitely want elite defender George Hill to cover Kemba if they hope to come away with a road win against a team that is off to a solid early start.
Hill did struggle somewhat to contain Walker last year as the Charlotte point guard averaged 26.7 points in his three contests against Hill's former Pacer team, so it's scary to think what Walker might be able to do against the likes of Shelvin Mack who started in Hill's place last game.
Nevertheless, the Jazz can only hope that their new point guard, reigning Western Conference Player of the Week, "Indiana George," will be be back and ready for action soon. It's quite possible that he sat out against a struggling Sixers team as a precautionary measure and could be back for the more challenging and important contest against Charlotte.
The fact that he's listed as questionable and hasn't been officially ruled out is an encouraging sign that we may see him return to action tomorrow night.
All stats courtesy of NBA.com
This article originally appeared on