HP Hot Takeover: All non-title contenders should start tanking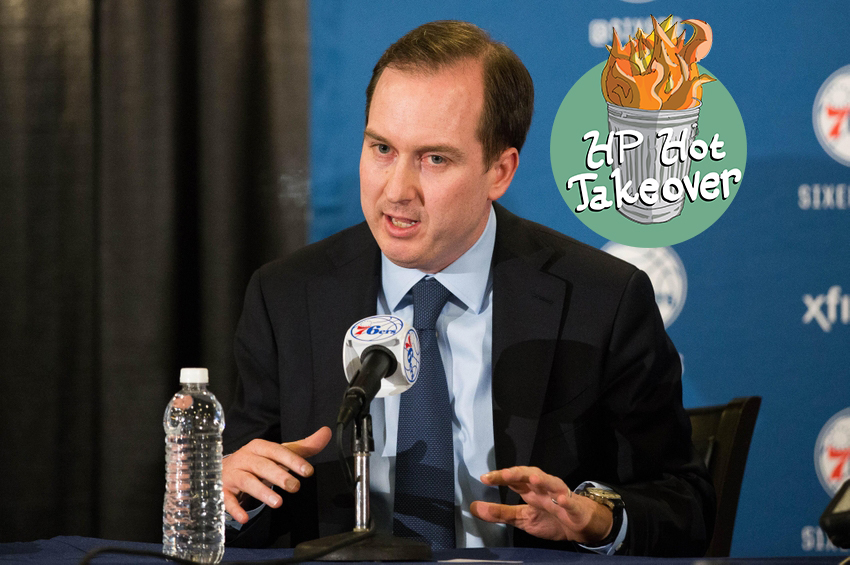 Last month, we wrote about our favorite players from the 2015 NBA Draft in a series called "My Sophomore Crush." This month, we're cooking up the hottest basketball takes imaginable for an entire week. Michael Jordan being the ???? will come into question, as will Smush Parker's legacy with the Lakers and the future of the #TrustTheProcess 76ers.
Oh, and just so we're clear, these are purely satire. Take them seriously at your own risk.
If Kobe Bryant taught us one thing, it's this: Rings remain the NBA's ultimate currency.
General managers who aren't running one of the league's few legitimate title contenders should take heed. Rather than toil away toward another 45-win season and first or second-round playoff knockout, every non-contender should begin a tanking crusade that amounts to the greatest Race to the Bottom in NBA history.
Look no further than Sam Hinkie, the tank commander of the Philadelphia 76ers over the past few years. Though Darth Colangelo and the Sixers' ownership group seemingly forced Hinkie to resign in disgrace this past April, he'll soon be seen as the Billy Beane of the NBA. Rather than exploit the untapped market of sabermetrics, Hinkie took advantage of a perverse draft-lottery system that openly rewards teams for failing to field competitive rosters. With five former lottery picks now in the fold and two more likely to come next June, Hinkie's national reputation will soon transform from laughable disgrace to ingenious innovator.
Unless a tsunami wipes out the Bay Area, the Golden State Warriors will likely win the 2017 NBA championship. If they don't, LeBron James and the Cleveland Cavaliers will almost certainly be the ones to vanquish them for the second straight season. The San Antonio Spurs, Los Angeles Clippers, Toronto Raptors and Boston Celtics can talk themselves into being legitimate challengers to the Warriors and Cavaliers, but let's be honest: Barring injuries, they're not.
For the other 24 teams across the Association, their ceiling this season is a berth (and eventual loss) in the conference finals. Unless they start handing out title rings for an appearance in the NBA's Final Four, no one outside of those respective cities will give a damn years down the road.
Look how far back-to-back conference-finals losses to the Miami Heat got the Indiana Pacers. Three years later, the lone holdovers from that roster are Paul George and Lavoy Allen, the latter of whom has yet to post an above-average player efficiency rating five seasons into his professional career.
NBA Commissioner Adam Silver can pretend that the league isn't only about winning a championship, but teams don't pop bottles upon bottles of Veuve for a second-round playoff demise. The sweet stench of bubbly belongs to champions for a reason. In the words of the noted philosopher Ricky Bobby, "If you ain't first, you're last."
What do the teams who serve as playoff fodder have to show for their accomplishment? A banner signifying a division championship, maybe. A mid- or late-first-round draft pick with a significantly higher chance of busting than their peers toward the top of the lottery. Fans who progressively grow disenchanted with the treadmill of mediocrity over time, realizing that the leap from "good" to "great" is far more difficult than "cover-your-eyes awful" to "not half-bad."
General managers clinging to their low-ceiling rosters in fear of getting fired need only look at Hinkie, who has already achieved martyr status among his former players. He might be out of a job at the moment, but that's just because he's calculating exactly how he'll overthrow Silver as the new NBA commissioner in the coming years. (The first thing on his agenda: exiling Jerry Colangelo to Siberia.)
Having some semblance of job security as an NBA general manager is great and all, but unless you're R.C. Buford or Bob Myers, you're getting fired eventually. Would you rather be the nondescript general manager who becomes a footnote in your team's history books or take a high-risk, high-upside gamble that could lead to the Larry O'Brien promised land?
Look no further than Los Angeles Lakers general manager Mitch Kupchak to see how concerns over job security can lead to a series of detrimental, head-scratching moves. Kupchak, facing a conference finals-or-bust mandate from Lakers president Jeanie Buss, handed a laughable four-year, $64 million deal to Timofey Mozgov just minutes after free agency began this past July. Between signing Mozgov and Luol Deng to a similarly bloated contract, he likely did just enough to ensure the Lakers' top-three-protected first-round pick will head to the Philadelphia 76ers next spring, with no playoff appearance (much less a conference finals berth) to show for it.
Not only is Kupchak getting fired next summer; he took the long-term upside of the franchise down with him, too.
With the 2017 draft class already drawing praise as being particularly loaded at the top, why shouldn't a team like the New Orleans Pelicans, who are in desperate need of a legitimate sidekick for Anthony Davis, tank like hell to ensure a top-six pick? The Sacramento Kings, who lose their first-rounder to Chicago if it falls outside of the top 10, not only should embrace the tank; they should trade DeMarcus Cousins while they can still get something of value for him, thus ensuring they retain that first-rounder, too. The Orlando Magic, who have been the poster child for half-assed rebuilds since Dwight Howard skipped town, should go all-in on tanking to finally fall into the superstar they've so desperately lusted after.
The saying isn't "fortune favors the timid." No, fortune favors the bold, even if it winds up costing them their jobs. As Ben Simmons, Joel Embiid and Dario Saric provide a much-needed jolt of life into the Sixers this season, owners around the league will realize that Hinkie's "Process" wasn't the cold, calculated machinations of a hedge-fund manager running an NBA team. Until Silver and Co. radically overhaul the draft-lottery process, tanking is the only logical option for teams that aren't ready to contend for a title immediately.
More from Hardwood Paroxysm
This article originally appeared on