How Much Does Jerryd Bayless' Arrival Shake Roster Up?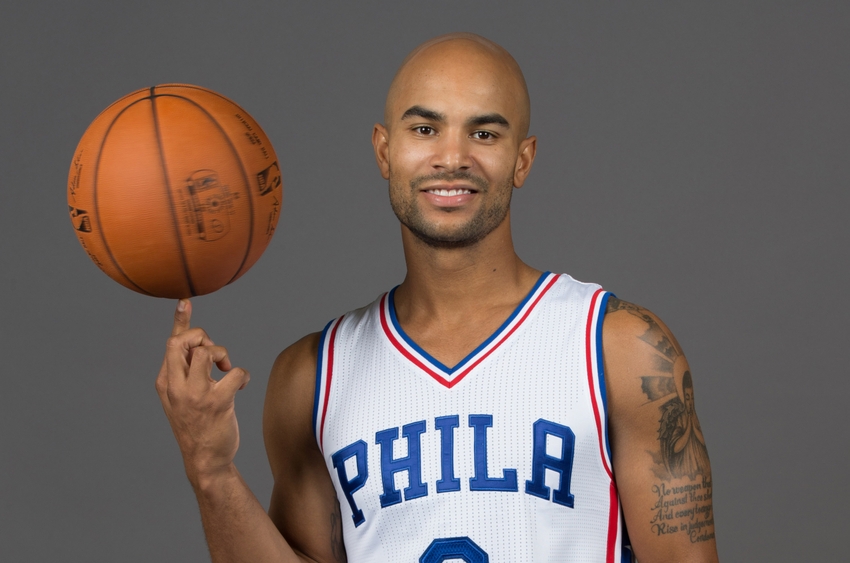 Jerryd Bayless seems like he's almost ready to return from his wrist injury, but does his return complicate things for Brett Brown and the Philadelphia 76ers?
So far, Philadelphia 76ers head coach Brett Brown has been under a lot of scrutiny this season. His job has, according to fans, been in much more jeopardy than in previous years, and if he doesn't start drawing up plays that lead to late-game wins, he may lose his job.
Again, all of this is according to fans, some of which may have even convinced themselves that they're experts on coaching. Nonetheless, Brown has seemed to have been under a lot of pressure in the first string of games, but with two recent wins, a lot of that has died down completely.
Although we could argue that late in games Brett has had a tough time drawing up plays, and hasn't really been given a roster complex enough to counter some of the defensive tools other teams have, that has kind of made things simpler for him. Since Brown's roster to start the season was without Ben Simmons and Jerryd Bayless — both very solid players — Brown was out of options in a lot of cases.
More from The Sixer Sense
When you're out of options, however, there's not as many combinations you can make. So add Bayless into the mix, and suddenly a lot of questions pop up for head coach Brown and his staff.
The first question is where do you run Bayless as far as positioning is concerned? He's shown a skill set strong enough to run in either backcourt slot, and has the shooting ability to be a decent shooting guard. At the same time, he has shown flashes of being a decent passer and ball facilitator, as his turnovers are low and his assist numbers are respectable.
Additionally, Bayless has the most experience on this roster (tied with Ersan Ilyasova) and having him run point as a veteran leader signifies that he is one of the glue pieces leading the young players that the Sixers have.
Option 1
If you decide that you want to run Bayless as a shooting guard, that makes it easy to decide who starts at point guard — Sergio Rodriguez. It does, however, complicate the two spot. Gerald Henderson certainly hasn't been bad in that position, and shows flashes of brilliance, especially alongside Sergio and Embiid.
There doesn't seem to be harm in playing him with Embiid and Rodriguez once in a while to see how he does, but the Sixers should move forward with a mantra of "if it ain't broke, don't fix it!" here. Henderson at the two isn't anything bad, and starting him should continue, regardless of if the Sixers want to run him as a shooting guard or not.
Even with that solved, what this does also complicate is Nik Stauskas. Stauskas has been playing pretty well. He started the season driving to the rim and taking a vast majority of his shots there, and has since been building confidence from the far corner as well as the top of the arc. Putting Henderson in at shooting guard will limit Stauskas' minutes, which may render his progress useless.
Another thing that will likely go unnoticed here is the fact that Timothe Luwawu-Cabarrot will probably get 0-3 minutes per game once Bayless is back if they run him mostly as a shooting guard. This may actually influence the Sixers to put TLC down with the Delaware 87ers so he can develop more for coming seasons.
Option 2
If the Sixers decide to run Bayless in the point guard spot — which seems to be his natural position — they have the same dilemma as the shooting guard spot. Do you ruin a good thing with Sergio Rodriguez starting, or do you let things roll and work Bayless off of the bench?
If you decide Rodriguez is working well alongside Embiid, and run Bayless off of the bench, it does force T.J. McConnell deeper on the bench, which could be a bad thing. That being said, McConnell has not been performing quite as well or surprisingly good this season like in previous years.
The commonality
Between these two situations, it's clear that starting him in either slot brings up a few issues of moving the players who are already in those positions to the bench. Rodriguez and Henderson are both doing well, and therefore, should not be demoted.
With Bayless recovering from an injury anyway, it shouldn't be a huge issue to run him off of the bench.
On top of that, it's clear that the most painless position to run him from is the point guard slot. McConnell looks like he will be less of a long-term piece than Stauskas, so taking away McConnell's minutes won't be as big of a deal as taking away Stauskas', who has been having a solid start to his season.
This article originally appeared on