How Marcus Smart Can Have a Good Season on Offense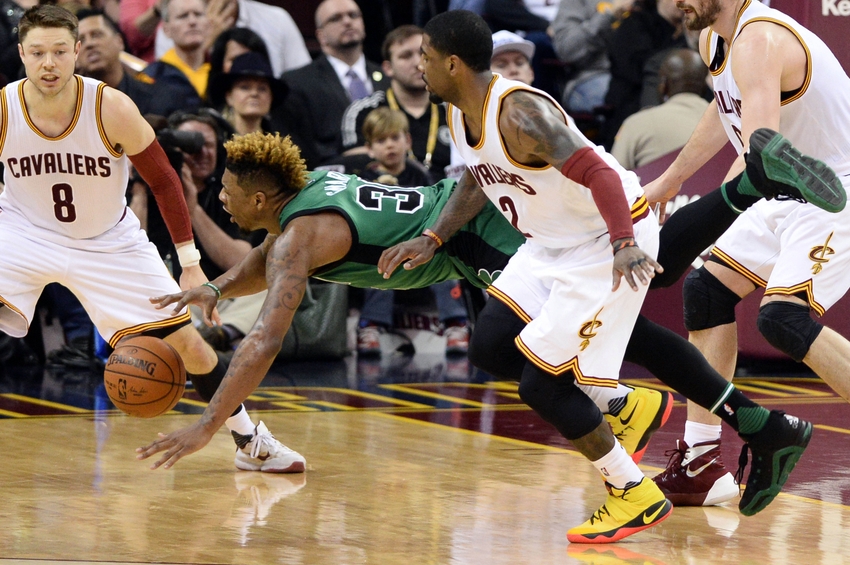 Looking into what Marcus Smart has to do in order to have a good season on offense
Marcus Smart is entering his third year with the Boston Celtics, and a shooting percentage of 35.7 and 29.6 from three is unacceptable. The problems get worse considering Smart regressed in his second year, with a porous 25.3 percent from three. Smart has secured his role on the team through relentless defense, but he has acknowledged how much better he needs to get on the offensive end.
Smart could be entering a new role this season with more offensive responsibility, and they cannot afford for him to be a liability. For Smart to have a good offensive season he has to start with the shooting. Even with Evan Turner there to take away a lot of opportunities, Smart still took the fourth most three pointers on the team last season.
Smart had all the aggressiveness he needed to maintain the pace of the offense, but his inability to hit shots was arguably the worst part of their offense. Too often he was a liability, and that is where he needs to improve the most in order to have a good offensive season.
More from Hardwood Houdini
For Smart, the absolute bare minimum has to be 30 percent from three and 40 percent overall, but that should still not be considered a strong season. The Celtics do a great job of generating open looks. There is no reason for Smart to have his combination of volume of inefficiency, and that is going to be one of the most crucial parts of his season this year.
Terry Rozier is expected to play with the ball in his hands a lot, and he needs weapons around him that he can trust. He has Jonas Jerebko, Gerald Green and Kelly Olynyk who will be able to hit three pointers, but Smart needs to be the next best shooter on that unit.
Even if Smart improves his shooting, there are still areas where he needs to be stronger without Turner in the lineup. Rozier is expected to be a ball handler, but he has never been known as a distributor. Rozier should have no problem getting the offense to play fast enough, but he will not be able to reproduce the distribution that Turner brought.
Smart has an opportunity to be the main distributor on the second unit, and that could help round out his offensive game. So far, shooting has been the extent of Smart's offensive responsibility, and he has failed in that area. Smart now has more things that he needs to focus on the offensive end, and hopefully that can take him away from being a liability.
Smart has always proven that he will contribute in many different ways to help the team win. The majority of these contributions have come on the defensive end, and that needs to be a bit more balanced this year. The Celtics know they have an impact player from Smart on the defensive end, and now he needs to start having an impact on the offensive end.
Transition is also an area where Smart needs to be strong. Smart, Rozier and Jaylen Brown will give the Celtics incredibly aggressive defense on the second unit, and the turnovers they generate could be a huge portion of their offense. The Celtics know that Smart will help get those steals that put them in transition, but he also needs to be comfortable running the court with the ball in his hands and finding his teammates. With both Brown and Green playing on the second unit there will be come deadly finishers in transition, and Smart will be a big part of getting them involved.
The Celtics have seen a lot of offensive potential in Smart. They have given him the kind of green light that shows how much they want him to find his stroke. He has also been comfortable in the offense since he was a rookie, and that is a great sign that he will be abel to handle being a primary ball handler on the second unit.
Smart has already established himself as an emotional leader and a tone setter on the defensive end. With Turner out of the picture, he will finally have a good opportunity to become that leader on the offensive end. The problem is that he needs to be drastically improved shooting the ball. Even if he is comfortable running the offense and gets his teammates involved, his season will be considered disappointing on the offensive end if he does not start getting his percentages at least close to where they need to be.
Smart has often been looked at as one of the most important players to the Celtics' future, and this season will start to reveal how exactly how important he will be. They already know how great he can be on defense, but they need to figure out what needs to be done on the offensive end. They believe he can develop the shot, but if it never comes from deep he needs to adjust.
Right now, Smart still does not need to be making those kinds of adjustments, but he needs to make sure he figures out how he can be the most effective on the offensive end.
This article originally appeared on