How Joffrey Lauvergne Trade Affects Nuggets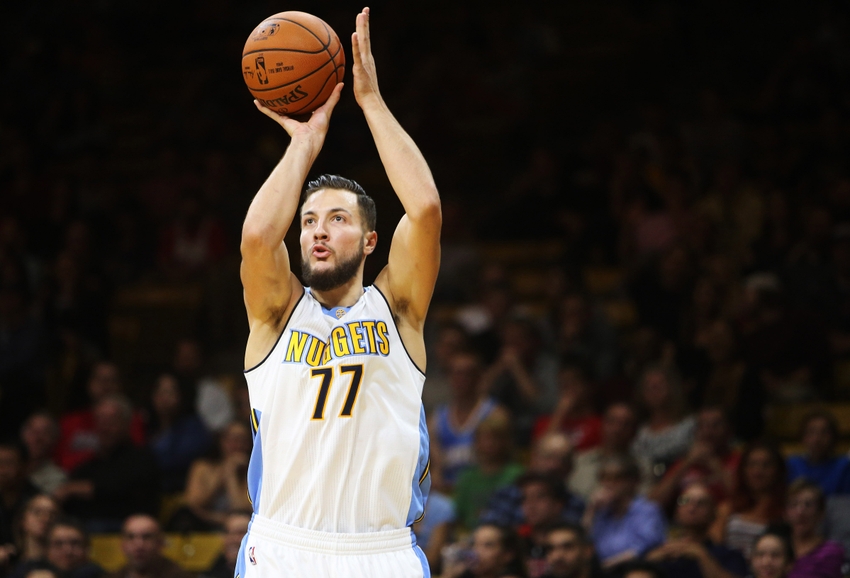 The Denver Nuggets have parted ways with big man Joffrey Lauvergne, sending him packing to the Oklahoma City Thunder. What does this mean for the future of the team?
The Denver Nuggets made some headlines on Tuesday with their unexpected trade of Joffrey Lauvergne. He was dealt to the Oklahoma City Thunder in exchange for two future second-round picks, per Adrian Wojnarowski of The Vertical.
This was a surprising move for Denver. Although Lauvergne wasn't a supremely productive player for the team, he was valuable nonetheless.
He provided solid minutes off the bench and capably gave the Nuggets depth behind Kenneth Faried, Darrell Arthur, Nikola Jokic and Jusuf Nurkic.
Denver has traded forward Joffrey Lauvergne to Oklahoma City for two future second-round picks, league sources tell @TheVertical.

— Adrian Wojnarowski (@WojVerticalNBA) August 30, 2016
Now the team is down a big man, and even though he may have been their least important one, the move will have repercussions nonetheless.
The first and most obvious effect is that it opens up playing time for other players. Lauvergne figured to be one of the young guys who they would want to develop, but now his minutes are up for grabs. This gives an up-and-comer like Jusuf Nurkic a few more minutes to work on the court.
Not only will he have the opportunity to keep improving his game with these minutes, but he's also probably a better all-around player than Lauvergne when healthy. That's a big caveat though as his health is always a big question mark.
Nurkic has played in just 94 of a possible 164 games in his young career.
As far as developing Nurkic's game goes, the same thing applies for Juan Hernangomez. The Spaniard surprisingly signed with Denver this offseason rather than remaining overseas, but figured to have to fight for playing time in 2016-17.
Now he'll have the opportunity to learn on the job with one less player standing in front of him on the depth chart.
Another player who will receive a boost from Lauvergne's departure is veteran Darrell Arthur. Arthur was a highly underrated player for the Nuggets last season, averaging 7.5 points and 4.2 rebounds in just 21.7 minutes per game.
That's precisely why Denver re-signed him to a bargain three-year, $23 million deal this summer. The Nuggets' selection of Juan Hernangomez in this year's draft seemed to contradict the Arthur signing though, as there was a bit of a log jam forming at the power forward position.
But with Lauvergne heading to Oklahoma City, Arthur will likely maintain the same role he had last season, if not build upon it depending on how much Hernangomez plays to start things out.
This trade affects yet another of Denver's bigs, but in a different way. Kenneth Faried has consistently been a part of trade rumors of the past few seasons. Every time a deadline pops up or a draft approaches, Faried's name seems to be tossed around.
And honestly, for a somewhat rebuilding team like the Nuggets, dealing the Manimal could be in their best interest. But with this trade, that becomes a bit less likely.
Faried's one-dimensional game (i.e. his ability to dunk and rebound and do nothing else) is a compelling reason to deal him, especially given the solid return he figures to command. But with less depth at his position thanks to the Lauvergne trade, it becomes a tougher move to make.
Unless the Nuggets acquired an adequate big man in a potential Faried trade, they would be left shorthanded. Jokic and Arthur are fairly reliable bigs, but Nurkic and Hernangomez are question marks, at least for now.
Lauvergne heading to the Thunder likely means Faried won't be traded away any time soon.
This article originally appeared on