How Ish Smith is Hurting the Pick and Roll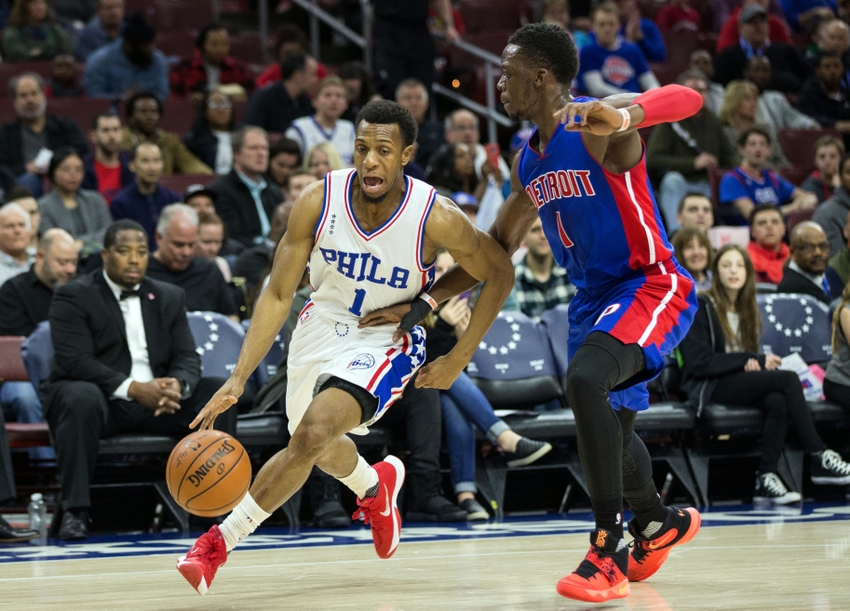 Ish Smith's poor shooting and, at times, refusal to shoot, in pick-and-roll is causing problems for a struggling Detroit Pistons offense.
The Detroit Pistons have had mixed results through 14 games, starting the season just 6-8.  Despite the below .500 record, the Pistons' defense has been great.  The defense has allowed just 103 points per 100 possessions, which ranks 6th best in the entire league.  The offense, however, has struggled to find any consistency.  And it's shown in their output: the offense has scored 102.6 points per 100 possessions and ranks 25th in the league.  The offensive struggles are not surprising, given Reggie Jackson's absence to begin the year.  But, after the success of D.J. Augustin and Brandon Jennings previously, many hoped that Ish Smith might be able to be serviceable while Jackson recovers from injury.  Instead, the offense has sputtered under the direction of Smith.
Comparing last year's starting lineup with Jackson and this year's starting lineup with Smith shows that the offense has been nearly a full three points worse per 100 possessions with Smith.  One of the major culprits in the drop in efficiency is the type of shot that is being taken.  With Smith, the Pistons' starters are shooting far fewer three-pointers and far more mid-range shots.  Decreasing three-point attempts and increasing mid-range attempts will almost always decrease efficiency, and it's held true for the Pistons' starters this year.
A large factor in the Pistons' starters taking fewer three-pointers this year is the fact that Smith is much less of a shooting threat than Jackson.  That is especially impactful when it comes to the pick-and-roll.  Smith's refusal to shoot three-pointers allows defenses to go under screens, making the roll man much easier to defend.  When opposing defenses go under screens, Smith's counterpart is able to chip the roll man or even defend him briefly, rather than allowing a free path to the basket when defenders go over screens.  The effect on the Pistons has been glaring: last year, Pistons' roll men scored 1.02 points per possession.  This year, they're scoring just 0.91 points per possession.
Complicating things for Pistons' roll men is that Smith has been far less efficient this year in the pick and roll than Jackson was last year.  With Smith being so inefficient scoring in the pick-and-roll, opponents can focus even more attention on the Pistons' roll men than they would if Smith was efficient scoring in the pick-and-roll, even if he wasn't a big three-point shooting threat.  Smith's inefficiency in the pick-and-roll is causing a major traffic jam in the paint and the result is generally that Smith is taking many of the mid-range shots that the Pistons' starters have seen an increase in early this year.
Despite Smith's issues in the pick-and-roll, the Pistons' ball handlers, as a whole, have actually been more efficient on those plays.  Last year, the Pistons' ball handlers scored .82 points per possession in the pick-and-roll compared to .84 points per possession this year.  That increase is small, but it's significant given the dramatic drop from Jackson to Smith in terms of ball handling efficiency.
The reason for the Pistons' slight increase in efficiency is the success of Tobias Harris, Kentavious Caldwell-Pope, and Marcus Morris in the pick-and-roll.  All three starters have a much higher efficiency rate in the pick-and-roll.  The problem, however, is that they are not using nearly as many possessions in the pick-and-roll as Smith.  Harris and Caldwell-Pope have both been very successful in the pick-and-roll as the ball handler, something the Pistons should look to more for some offensive success.
Should Harris and Caldwell-Pope take on more of the ball handling duties in the pick-and-roll, the question then becomes: what do you do with Smith?  And therein lies the problem.
The Pistons have been far less successful in spot-up situations this year compared to last, both in attempts and efficiency.  A large percentage of these spot-up attempts come off pick-and-roll action, either in a pick-and-pop scenario or by a player who's strategically placed along the perimeter to provide floor spacing.  With Smith being less of a shooting threat, the Pistons' spacing has suffered.  They're finding fewer passing lanes to get the ball to open shooters, and when they get to the ball to open shooters, they're not shooting often enough.  Perhaps the biggest culprit of not shooting enough out of pick-and-roll action is Smith.
Smith has simply not been a threat to attempt catch-and-shoot three-pointers like Jackson was last year.  He's rarely even attempting such a shot, and when he does attempt one, he rarely converts it into points.  The lack of a shooting threat at the point guard doesn't necessarily affect Smith's numbers, but it does have a destructive domino effect on the rest of the offense.
You can see that effect on this play against the Nuggets.  Harris gets the ball via a hand-off from Andre Drummond and the dangerous Harris-Drummond pick-and-roll draws attention from Smith's defender.  Harris recognizes the overplay and hits a wide open Smith along the perimeter.  Rather than shoot the wide open three-pointer, Smith instead passes the ball deep along the baseline to Drummond, who ends up receiving the ball with both feet outside of the paint.  Drummond's forced into a tough angle hook shot closely defended by Jusuf Nurkic, and he misses it badly.  This possession should have ended with a wide open three-point attempt, but Smith instead turned it into a low-percentage shot from Drummond.
Later in the same game, the effect of Smith not being a shooting threat can be seen in multiple ways on a single play.  Smith get a pass in an informal pick-and-roll with Harris which causes the Nuggets to switch.  Danilo Gallinari, not worried about Smith's shooting, plays a good 8 feet off of Smith, who simply reverses the ball rather than take advantage of all the open space given to him by Gallinari.  Morris and Caldwell-Pope run a hand-off pick-and-roll along the sideline to get Caldwell-Pope the ball late in the shot clock.  As Caldwell-Pope turns the corner around the screen, he doesn't even consider passing the ball to Smith, who is still being given tons of open space by Gallinari.  Not worrying about Smith shooting, Gallinari is able to cheat far off him and cut off any driving lane that Caldwell-Pope might have otherwise.  Caldwell-Pope is then forced to shoot a very low-percentage, closely contested shot to beat the shot clock.  Again, Smith's inability to keep defenses honest as a shooting threat killed what otherwise could have been a successful play.
The effects of Smith's poor shooting and lack of shooting is seen throughout the Pistons' offense, but it's especially consequential in pick-and-roll situations.  The Pistons are without any real great options until Jackson returns from injury, so they might need to re-think some of their offensive philosophies in the meantime.
This article originally appeared on