How is Okafor adjusting to Philly's uptempo playing style?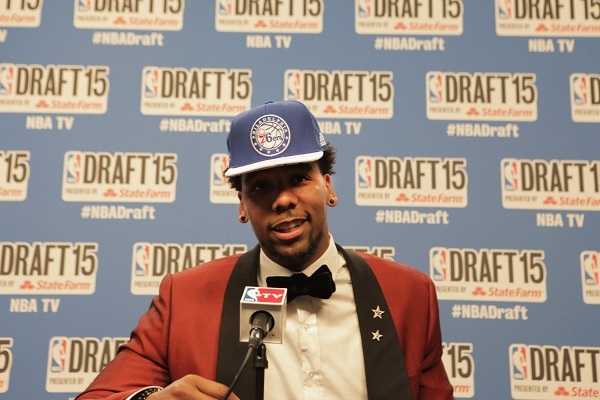 Only six teams played faster than the Philadelphia 76ers last season. The year before that, the Sixers ranked first in pace, averaging 101.6 possessions per 48 minutes. They're a speedy bunch that loves to race up and down the floor.
Does this complicate things now that their franchise player isn't exactly Usain Bolt? Jahlil Okafor is a plodding big man who thrives in the post. How will he fit into Philly's uptempo attack? Here's the Philadelphia Inquirer with a closer look:
"Jahlil Okafor learned it by the end of the second day, if he hadn't known it already: The 76ers will run you. They want to play fast, and they want their players to get from one end to the floor fast, and, if you're Okafor, they will want you to establish position in the post fast. So by 1 p.m. Friday, when another day of the Sixers' first summer minicamp was winding down and the pell-mell pace of practice had slowed, Okafor, like the rest of the players in camp, was dragging. For a post-practice shooting session, he hovered near the top of the key, a couple of feet inside the three-point arc, and his shooting form revealed his fatigue. He pushed the ball toward the hoop with his arms instead of flicking it with his wrists. He took several shots. He made two – banking both, and not on purpose."
This isn't the end of the world. Okafor will get in proper shape and be able to run the floor, and the Sixers, in kind, probably won't play as fast as they have in the past, when they didn't have a dominant low-post scorer on their roster.
Both sides will have to adjust to each other, and with so many smart people involved, it's likely they'll eventually figure it out.
(h/t: Philadelphia Inquirer)
Photo Credit: National Basketball Association