How Do This Year's Indiana Pacers Starters Stack Up Against Last Year's?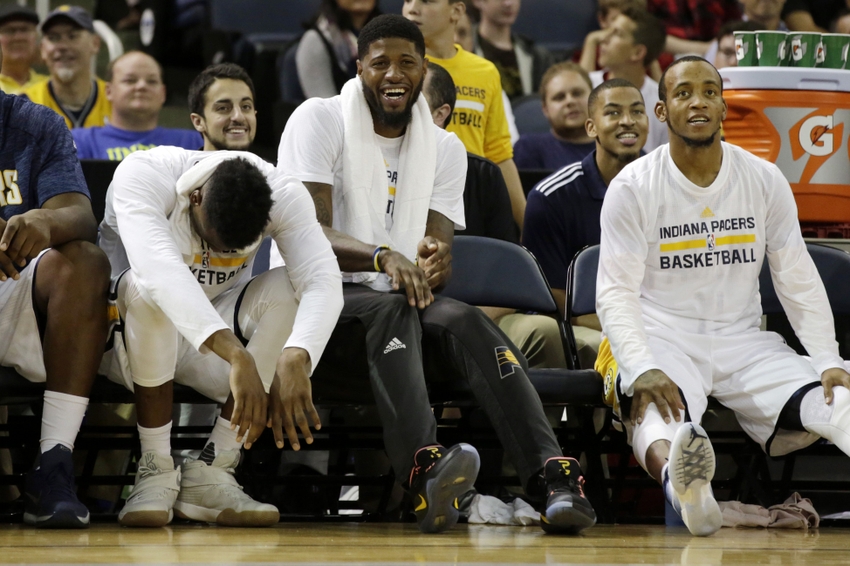 How do the current Indiana Pacers starters stack up in comparison to last year's? Are they on track to surpass last year's totals?
The clear consensus from many Indiana Pacers fans and writers this off-season was that the Pacers- starting five had improved. Looking at raw numbers, the new starters in Jeff Teague and Thaddeus Young should have been an easy offensive upgrade over George Hill and Lavoy Allen/Ian Mahinmi.
Beyond that, it seemed as if this lineup was going to be spaced out a lot better, with Myles Turner finally being able to play his true position at center.
Alas, the team is sitting at 7-7 to start the season, despite playing one of the easiest opening schedules in the NBA.
Where does the blame lie? Are the starters what everyone thought they were? Let's do a little analysis.
Point Guard — Jeff Teague vs George Hill
Last Season — George Hill: 12.1 PPG, 4.0 RPG, 3.5 APG, 44.1 FG%, 40.8 3P%
This Season — Jeff Teague: 16.0 PPG, 3.5 RPG. 6.6 APG, 42.1 FG%, 30.0 3P%
After years of whining about Hill and pleading for an offensive-oriented point guard like Teague, "that side" of Pacers Twitter finally had their dreams come true in the off-season when Larry Bird made the swap.
Five games into the year and they all said it was an awful trade.
The grief is somewhat understandable; it's difficult watching Hill average 20 and 5 with his new Utah Jazz when Teague literally put up a donut with us three games into the season.
But things are changing for the better. Since that game, Teague hasn't scored less than 9 and is averaging 18.2 a game in that span.
The main issue is his shooting, specifically his 3-point shooting. Teague and Hill were about even-par from beyond the arc last season (40%), but while Hill had improved on that mark in his seven healthy games this year (43.2%), Teague has grossly regressed (26.1%).
Part of this can be blamed on the type of 3-point shooters Teague and Hill are. Hill is a lot more passive; he takes what he can get and is bulls-eye from the corner. Last season Hill made 84.6% of his threes off of an assist and 55.6% of his attempts were from the corner, while Teague is making 66.7% of his threes off assists with a mere 4.5% of his attempts coming from the corner.
Teague is aggressive and creates his own shots — he will sometimes slump. We witnessed that early in the season, but he's been on the come-up ever since. He put up his second 30 point-9 assist game of the year last night against the Oklahoma City Thunder; Hill never had such a game in his five years as a Pacer.
Defensively, the Pacers knew that they would be downgrading. But fret not, Teague is still an offensive asset at point guard that the Pacers rarely saw in Hill. He will be fine, and his 3-point shooting numbers should return to normal as the season wears on.
Shooting Guard — Monta Ellis vs Monta Ellis
Last Season — Monta Ellis: 13.8 PPG, 3.3 RPG, 4.7 APG, 42.7 FG%, 30.9 3P%
This Season — Monta Ellis: 10.6 PPG, 3.8 RPG, 4.7 APG, 45.3 FG%, 26.7 3P%
The jury's still out on Ellis. Other than a slight scoring regression, his output hasn't changed much from last season, which can be seen as a positive considering his new aggressive partner in the backcourt. But if you're a pessimist, you can view it as a lack of improvement from an output that already wasn't enough.
More from 8 Points, 9 Seconds
Ellis has remained a presence as a passer this year, something that many didn't expect given the rise in assists from the point guard spot this year. He's taken a few less shots per game, so his points per game numbers make sense. But, like many thought last year, it's just not enough.
Ellis has failed to reach double-digit scoring in half of the Pacers' games this year; this only happened 27.2% of the time last year. Even though he's no longer the face of an offense, he still found a lot of ways to get his in his first year as a Pacer. But there are too many mouths to feed this year, and as many predicted, Ellis is the man left out.
So what now? Nate McMillan briefly experimented with Ellis on the bench for a game, but that short-lived experiment will be hard to try again considering the injuries to Paul George and C.J. Miles at the moment. As the team develops throughout the season, there might come a time when the Miles-for-Ellis swap permanently comes to fruition, and that might just be a good thing.
Ellis matched his season high of 19 when he came off of the bench against the Philadelphia 76ers and he was able to take a season high 19 field goal attempts as he led the second unit. That 19 and 19 efficiency isn't ideal, but it proves that Ellis can still have it all if he takes a step back and leads the bench.
Small Forward — Paul George vs Paul George
Last Season — Paul George: 23.1 PPG, 7.0 RPG, 4.1 APG, 41.8 FG%, 37.1 3P%
This Season — Paul George: 21.0 PPG, 7.0 RPG, 3.5 APG, 45.9 FG%, 40.3 3P%
In a season where many expected George to take the leap into being a legitimate top-5 player and a strong MVP candidate, PG hasn't gotten off to the best start. His team isn't very successful right now, and his numbers are slightly down from last year.
First off, the good stuff: George is a lot more efficient than last year. He's taking a lot more assisted shots and is hovering above 40% from the 3-point line, a mark that would be a career-high if he keeps it up throughout the season. He isn't forcing it as much in isolation, with many thanks to Teague, but why is his overall scoring numbers down? He's only taking about a shot less a game, so those points have to be coming from somewhere else.
The free throw line. George is shooting a crazy-impressive 92.3% from the strike this year, but he's only averaging about 3.5 attempts a game. That's about two trips to the line a night — superstars shouldn't be struggling to get free throws. George averaged 6.5 attempts a game last year, so if he simply matched his free throw frequency from last year, he'd be looking at about 24 PPG instead of 21.
That aggressiveness will hopefully come with time, and with Teague on the floor there are fewer opportunities to drive, but there's no reason Teague should be getting to the line more than George. As long as his ankle injury doesn't linger, there's little reason to believe PG can't kick it up a notch as the Pacers hit the end of the calendar year. The question is: will he, or will he step back and let Teague and others pick up the slack? Both are fine, as long as they win ball games.
Power Forward — Thaddeus Young vs Ian Mahinmi
Last Season — Ian Mahinmi: 9.3 PPG, 7.1 RPG, 1.5 APG, 58.9 FG%
This Season — Thaddeus Young: 11.2 PPG, 6.2 RPG, 1.9 APG, 53.1 FG%, 42.3 3P%
This is less of a direct comparison between positional players and more of a "Myles Turner frontcourt partner" comparison. Obviously, Ian Mahinmi played the role of center last year, while Thaddeus Young is playing power forward. But, regardless of stats, that one difference has already made a world of difference in the frontcourt.
With Turner now at center full-time, he's had a lot of time to develop as a rim protector and paint finisher, while still being able to branch out and shoot like he did last year. Young provides a decent amount of paint scoring as well and has a 3-point clip to boot. With Young being good for about one 3-pointer a game along with Turner, the Pacers finally have a stretch lineup where any of the starters can hit from long-range at any point. Mahinmi, while skilled in his own right, was always a crutch towards that goal.
While Young hasn't seen the same statistical success he saw last year with the Brooklyn Nets, his output has been a clear improvement for the Pacers in the frontcourt. He'll consistently score in double figures, get his boards, and rarely ever find himself as an active harm to the squad during a game.
There hasn't been a monster game from Young as of yet, but it's not like Mahinmi ever took over a game himself. Still, it'd be nice to see Young have a game where he takes over in scoring like the Pacers know he can, or take over on the glass with a heavy amount of rebounds and putbacks. His averages, though, are fine.
Center — Myles Turner vs Myles Turner
Last Season — Myles Turner: 10.3 PPG, 5.5 RPG, 0.7 APG, 49.8 FG%, 21.4 3P%
This Season — Myles Turner: 15.0 PPG, 7.1 RPG, 0.9 APG, 54.1 FG%, 25.0 3P%
As many expected, the man making the biggest leap this season is sophomore Myles Turner, who now has taken over the center role and has a full-time starting position with the Blue and Gold. After a dominant 30-point-16-rebound performance in the season opener against the Mavericks, Turner has cooled off a bit, but has largely remained a force at center.
What immediately pops out this season from Turner is the scoring consistency. Much like his frontcourt partner, Turner finds himself getting into double-figures with ease in this new year. He's only missed the mark three times so far- two of which he barely missed with 9 points.
What comes as a bit of a concern are his rebounding totals. After putting up double-digit rebounding totals in the first two games of the season, Turner hasn't reached the total since. The Pacers are in the bottom-five in the league in rebounding; this falls squarely on Turner's shoulders more than anyone.
His shooting also isn't where the Pacers would probably like to see it, either. Turner still hasn't found the 3-point stroke as an NBA player yet, and until that happens it'll be hard for him to be taken seriously as a scorer everywhere on the court. He's making up for it with his performance around the rim, but it's something to keep an eye on as he continues on this season.
Bottom line, it's good to see Turner take on a bigger role with the valor he's had so far. If he's really meant to be the secondary star to a contending Pacers team, this is the kind of improvement that needs to endure throughout his second season. But, there are a few areas where he still has a way to go.
So what does this all mean for the Indiana Pacers?
The starters seem to be about where expectations were laid out for them this year, but it's only equated to a .500 record. Are they not doing enough? Does the bench need to step up? Time will tell, but with the schedule looming ahead of the Pacers (along with the aforementioned injuries), it won't be an easy fix.
The hope is that what we've seen so far in this season is closer to the floor of the starters' potential rather than the ceiling. If that's the case, then the Pacers will probably be on track to finish about in the middle of the pack for Eastern Conference teams in the playoffs. If that's not the case, then the Pacers will probably be looking at a middle of the pack finish in the Eastern Conference itself.
The road ahead will be an uphill battle, but there's reason to believe that this starting squad has enough potential to overcome it. Once the team is healthy and back in order, it'll be interesting to see if the starting squad can pull enough together to emerge out of 2016 with a winning record.
The stats say they can do it. The stats also say that it's not a slam dunk.
This article originally appeared on