How Channing Frye Makes The Cavaliers' Offense Unguardable
Zack Geoghegan/FanSided via Hoops Habit

Fansided
Channing Frye is one of the best stretch-4s in the NBA and his presence alone on the court is causing havoc for opposing defenses.
Cleveland Cavaliers forward Channing Frye isn't someone who will jump out at you when looking at a box score — his averages of 9.1 points and 3.9 rebounds in 18.9 minutes per game this season are less than stellar — but when you dissect his game and watch him in action, you'll quickly see why he is such a threat on offense.
In the postseason, Frye's per game numbers have dropped across the board as the rotation has tightened, but he was the second most important factor in the Cavaliers' record-breaking comeback against the Indiana Pacers in Game 3 where they were down by 25 points at halftime.
Despite his averages taking a hit as the first four games of the playoffs went on, his shooting percentage was dangerously efficient.
Frye shot 55.0 percent from the field and 46.7 percent from three in the first four playoff games, better than his regular season percentages of 45.8 percent and 40.9 percent, respectively.
It is well-known that Frye is a lethal outside shooting threat, but what really makes him dangerous on the court is when he is sitting in the corner, just hanging out, thinking about life.
Kevin Love and Kyrie Irving didn't play the entire fourth quarter of the Cavaliers' Game 3 comeback, but Channing Frye played the first 11 minutes, aiding LeBron James in an epic comeback that had a "Cavaliers in 2008 when LeBron had to take over" kind of vibe.
The Cavs began the fourth quarter with a seven-point deficient that was quickly bumped back up to nine after a Paul George jump shot. Then Frye began to influence every aspect of the Cleveland's possessions on offense.
On the Cavaliers' first offensive possession of the quarter, Frye drained a long two-pointer after the feed from LeBron and a simple down screen from Deron Williams.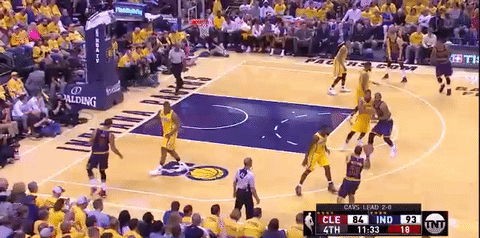 This made-jumper was all Frye needed in order to gain the respect from the defense as a premier three-point sniper. His presence alone was now a factor into how the Pacers had to defend each individual possession.
Frye is a career 38.9 precent three-point shooter and finished this season with his second-highest shooting percentage from deep — 40.9 percent — during his 11-year career in the NBA.
Frye making his first shot of the quarter played a huge factor in how the Pacers would have to defend both him and LeBron as long as those two were on the court together.
Myles Turner — who was third in the NBA in blocks per game this season at 2.1 — would soon check in for the Indiana Pacers and was tasked with guarding Frye 20-plus feet from the basket, essentially eliminating his ability to sneak into the paint and contest shots, something he has become one of the best at doing in the NBA.
Frye was later fouled on a three-point attempt by Monta Ellis after Tuner attempted to slip into the paint instead of respecting Frye's shooting ability and staying chest-to-chest with him.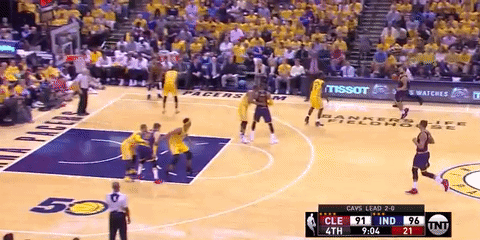 Turner would quickly learn his lesson and made it a point throughout the rest of the quarter to stay as close to Frye as he could, which in turn essentially rendered him useless on defense for the remainder of the game.
This is what allowed LeBron to take over and propel the Cavaliers to a critical playoff win on the road.
On this possession, about one minute of game time later, Frye would create an easy layup for LeBron by simply standing still in the corner with his hands ready to catch and shoot.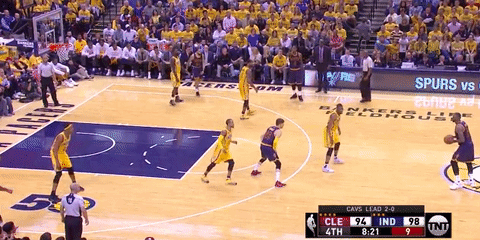 Turner is understandably concerned with Frye's uncanny ability to shoot over defenders with extreme efficiency, sticking to him like glue as LeBron blows past Thaddeus Young for an easy layup to cut the Pacers' depleting lead to just two.
Turner would get indecisive (and lucky) when he slacked off Frye to help on a LeBron James drive to the basket only 30 seconds later.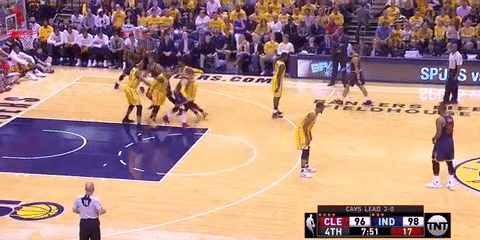 The shot didn't go in, but every fan in the building knew how lucky they were to see Frye miss a shot he has made a hundred times.
A minute later, Turner would have the same decision to make: either ease off of Frye and help Paul George get in front of a freight train exploding towards the basket, or stay on Frye and rely on his teammates to meet LeBron at the basket.
As great of a defender that Paul George is, there is no stopping LeBron when he gets a full head of steam attacking the rim.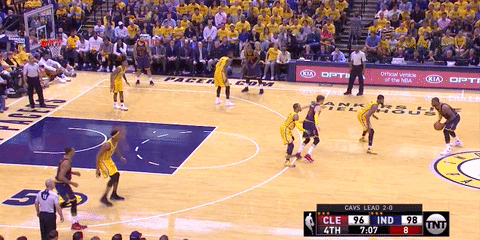 *Jeff Teague wisely avoids being plastered on every Cavaliers fan bedroom wall*
Turner stays on Frye, which gifts LeBron a free lane and wide open paint to put in the easy dunk.
Fast forward another 90 seconds and the Cavaliers are only down one; LeBron grabs a defensive rebound and decides to push the ball for a fast break opportunity.
As the Pacers defense scrambles to double-team LeBron on the drive, they forget all about Frye, who is left wide open for a three that would put his team back in front for the only the second time since midway through the first quarter.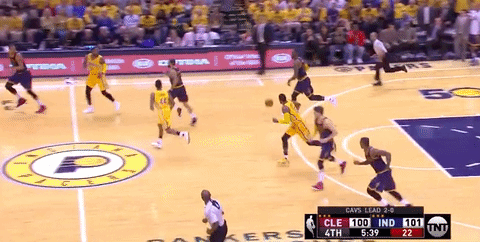 Turner has to slide to meet LeBron and instead of switching onto Frye, Jeff Teague is more concerned with LeBron and makes a poor effort to steal the ball, leaving Frye open near the top of the key.
Easy money.
A little over halfway through the fourth quarter and Frye had contributed both directly and indirectly to 12 of the team's 19 points.
Head coach Tyronn Lue decided to leave Frye in the game in lieu of bringing in Kevin Love and Frye continued to deliver. Less than a minute later and Lue would draw up an out of bounds play for an easy LeBron James layup.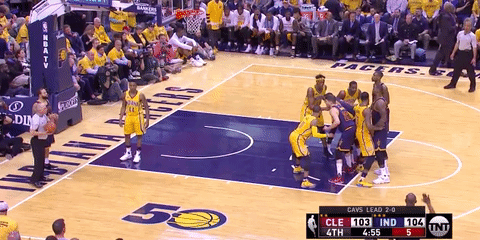 By sending Frye to the corner, Turner has to stick to his every move, which drags Turner away from the basket and allows LeBron open access to the paint and an easy layup.
Moving ahead another 90 seconds with the Cavaliers leading 108-107, LeBron runs a pick-and-roll with Deron Williams as the ball handler, baiting Teague to switch off Williams and onto himself.
LeBron gets the switch he wants and Turner is forced to watch from the perimeter as Williams floats an uncontested pass to LeBron in the paint, where he is fouled on a layup attempt.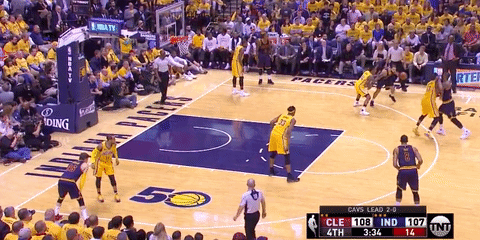 There isn't much Turner can do in this situation; he's stuck between a rock and LeBron James.
The paint was open for the entire fourth quarter as Turner could not afford to back off of Frye for even a second unless he wanted to run the risk of the Cavaliers scoring three over two.
The Pacers were already struggling after blowing such a huge lead that the margin for error was shrinking every possession. Turner simply didn't know what to do on defense, but his options weren't that varied to start with.
With under one minute left in the game and the Cavaliers beginning to pull away up by four points, Frye nails the dagger into the Pacers' confidence, pride and their season.
With under 10 seconds on the shot-clock and J.R. Smith desperately searching for space to create, he executes a beautiful between the legs step-back crossover that beats Teague and opens up a drive to the basket.
Both Turner and Young sprint down to cover Smith, who then makes the smart pass to a wide open Frye in the corner.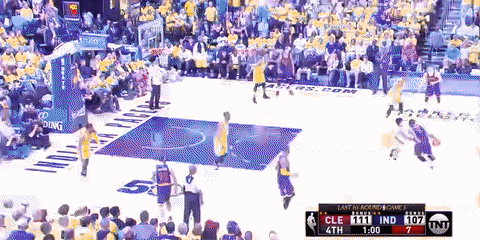 Frye drains the three, the Cavaliers bench explodes into celebration, and the Pacers would not be able to mentally recover from their historic loss, losing Game 4 at home and completing the sweep by the Cavaliers.
Channing Frye's quick release and incredible accuracy creates a threat that — while evolving and expanding in today's game — is still a rare commodity in the NBA. He used his superior ability to confuse the Pacers defense to the point where they simply did not know what to do.
LeBron James may have won that game for the Cavaliers and led them to the largest comeback in playoff history, but it would have never been possible without Channing Frye and Lue's decision to keep him in the game.
The Cavaliers will face the Toronto Raptors in the next round and I guarantee Raptors fans are not looking forward to Jonas Valanciunas defending Channing Frye when the bench unit takes the floor.
(Statistics via Basketball-Reference and NBA.com)
This article originally appeared on