How Brandon Jennings knew the Detroit Pistons were moving on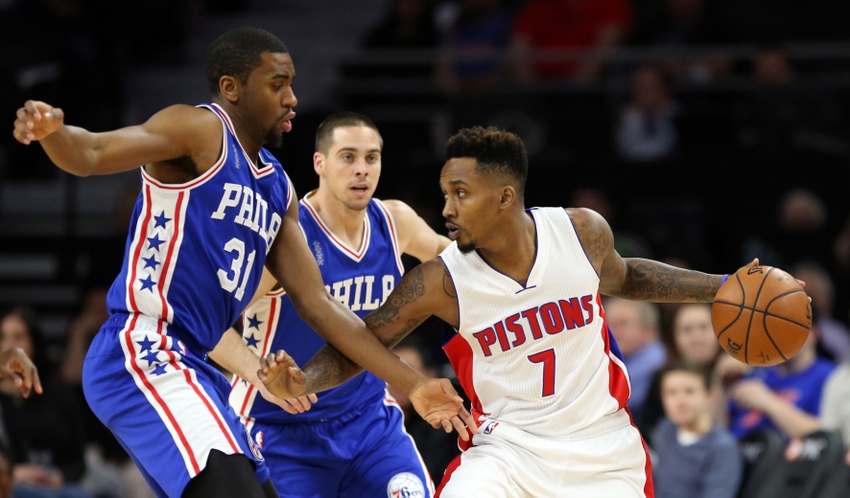 Former Piston Brandon Jennings returned to Detroit on Tuesday with the New York Knicks. The Pistons came out on top, and he spoke about his departure.
Brandon Jennings was a big part of the Detroit Pistons' resurgence in 2014-15. In Stan Van Gundy's first year as head coach and president, the Pistons got off to a horrendous 5-23 start.
Then, the Pistons shocked the NBA (as they've done a couple times since) by giving Josh Smith his release. It seemed like a move for the future, they would just pick up the pieces and figure it out next season, but that's not how it played out.
Brandon Jennings caught fire and the Pistons were a classic case of addition by subtraction. Minus the logjam in the frontcourt and Josh Smith's ball-stopping and chucking tendencies, the Pistons turned it around and won 12 of their next 15 games.
Jennings became more of a facilitator and less of a reckless and undisciplined shooter, focusing his considerable talent and athleticism. He averaged 19.8 points and 7 assists per game, shooting 43.9 percent from the field (an impressive rate indeed for him) and 39.4 percent from the three-point line.
Just when things seemed to be clicking on all cylinders and the Pistons were coming up in discussions of the playoffs, the unthinkable happened. Jennings ruptured his Achilles on January 24th, ending his season and putting his career in jeopardy.
Shortly thereafter at the trade deadline, the Pistons made a deal to send D.J. Augustin, Kyle Singler and a second round draft pick to the Oklahoma City Thunder for backup point guard Reggie Jackson.
According to Jennings, that was the moment he knew his days as a Piston were numbered.
"I knew it was over once they got Reggie Jackson,'' Jennings said at the morning shootaround Tuesday at The Palace. "Just the fact my Achilles injury — nobody knew what to expect from me, how long it would take to come back. Achilles injuries are career-ending injuries. I already knew what time it was.''
Jennings did return to the court but not until the end of 2015. He made his 2015-16 debut for the Pistons on December 29th, just over 11 months after the injury. He played 23 games for the Pistons off the bench, averaging 6.8 points and 3 assists per game in 18 minutes.
As Jennings foretold, he was traded to the Orlando Magic with Ersan Ilyasovain exchange for Tobias Harris. Following that, Ilyasova was traded to the Thunder and Jennings was not retained by the Magic in the offseason.
Now a member of the New York Knicks, Jennings is a valuable member of the Knicks' rotation. He's averaging 18.7 minutes per game in relief of Derrick Rose so far this season, scoring 8.3 points and dishing out 3.7 assists per game.
Jennings still doesn't have the burst he had before the injury, but he's showing form similar to what he had before and his swagger on the court is unmistakable. Pistons fans have been watching and rooting for Jennings ever since his departure from Detroit.
This article originally appeared on