Houston Rockets Win Ugly versus Pistons: Player Grades 11.21.16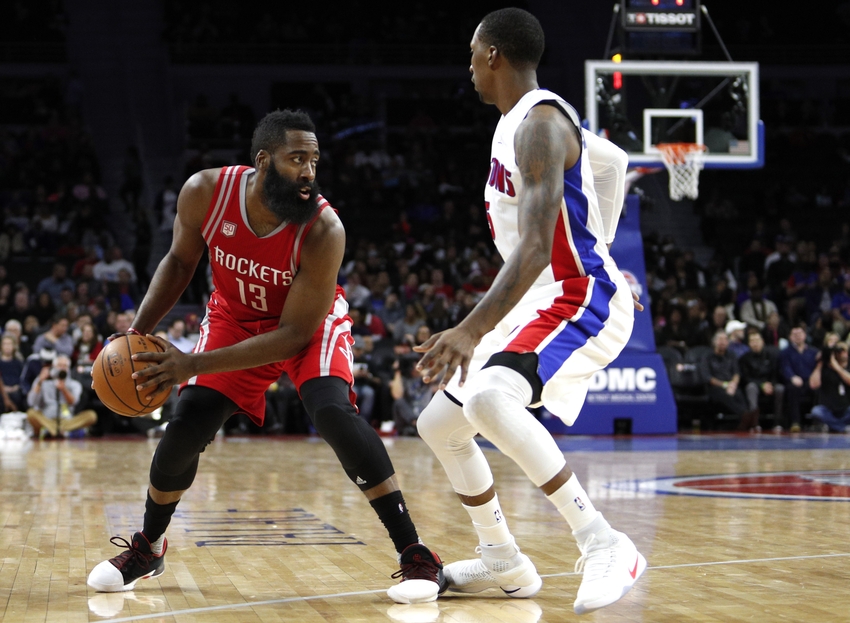 James Harden scored 28 points and dished out 11 assists, as the Houston Rockets extended their winning streak to three, Monday, against the Detroit Pistons, at The Palace.

99

96
Despite rolling into Detroit on a two-game winning streak, the Houston Rockets had a lousy start to the game. During the first 12 minutes, Houston turned the ball over six times and missed all four of their attempts from behind the arc. In addition Houston allowed the Detroit Pistons to outscore them 20-8 within minutes of the opening tip.
Yet, one must give credit where credit is due. And Detroit's defense was the primary reason for the Rockets first quarter struggles.
While Detroit's defense stayed focused on containing James Harden, it opened the door for the Rockets second unit to step up in his place. Among players who did so in Harden's time of need was Sam Dekker. Behind Dekker and Corey Brewer, Houston battled back to take a 51-46 lead into the half.
Although Houston would see their lead increase to 10 points midway through the third, their lack of focus on the defensive end allowed the Pistons to retake control of the game. Thankfully, the Rockets were able to withstand the Pistons' final run to win the game.
Clint
Capela
C,
Houston Rockets
A+
As the season progresses so too does Clint Capela. In the battle of the bigs in the Palace, it's safe to say Capela won his individual game against Andre Drummond. Despite establishing himself as one of the NBA's best defenders, Drummond had a tough time keeping up with the Switzerland native. Capela out ran Drummond in transition and held him under 30% percent from the field. It was another spectacular night for the future All-Star.
15 Points, 12 Rebounds, 2 Assists, 1 Steal, 2 Blocks, 2 Turnovers, Plus/Minus (-5)
Ryan
Anderson
PF,
Houston Rockets
B-
Ryan Anderson took a different approach in scoring in Detroit. Instead of jacking up three's, Anderson was aggressive getting into the lane and scoring at will. While his teammates had their share of struggles, Anderson was the only consistent scorer during the first quarter. Eventually Stan Van Gundy pulled the right strings and the Pistons were able to solve the Anderson puzzle virtually quieting him for the latter portion of the contest. Ryno did manage to have a solid night rebounding the ball.
10 Points, 6 Rebounds, 1 Assist, 1 Steals, 1 Turnovers Plus/Minus (minus 14)
Trevor
Ariza
SF,
Houston Rockets
B-
Prior to the game Ariza was listed on rotoworld as day to day. Generally any player expected to be in the line-up will be listed as a "game time decision" or probable. Then again this is the iron man Ariza we're talking about. That said, it's likely the effects from the mid-knee injury he suffered Saturday night affected him, especially early. Thankfully, he was able to warm up and come alive during the second half by scoring 12 points. As well as making a few defensive stops on the Pistons' best perimeter players. Overall, an average night for Ariza.
14 Points, 6 Rebounds, 3 Assists, 1 Steal, Blocks, 1 Turnover, Plus/Minus (+5)
Patrick
Beverley
SG,
Houston Rockets
B
In his third game back, Patrick Beverley has shown no sign of rust. In fact, Beverley looks to be in midseason form already. Every team needs at least one player whose production on the court cannot be valued by stats alone. It is the little things like passing up an open shot to a teammate that has a better look, setting a screen or getting a deflection that matter. Of note his effort on defense remains as he often picked up the extra player when one of his teammates stepped out of position on defense.
9 Points,1 Rebound, 1 Assist, 1 Steal, 1 Turnover, Plus/Minus (-14)
James
Harden
PG,
Houston Rockets
C
Do not let the numbers fool you. James Harden looked far from the league's front-runner for MVP. In fact, there were times on the court he didn't even look like an all-star. He shot 25% percent from the field as well as contributing to five of Houston's eight turnovers. Sure, Detroit's defense played a huge factor in Harden struggles, but there is no excuse to turn the ball over five-time in 12 minutes. Although his performance in the second half was better, he never played like the MVP-caliber player Rockets fans has grown accustomed to seeing.
28 Points, 8 Rebounds, 11 Assists, 1 Block, 6 Turnovers, Plus/Minus (+6)
Sam
Dekker
PF,
Houston Rockets
A
It was another solid performance from the Rockets' bench as a whole. However, Sam Dekker was the one player that stood out. In the midst of Houston's first half struggles, it was Dekker who gave the Rockets new life in Detroit. In my opinion overall, it was his best game of his young career.
12 Points, 4 Rebounds, 1 Assist, Plus/Minus (+3)
Kentavious
Caldwell-Pope
SG,
Detroit Pistons
A+
While the Pistons gave Houston more than they could handle, Kentavious Caldwell-Pope was Detroit's best player. He put up 26 points and no one could slow the rising star down. Fortunately for the Rockets it was one shot missed from the free throw line that kept him from becoming Detroit's savior.
26 Points, 1 Rebound, 2 Assists, 2 Steals, 4 Turnovers, Plus/Minus (-4)
This was on the second loss for the Pistons on their home court where they have the honor of the best home court defense.
Next up the Rockets face the Raptors at the Toyota Center on Wednesday evening.
Want your voice heard? Join the Space City Scoop team!
While riding a three-game winning streak, the Rocket will return home Wednesday, to take on the Toronto Raptors.
More from Space City Scoop
This article originally appeared on