Houston Rockets: Why James Harden Is The Best SG In The NBA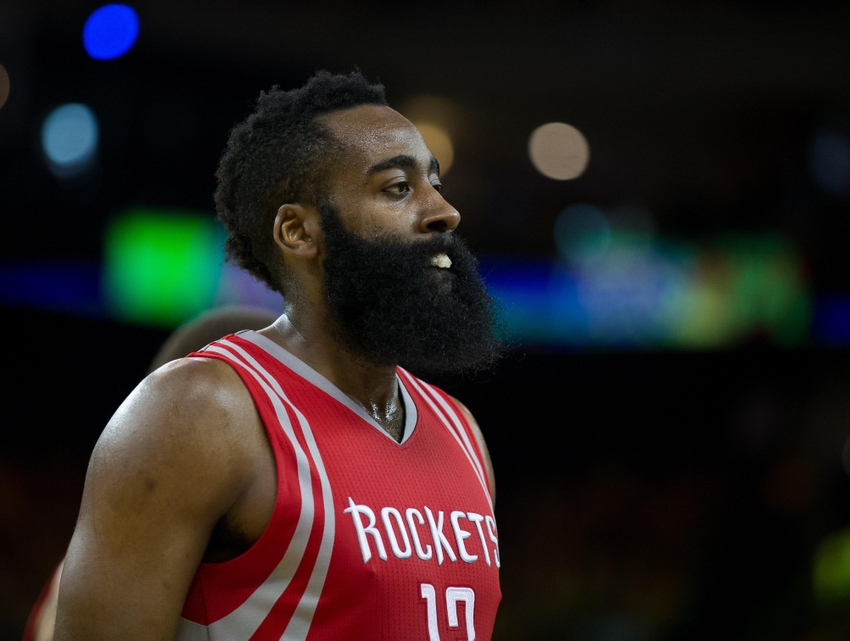 It seems that no matter how good he plays, or what he does, Houston Rockets star James Harden receives an unprecedented amount of slander; we put an end to that
Houston Rockets star James Harden is arguably the most complete offensive player in the NBA. To contrary belief as well, Harden isn't exactly a liability on defense either.
He isn't a great or above average defender by any means, but he isn't exactly useless on D. There really should be ZERO debate when it comes to who the NBA's top shooting guard is. 
It's James Harden.
More from Sir Charles In Charge
In the last three NBA seasons, James Harden has finished No. 1 in points per game, as well as No. 1 in APG and top 5 in rebounds per game – amongst shooting guards. If that doesn't signify a complete player, than I don't know what does. Harden can shoot, take it to the basket, finish, facilitate and rebound pretty well for his size.
On top of his fantastic numbers, in the last three seasons, Harden has been stretched to the maximum, finishing top 5 in minutes per game. In 2015-16, he led the NBA in minutes played (38.1 per game). 
So, if you expect someone to put up his numbers as well as play top-tier defense while carrying his team fatigued and all, than you need a superhuman.
Harden is also the most potent scorer in the NBA behind Stephen Curry and Kevin Durant. Over the past three seasons, James Harden has shot 44 percent from the field, 37 percent from three, and has a Total Shot% of 61 percent.
Oddly enough, James Harden isn't viewed "efficient" and can only score off of free throws according to the commoner. The narrative that Harden can only score is also false. Harden not only led the shooting guard position the last three seasons in assists, but had the most attributed points to his team of ANY player in the NBA of 46.8 PPG.
Harden's efficiency does take a dip compared to counterparts Klay Thompson and Jimmy Butler in the postseason. Even not being the most efficient, Harden still has averaged 27 PPG, 7.2 APG, and 5.4 RPG in the playoffs. Harden may not have won many playoff series in Houston, but it's not all his fault.
Let's look at the aforementioned numbers now in a visual view.
Last Three Seasons
James Harden: 

27.3 PPG – 6.9 APG – 5.5 RPG – 44% FG – 37% 3P – 117 DRTG – 106 DRTG – 42.5 WS – 9.5 DWS

Play Thompson: 

20.7 PPG – 2.4 APG – 3.4 RPG – 46% FG – 43% 3P – 111 ORTG – 106 DRTG – 23.5 WS – 8.9 DWS

Jimmy Butler: 

18.0 PPG – 3.6 APG 5.4 RPG – 44% FG – 32% 3P – 116 ORTG – 104 DRTG – 27.4 WS 10.4 DWS
Not only do the numbers portray James Harden being better SIGNIFICANTLY in EVERY category, but the defensive metrics aren't as far off as you would have thought.
Now I'm not saying Harden is a great defender, or better than the above comparisons – just food for thought when comparing them. So if Harden dominates every category and the defensive metrics are super close, why is there still a debate of who is the NBA's best shooting guard?
That is the question I am trying to figure out myself. 
Lastly, the only three players besides Harden in NBA history to average 29+ points, 6+ rebounds and 7+ assists per game in an NBA season? LeBron James, Michael Jordan and Oscar Robertson.
Legendary stuff.
This article originally appeared on