Houston Rockets Video Diary: James Harden post practice, 9.30.16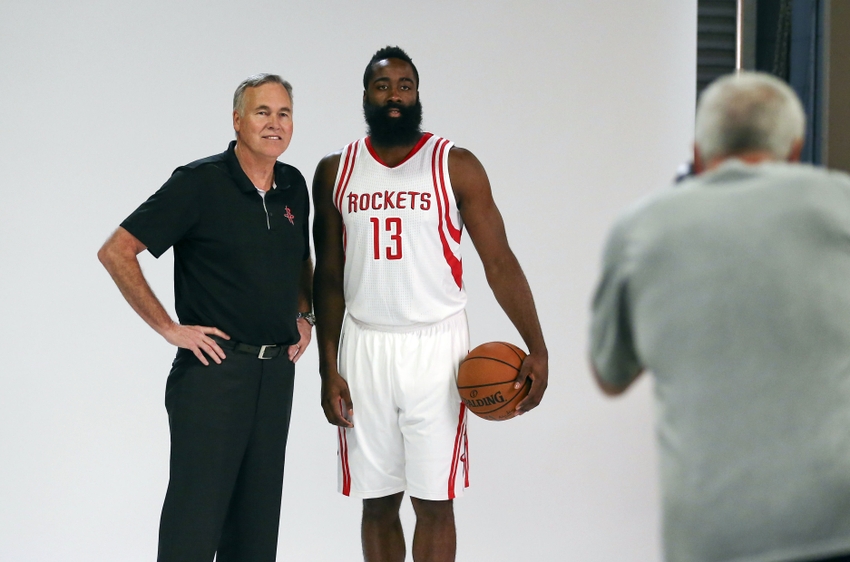 Continuing the SCS Video Diary series next up James Harden spoke to reporters following the Houston Rockets practice September 30th.
Each time James Harden speaks to the media throng whether it be media day or post practice sessions there is a notable difference in his demeanor. Clearly James Harden is reveling in his new increased leadership role. And while there is still a full season to undertake there is no denying how much lighter the Houston Rockets 2016-17 squad seems versus last season.
To wit, Harden told reporters the gym is his 'happy place'.  Obviously this wasn't something fans or media heard from the bearded man last season.  At the time the power struggle between Dwight Howard and James Harden created tension on and off the court.
In hindsight, perhaps Harden was trying to allow the older Howard to take the lead. This season as the sole voice it seems James Harden is driven to make sure 'his team' wont suffer the same issues. Hence Harden has the team working to gel on and off the court.
His post game practice presser spoke to some of these issues:
Media questions:
Asked how many minutes he'll play this season:
Harden: whatever the game dictates or the team needs will translate into how much he plays.
Areas of growth for the Rockets:
Harden: spoke of the defensive principles Bzdelik is instilling. Harden reiterated the mantra of the "daily habits" and building fundamentals.
Differences from last season:
Harden:( in response to reporter who said last year he had to do everything)  by saying this season the team has play makers, a lot more shooters and a lot more players who space the court which makes  a huge difference.  Further, Harden pointed to how well prepared the team arrived in camp including the rookies. Harden specifically cited Kyle Wiltjer as a rookie who has been impressive, saying he's been shooting lights out. He also noted his good friend Bobby Brown.
How team will deal with National Anthem:
Harden: Asked how the team would deal with the anthem, Harden said everyone has their own opinion and will act accordingly in regards to their stance.
Want your voice heard? Join the Space City Scoop team!
SCS video diary series  offers insight from Training Camp and allows you to become more familiar with new players.
More from Space City Scoop
This article originally appeared on