Houston Rockets: SCS Round Table: Regular Season Part 4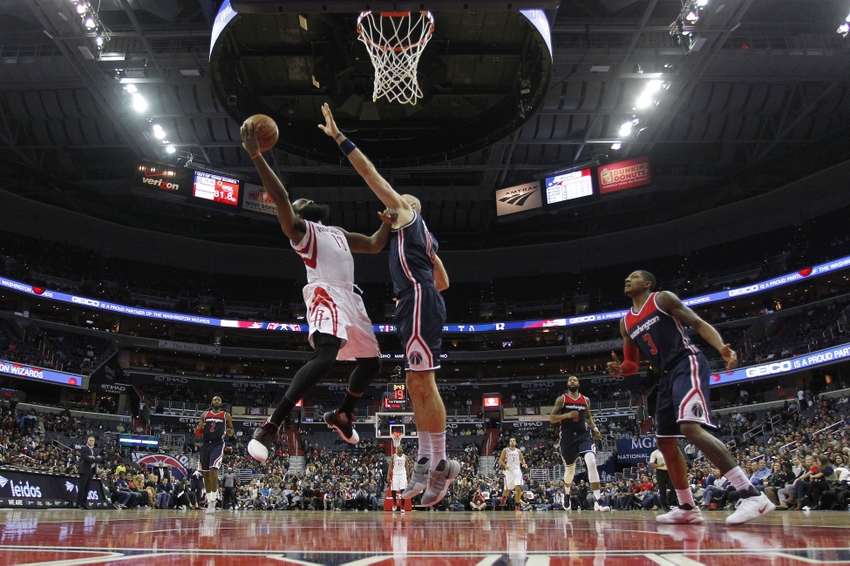 Space City Scoop writing team offer our annual Houston Rockets Round Table sessions. Next up the Regular Season, part 4.
Next up the SCS team dives deeper into the Houston Rockets with the staff predicting how the regular season will play out.
The final segment of the regular season  examines which player takes the greatest leap, who is the least safe on the roster, win total and what each of the SCS team is most excited for this upcoming season.
We invite you to peruse our input and offer your own opinions in the comments section at the end of the post.
Contributing to the series are Space City Scoop writers:
Andre Cantalogo @dededeco
Ben Casey @benlikesbball
Coty Davis @Mr_Thriller83
Jason Gomez @jasongomez28
Tamberlyn Richardson @TTOTambz
Q16: Which Rockets game are you most excited to see this season, why?
Andre: November 5th @ Hawks. Harden against Howard for the first time since Howard left Houston.
Ben: Maybe I'm just a glutton for punishment, but I'm excited for the December 1st matchup against the Warriors in Oakland. If everybody's predictions are correct, that will be the toughest team the Rockets will face all year, and I want to see how they fare. If they play even marginally well, it will be a good sign for how they'll play against the rest of the league. I'm also excited to see the team take on the Spurs, Clippers, Hawks, and Cavs.
Coty: After Dwight Howard left for Atlanta this summer, I cannot wait for the Rockets to play against the Hawks. I am hoping Harden score 40 points in both meetings.
Jason: Okc and rockets! Westbrook unhinged should be interesting.
Tamberlyn: There are a number of games of interest this season: Howard return to Houston, any game featuring the Thunder (they always seem to be entertaining games).  To that end, the Cavaliers have battled with Houston in season the past few years so those dates will also be of interest.
Q17: Who takes the biggest step up on the roster?
Andre: Clint Capela.
Ben: James Harden. He can finally be the leader that he should be, and has a lovely opportunity to regain his status as one of the game's best players. Hopefully, he has a new mindset about defense that inspires the rest of the team as well. He has a ceiling as high as anyone in the league, and D'Antoni can help him reach it.
Coty: With Dwight Howard gone, I would have to say, Clint Capela.
Jason: Dekker and KJ McDaniels will make the biggest leap as far as performance.
Tamberlyn: For Houston to be successful they need Capella to be the guy who makes the greatest leap. Harden will put up gaudy numbers no doubt, but I'm hoping we see McDaniels get the opportunity to take another step upward.
Q18: In your opinion who is the least safe on the roster and most likely to be traded?
Andre: As I've said above it depends on Tyler Ennis' emergence. If he can prove himself a capable backup point guard to head coach D'Antoni Beverley is probably not safe. Likewise Corey Brewer shouldn't be safe as well.
Ben: As much as I like him, I could see Corey Brewer getting traded if he doesn't return to form. He was nothing but a burden to the team last year, and they can't afford to deal with that again.
Coty: If the Rockets can get another superstar, I think Clint Capela is the least safe. Out of all of the Rockets' young players, Capela is the most valuable asset to add to any team.
Jason: Nene or D-mo if they ever sign him
Tamberlyn: the fact the Rockets are pushing so hard to sign D-Mo so he'll be available to be traded speaks volumes. I'd love to see Brewer be the guy, but I'm more convinced McDaniels will draw more attention. And obviously last one in – first one out, so Tyler Ennis days may be numbered.
Q19: How many wins do the Rockets get this season?
Andre: 45 wins. I don't buy the Rockets being worse than the Blazers either last season or this season. That being said I think it's highly unlikely we break the 50 wins margin this season. But i guess it's possible with a strong addition to the team during the season.
Ben: I'm going to be bold and say they return to winning 50+ games. Let's go with a 51-31 record and 4th seed in the playoffs.
Coty: I think could win about 50 to 52 games this season.
Jason: 50+
Tamberlyn: 45 seems realistic
Q20: What are you most excited about for this season? (Rockets related or NBA related)
Andre: Houston Rockets celebrating 50th seasons of basketball. Kevin Durant / Westbrook Oklahoma drama playing out.
Ben: I'm excited to see if Golden State will be as dominant as they could be. It will be fun for fans of nearly every team to band together in their dislike of the Warriors. I'm more excited, however, to see James Harden's return to relevance. I don't understand how he was so good yet so ignored by so many fans and pundits last year, but this year he has potential to be the best player in the league.
More from Space City Scoop
Coty:I am most excited to see the Rockets prove everybody wrong. After losing Howard and missing out on other all-stars, most NBA analyst have some low expectations for the Rockets. However, with a new and improve offense, I think the Rockets could be the most surprising team in the league this season. Similar to the way the Portland Trail Blazers were after losing LaMarcus Aldridge last year.
Jason: Seeing the point beard and the new look Thunder and Warriors.
Tamberlyn: For Houston – a return to being a top West team and the 50 year anniversary. League wide I'm excited to see young teams like the Wolves and Jazz take another step and I'll hope all season a team arrives to knock off the Cavaliers and Warriors.
Want your voice heard? Join the Space City Scoop team!
Enjoy the season Red Nation and be sure to stay connected with Space City Scoop as our amazing team of writers keep you abreast of all things Houston Rockets.
This article originally appeared on