Houston Rockets: SCS Round Table: Preseason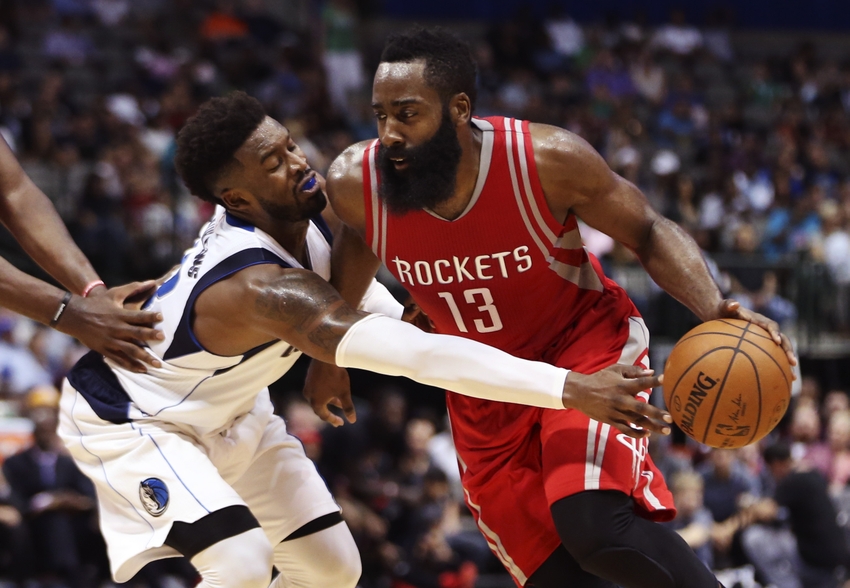 Space City Scoop writing team offer our annual Houston Rockets Round Table sessions. Next up the Preseason.
Next up the SCS team dives deeper into the Houston Rockets preseason. The staff look at which returning players have been the most impressive. Additionally the team pick which free agents and new player(s) made the biggest impression through preseason.
We invite you to peruse our input and offer your own opinions in the comments section at the end of the post.
Contributing to the series are Space City Scoop writers:
Andre Cantalogo @dededeco
Ben Casey @benlikesbball
Coty Davis @Mr_Thriller83
Jason Gomez @jasongomez28
Tamberlyn Richardson @TTOTambz
Q1: Based on what you know and have seen in preseason who would you say has improved their game the most this summer?
Andre: It's a toss up between Clint Capela and Sam Dekker. To be fair comparatively to the timid, weak and uncomfortable player from last preseason, Dekker seems to be much improved.
Ben: I'm not sure if this counts, but I'll say James Harden. Not that he has improved his game the most, but his new mindset, position, coach, and offense has potential to increase his effectiveness to new levels. I know it was a preseason game, but he put up 15 assists in his first outing as a point guard. He was already one of the best players in the game, but I would not blink at the supposition that he could lead the league in both points and assists this season.
Coty: For me, I would have to say, James Harden. Since hearing that Harden has become the Rockets full-time point guard. I have been pretty critical of D'Antoni's decision. However, after a preseason in which he has averaged 10.8 assists a game. Harden's decision making as the floor generals looks 100 percent better than last season. It's obvious that Harden took the summer to improve  his decision-making as a point guard.
Jason: Trez Harrell ! He looks like a completely different player from summer league
Tamberlyn: I was pleasantly surprised with the shape both Eric Gordon and Nene arrived to camp in.  Additionally, seeing Sam Dekker on the court healthy having added components to his offense was also positive. But, more than anything I"m thrilled K.J. McDaniels added new tools to his kit. Please tell me this will be the season he can't be kept off the court.
Q2: Through several preseason games you've witnessed the new Rockets play. Who are you most excited to see play in season and why?
Andre: Eric Gordon. He is a great offensive player that can lead the Rockets second unit for example.
Ben: One of the better stat lines from the season was Eric Gordon's from the first game against New Orleans. In 30 minutes, he put up 24 points on 50% shooting from the field and from beyond the arc. I know that's a small sample size, but If he can regularly put up similar numbers coming off the bench, it'll be a beautiful thing.
Coty: Ryan Anderson. I was excited about his signing and during the preseason he has not let me down. Anderson is averaging 14.4 points while shooting 47 percent from downtown. I'm expecting an All-Star season for Anderson. Hopefully, he can stay healthy.
Jason: The Beard. Can he really average 13 assts like coach believes??
Tamberlyn: We know Harden is bound and bent to show critics he is among the top players in the NBA. But, for the team to succeed they'll need others to also take a step forward. For that reason I'm anxious to see how Capela, McDaniels and the youngsters develop and how much of a role they'll play.
Q3: Based on what you've seen in preseason which of the returning Rockets are you most anxious to see play this season and why?
Coty: A: Sam Dekker. I hated to see him get injured last season. However, throughout thepreseason, he looks focused and ready to make some noise in the league.
Jason: Corey brewer and ariza should thrive in this offense
Andre: K.J. McDaniels. I believe he'll get a chance to finally show the NBA what he is capable off. He might even become the anchor of this team's defense.
Ben: I cannot wait to watch Clint Capela. He posted similar per-36 minute stats to Dwight Howard last year, and is a much more willing roll man than his predecessor. I'd argue with anyone that he was the best backup center in the league last year, and I think it's a possibility that he could vault himself into the discussion of best starting center in the future. He has big shoes to fill, and looks more than ready to step in. The Rockets will need his rim protection, so for the team's sake I hope I'm right.
Tamberlyn: No brainer – free K.J. McDaniels
Q4: Motiejunas (at the time of this writing) remains unsigned. First, do the Rockets get the deal done? And second, how much of a difference will it make to either have D-Mo or not have D-Mo on the squad?
Ben: I'm a huge D-Mo fan. I think he's one of the craftiest big men in the game and can stretch the floor all the way out to the perimeter. However, I don't think a deal will be made. At this point, he's missed all of training camp (plus the workouts that Harden put together in Miami) and almost all of the preseason. Even with his strengths, he'd be at a significant disadvantage when it'd come to competing for minutes. If Dekker, Harrell, Wiltjer, or Onuaku look promising, I doubt the front office will be willing to accommodate to his requests.
Coty: I hate to say it, but Motiejunas' career in Houston is over. With Anderson and the rise of Clint Capela, there is no need for Motiejunas anymore.
Jason: Being that he is a restricted free agent I think the Rockets will match any deal but it has to be at minimal cost.
Andre: I don't think it's going to happen anymore, no. It's a shame particularly because D-Mo could've worked as a backup player for both center and power forward position thus adding depth to the team.
Tamberlyn: First, I feel the manner in which this entire situation was dealt with was out of character for the Rockets and Morey. D-Mo got a raw deal. You can't go record saying his back is fine (which the franchise did last year and played him down the stretch) then suddenly back off that stance because it's convenient. If his back was in that bad of shape they wouldn't have come back to the table with another offer almost double their initial offer. So, that means they undercut him and kept him from playing with his National Olympic team. Again, just my opinion, but not cool. Now because they want him on the squad and also want to be able to trade him they've upped their offer and the intensity they are pursuing him.
All I've ever seen from Motiejunas is a team player, who works hard, went to the doctors the Rockets suggested and busted his butt to get back  and play. He fits the D'Antoni system better than most bigs and I have to wonder if he'd offer better defense than Anderson! I hope for D-Mo's sake he gets to play in the NBA with a team who appreciates him – hopefully that's the Rockets
Q5: Will Rockets sign a 15th player? Who? (i.e. does Onuaku take the 15th roster spot or another  training camp invite and why)
Andre: The only chance for another signing is Motiejunas. I believe either Onuaku or Wiltjer take the final roster spot, the team desperately needs another big man.
Ben: I'm not sure if it'll be Onuaku, Wiltjer, Bobby Brown, Payton II, Motiejunas, or someone else, but I don't foresee a situation in which it would be a good idea for the Rockets to sign someone new.
Coty: I think Chinanu Onuaku would be the guy to get that 15th spot. With Donatas Motiejunas no longer in Houston, the Rockets will need another big man to come off the bench besides Nene.
Jason: I see the Rockets signing Wiltjer. I just don't want to see Onuaku's "granny" shot again
Tamberlyn: Based on the minutes they played in preseason I'd say Kyle Wiltjer is the guy they try to retain.
Want your voice heard? Join the Space City Scoop team!
Enjoy the season Red Nation and be sure to stay connected with Space City Scoop as our amazing team of writers keep you abreast of all things Houston Rockets.
More from Space City Scoop
This article originally appeared on