Houston Rockets Lose Tough Game In OKC-Player Grades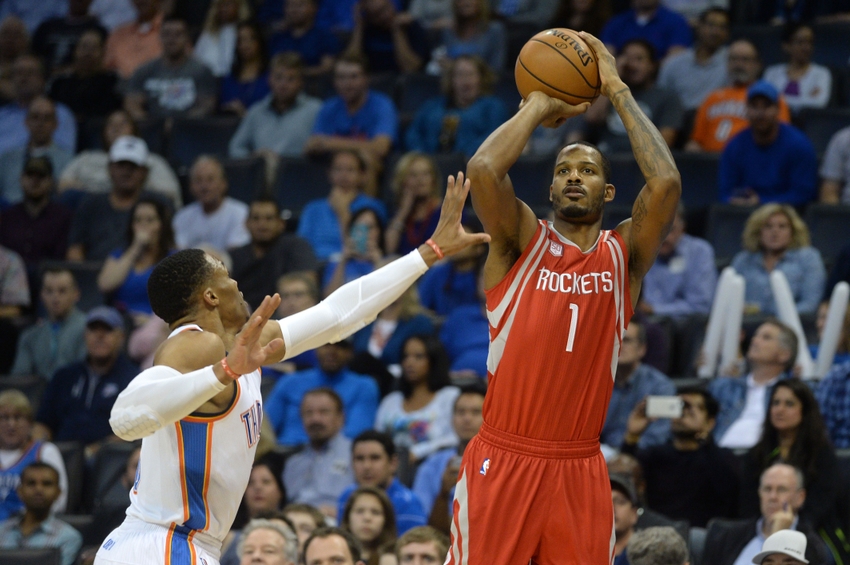 On a night where James Harden struggled from the field, a cold fourth quarter cost the Houston Rockets a win in OKC.

103

105
Following their victory over the Philadelphia 76ers, the Houston Rockets took their high scoring offense to Oklahoma City, in a showdown against the Thunder. After starting the season with a 6-1 record, the Rockets faced a Thunder team desperate for a win after losing four straight games.
Led by guard Victor Oladipo, the Thunder opened the game on a 21-8 run early in the first. However, thanks to the hot shooting by Sam Dekker and Trevor Ariza, the Rockets managed to cut Oklahoma's lead down to six, 38-32.
Behind Houston's second unit, the Rockets opened the second half on an 11-2 run to take a 43-40 lead midway through the second quarter. Unfortunately, the Rockets did not hold on to their lead for long thanks to the 10 second-quarter points by Russell Westbrook. With Westbrook on fire and Harden struggling, OKC took at 65-63 lead into the half.
Houston took advantage of the Thunder's poor start to build a 95-90 lead heading into the fourth. Unfortunately, the Thunder's defense proved to be too much for the Rockets as they scored only 10 points in the fourth. Oklahoma City would go on an 11-3 run to end their four-game losing streak.
Adding insult to injury was the Russell Westbrook dunk to seal the victory for the Thunder:
Clint
Capela
C,
Houston Rockets
A
Okay, I think it safe to say that Capela is the center of the future in Houston. After an astonishing game against the 76ers, this maybe the best game of Capela's young career. It was another efficient performance on the offensive end, and his free throw shooting is improving game by game. On the defensive end, Capela's defense was the main reason the Rockets were able to slow down OCK's hot start to the game. If his performance continues throughout the season, expect to see Capela's name among the NBA's greatest defenders. 13 points, 13 rebounds, 3 blocks
Ryan
Anderson
PF,
Houston Rockets
B-
In the midst of Houston's backcourt struggles the Rockets front court played a fairly good game. Among Houston's frontcourt players that stood out was Ryan Anderson. After his horrific performance against the 76ers, Ryan Anderson looked like an NBA player again in Oklahoma City. While he had a good night shooting, I felt I wanted more out of Anderson tonight. Primarily on the boards. At 6'10, there is no reason Anderson should end a game without a single rebound. 14 points.
Trevor
Ariza
SF,
Houston Rockets
B
On a night where Harden and Gordon struggled offensively, Ariza proved why he is the second most important player in Houston. Too often the things Ariza does off the ball get overlooked as once again he was the best 2-way player. Overall, it was another great game from Ariza. 11 points, 7 rebounds, 4 steals
James
Harden
PG,
Houston Rockets
C
While James Harden is having an unrealistic start to the season, The Beard reminded everyone tonight that he is still human. Against his former team Harden played his worst game of the season. OKC's defense made it a miserable night as he got off to a rough start shooting 1 of 5. Even though Harden could not score a bucket if his life depended on it, what stood out the most in this game was his ability to keep his teammates involved. Harden showed he could impact winning without putting the ball in the basket. 13 points 13 assists.
Eric
Gordon
SG,
Houston Rockets
C-
Much like his backcourt mate, OKC's defense made it a miserable night for Eric Gordon. Sure, he made a few baskets here and there, but overall, it was not a good night for Gordon. 13 points
Editor's note: I would have cut Gordon a bit more slack given he also contributed 5 rebounds, 4 assists a block and was the highest plus – minus starting player with a plus 7. While plus-minus isn't always an indication of effort or defense the fact only Clint Capela and the reserves posted positive differential's speaks to their defensive efforts on the floor.
Sam
Dekker
SF,
Houston Rockets
A
While I would like to give this honor to everyone on the bench, no one played their hearts out more than Sam Dekker. In our chat session tonight we remarked on how Dekker appears to be growing in front of our eyes. Every minute on the court seemingly is resulting in Dekker adding to his repertoire. If he continues this ascent it bodes well for the Rockets. In my opinion tonight was the best game of Dekker's young NBA career. He was the main reason why Houston cut into OKC's 13 point deficit. Additionally, he was solid on the defensive end. 10 points 2 rebounds
Victor
Oladipo
SG,
Oklahoma City Thunder
A+
With all due respect to Russell Westbrook, I have to give this honor to Victor Oladipo. He had one of his best game since coming over from Orlando, and gave the Rockets more than they could handle repeated driving and offering a versatile offensive mix. Oladipo was 12 of 18 from the field and hit 5 of 7 from deep. Perhaps, if Houston could have found an answer for Oladipo, they could have come away with a win. By night's end he had tallied 29 points, grabbed 10 rebounds, dished 5 assists and snared 2 steals.
Billed as a match-up between the top 6 offense (Rockets) and top 6 defense (OKC) this was going to come down to which team had a better mastery of their top asset. In the end it was the Thunder who shut the door on the Rockets specifically in the final frame when the Thunder held the Rockets to 13 points.
Also of note this game featured 2 of the Association's top talents in Harden and Westbrook. Each star entered the night averaging over 30 points per game (along with 3 others: DeMar DeRozan, Anthony Davis and Damian Lillard). After this game the fact Harden scored just 13 points drops him from that list. Also of note these 2 MVP candidates both coughed up the ball 6 times adding to their growing problem of turning the ball over.
More from Space City Scoop
For Rockets fans who were disappointed by the loss feeling Houston should have easily had the victory it's important to note the Thunder have a very solid defensive team. And, while the Rockets went cold from deep this points more to the fact D'Antoni and Bzdelkiik have more work to do with the squad on the defensive end.   Furthermore, when the 3 isn't falling perhaps it's time to for D'Antoni to get his players to drive the ball. Certainly if the Rockets mixed up their offense with drives they would be far more difficult to stop. Teams expect Houston to shot threes and that is  something that needs to be addressed.
Now the Rockets return home to face the Blazers on the back end of their back to back. The good news is Patrick Beverley is expected to return and be in the starting line-up. Let's cross our fingers that allows for a better overall defensive effort with PBev back in the mix.
Want your voice heard? Join the Space City Scoop team!
Enjoy the season Red Nation and be sure to stay connected with Space City Scoop as our amazing team of writers keep you abreast of all things Houston Rockets.
This article originally appeared on