Houston Rockets: James Harden Validating Best In The World Claims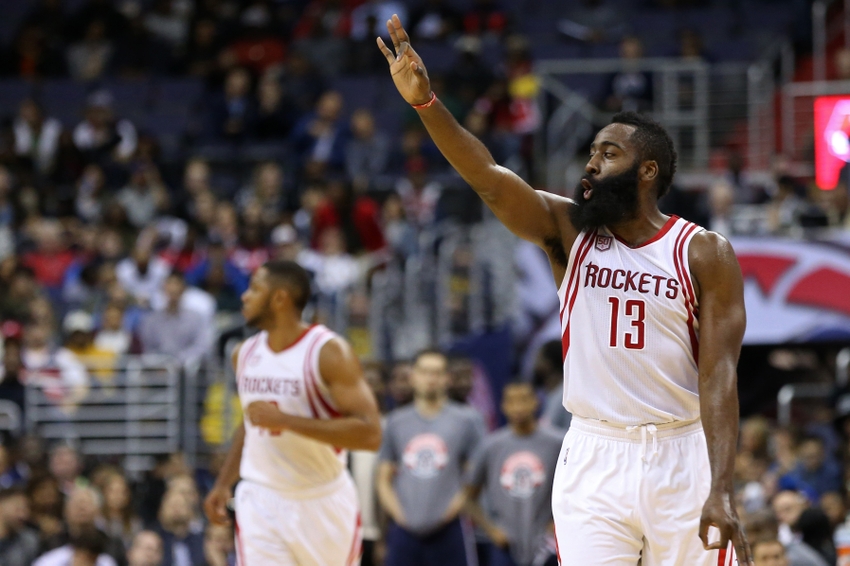 The Houston Rockets are placing too much of a burden on James Harden, but he's doing absurd and unprecedented things at the point guard position.
---
Let's get this out of the way early: James Harden doesn't try hard enough on defense and the basketball community hates it. Having established that, it's time we pay respect to a man who's doing things that defy belief.
Seven games into what seemed to be an absurd experiment, Harden is revolutionizing the point guard position for the Houston Rockets.
Mike D'Antoni shocked the basketball community when he announced that Harden would become Houston's full-time point guard. It made some measure of sense when one considers how ball-dominant Harden already is, as well as his proficiency as a facilitator.
Harden averaged 5.8 assists per game during his first season in Houston and has upped those numbers to 6.1, 7.0, and 7.5 in the three seasons that have followed.
True as that all may be, no one could have predicted how well Harden has been playing. Houston is 4-3 through seven games and Harden has been directly responsible for the success it's achieved.
Perhaps Harden's recent claim wasn't as absurd as it seems.
Best In The NBA?
It's far too early for James Harden to dethrone LeBron James as the best player in the NBA. The progress he's made early in the 2016-17 NBA regular season is undeniable, however, and it's sparked justifiable confidence.
According to Michael Lee of The Vertical, Harden believes he's the best player in the NBA.
"Best point guard or best player?" Harden responded when asked.

Either one.

"I am," Harden told The Vertical.
When you're a No. 1 player on a postseason-caliber team, it's only wise to believe that no individual you encounter is better than you.
Harden led an injury-depleted Rockets squad to the No. 2 seed in the Western Conference in 2014-15. Dwight Howard missed 41 games, Terrence Jones missed 49, Patrick Beverley was sidelined for 26, and Donatas Motiejunas missed 11, yet Harden still led Houston to 56 wins.
Harden then led the Rockets to the Western Conference Finals to cap off what was the best season the organization has experienced since the Hakeem Olajuwon era.
2015-16 was a rough year for Harden and the Rockets, as his lackadaisical defensive effort set a poor example for his team. He still produced offensively, but consistent victory was elusive for Houston during a 41-41 campaign.
Thus far in 2016-17, Harden appears to have learned from his mistakes and put in the necessary work to become the best player in the NBA.
The Stats
Through seven games, James Harden is averaging 31.6 points, 12.7 assists, 7.1 rebounds, 1.3 steals, and 3.6 3-point field goals made per game. He's posting a slash line of .500/.410/.849 and creating 31.1 points via assists per game.
Whether you love, hate, or feel indifferent about Harden, no rational basketball fan can look at those numbers and not be impressed.
Some may point to the 5.3 turnovers he's averaging per game, but Harden has a respectable assist-to-turnover ratio of 2.41. He's also averaging 31.6 points on 50.0 percent shooting from the field and has a usage rate of 35.8.
Considering how efficient he's been as a scorer, as well as how productive he is at a league-leading 12.7 assists per game, it's hard to get too caught up on turnovers.
For perspective, Harden is averaging 42.1 points and 16.9 assists per 100 possessions—a combination of numbers that have never been achieved. The turnover numbers are obscenely high, but so are the averages that he's accumulated in scoring and facilitating.
One would like to see Harden cut down on his gaffes, but if it costs five turnovers to have one player account for 68.3 points per game, so be it.
The Defense
The obvious knock on James Harden is that his lack of effort is detrimental to team defense. His lackluster performances have set a negative tone for the Rockets in the past, which is inconsistent with what he's physically capable of.
Through seven games, Harden isn't just dominating on offense; he's been playing at a high level on defense, as well.
Harden's assignments have posted an average field goal percentage of 42.0 percent in 2016-17. Against Houston's Bearded Dragon, however, those players are shooting just 37.8 percent—a drop-off of 4.2 percent.
As a team, the Rockets have allowed 107.2 points per 100 possessions with Harden on the court and 112.3 points per 100 possessions without him.
This past offseason, Harden told Lang Whitaker of NBA.com that he'll play at a high level on both ends in 2016-17. It's still early, but he's held himself accountable through seven games.
If Harden can somehow maintain this pace, it'd be hard to argue against him when the MVP race truly begins.
The question is: can he actually maintain something close to his currently absurd pace the rest of the way? If so, history will be rewritten.
More from Hoops Habit
This article originally appeared on