Houston Rockets @ Golden State Warriors: Game 19 Preview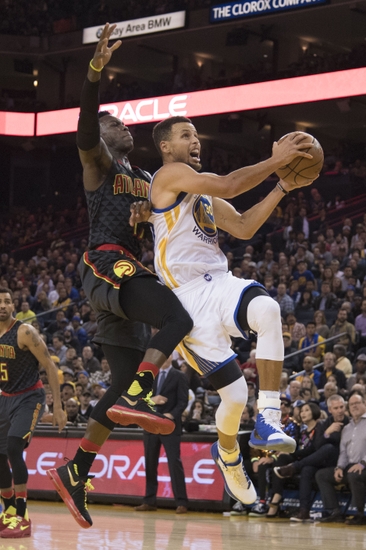 Following a thriller against the Atlanta Hawks, the Warriors will host the Houston Rockets on Thursday.
Where to watch- TNT, CSBA
Tip Off- Thursday, November 1st, 10:30 P.M.
Pre -Game Notes
This game will be the first meeting between the Golden State Warriors and the Houston Rockets this NBA season.
The Rockets will be looking to bounce back from a 19 point loss to the Utah Jazz. The Warriors held off the Atlanta Hawks 105-100 to clinch another consecutive win in the previous game.
James Harden will enter this game averaging a double-double of 28.7 points per game and 11.9 assists per game. The Warriors have been improving defensively as they have jumped to 18th in points allowed on this NBA season.
Golden State will be looking to extend their winning streak to 13 games putting them on pace for another historic start to a regular season.
Stephen Curry and Kevin Durant combined for 50 points with 14 of 33 on all combined field goal attempts. Klay Thompson also contributed 20 points while knocking 44 percent of his total FG attempts.
Draymond Green returned to the starting line-up Monday night versus the Hawks.
Starting Line-ups
Golden State Warriors
Golden State has both Green and Clark back healthy which puts things back to normal for the 16-2 Warriors tonight. Green had a bad shooting night against Atlanta in his return, however he led the defense in a tight winning effort and, contributed 7 assists. The Dubs will need all the personnel clicking to stage an improved offense and consistent defensive effort against a potent Houston Rockets team.
Point Guard- Stephen Curry
Shooting Guard- Klay Thompson
Center- Zaza Pachulia
Power Forward- Draymond Green
Small Forward- Kevin Durant
117.6 Points Per Game (1st) – 43.9 Rebounds Per Game (12th) – 31.1 Assists Per Game (1st) – 104.9 Points Allowed (18th)
Houston Rockets
The Rockets will come in with the same starting five as usually advertised. This team is looking to redeem themselves after a tough loss in Utah, at high altitudes. This has the looks of a fast paced game with a lot of shot attempts from both sides.
Point Guard- James Harden
Shooting Guard- Eric Gordon
Center- Clint Capella
Power Forward- Ryan Anderson
Small Forward- Trevor Ariza
109.3 Points Per Game (4th) – 43.3 Rebounds Per Game (tied 18th) – 24.2 Assists Per Game (4th) – 106.3 Points Allowed (23rd)
This game will be a fast paced showdown between to teams who really thrive in the occasion.
The James Harden show is coming to town
When talking about the Houston Rockets, James Harden is the key match-up. Mike D'Antoni has put his genius on the offensive side of the ball to great use in Houston. The Warriors will need to find a way to contain Harden in a system that is built to amplify his greatest strengths and almost erase his flaws.
Stephen Curry, Kevin Durant, and Draymond Green especially will be needed at full attention this game as it will be fast paced, run and gun, and pedal to the metal. James Harden will definitely look to put the Warriors to test with the variety of pick and rolls that the offense runs. He has a lot of weapons around him.
Shooters like Ryan Anderson, Trevor Ariza, and Eric Gordon will be spreading the floor. Clint Capella has become a frequent lob target for "The Beard" to feed. Houston's second unit is also capable of mixing it up in the interior and playing physical out on the perimeter. You know what you will get with Houston and you know James Harden will not pull back any punches, especially following the disappointing loss that was suffered against Utah.
The Warriors' collective play
On Monday night, Golden State had a tough win over Atlanta. They did not shoot well and they found a way to win anyway. Houston is not Atlanta defensively, and you couldn't even say its close. We should expect the Warriors to have a great night shooting and scoring as long as things don't get stagnant.
For this match-up the collective contributions of the bench, Kevin Durant, Stephen Curry, Draymond Green, and Klay Thompson will definitely matter. There is one huge advantage that Golden State has here that overrule all of those things that Houston does. The Warriors' defense. Against Atlanta, the Dubs proved that they could put together stretches of elite defense against good teams.
If they do the same tonight any offensive contributions will be worth double the value. When you have the number 1 scoring offense, a middle of the pack or slightly elite defensive output can put you through the roof. Golden State has the personnel and chemistry to make that proposition a reality, and what better test than James Harden behind the extremely potent pick and roll offense of Mike D'Antoni.
This game will be somewhat resembling of a shootout because how insanely fast both of these teams play. While both teams are potent, the Warriors are consistently more potent on the defensive side of the ball. With that slight advantage, the numbers are brought over a tick more than the stat sheets will say. The Warriors will take this one with some key stretches of lock down defense. Final Score- Golden State Warriors 120, Houston Rockets 105.
More from Blue Man Hoop
This article originally appeared on