Houston Rockets Fantasy Outlook 12.12.16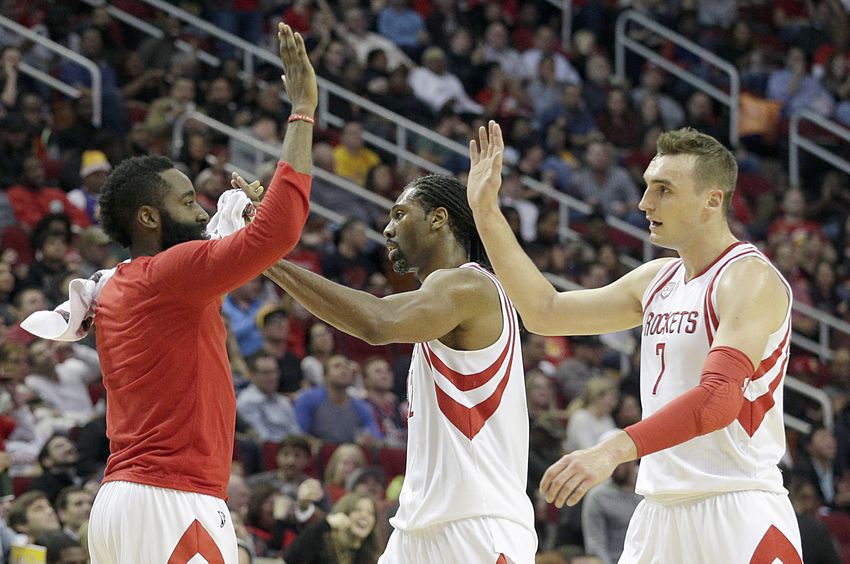 Analyzing our Houston Rockets and other players around the NBA to help make the most of your fantasy team for the week of Dec 12th
Red Nations Fantasy Summit
The Houston Rockets are rolling right now. They currently have a record of 17-7, which is good for fourth place in the Western Conference. The Rockets sit behind the usual suspects in the West of the Warriors, Spurs, and the Clippers. But, unlike them Houston is on a current win streak of six straight. And, in that streak the team has shown some serious grit in the way they battled tough opposition (GSW, Bos, OKC) and the suspect NBA scheduling.
Last week James Harden had the luxury of sitting some extra minutes in the fourth quarter because of blowout victories. Still, the Beard currently averages 27.8 points (nearly 3 triples), 7.6 rebounds, 11.6 assists, 1.5 steals, and 5.7 turnovers per game. The turnovers would be the only knock against the man, but when a player dominates the ball and runs the offense like Harden does, it's to be expected. Although, some of those are just lazy passes and if the Rockets can work to minimize those, it would be in their own best interest.

The Rockets have four games this week with the Nets, Kings, and the Pelicans coming to the Toyota Center. They then face travel to Minnesota and will battle the young Timberwolves.
After playing one of the harder NBA schedules, the Rockets will now have to worry about playing down to their competition. But, before looking ahead to this week's action, let's take a quick glance at some standouts from the Rockets over their last few games…
The Rockets guards each bring different dimensions to the game, but are all thriving in this offense
Patrick Beverley-Hou, PG/SG
Basically, the Houston Rockets are successful when Bev is on the court. He's also a pit bull on defense and was key in getting defensive stops against Westbrook and the Thunder. Against  the Lakers, he tied his career high for dimes with 12 and finished with 10 points (2 triples), 7 boards, and 3 steals. Then, in the dogfight against OKC, Bev only scored 3 points, but had 12 boards, 5 dimes, 2 steals, and no turnovers.
With his defensive stats and improved shooting percentages, Pat has added another component to an already dangerous Rockets offense. He lit up the Mavs on Saturday and finished with 15 points (4 triples), 7 boards, 2 dimes, and 1 steal. Only 60% owned, more than likely due to his lack of scoring. But, if you need guard help you could do a lot worse.
Eric Gordon-Hou, SG
E-Go has found his shooting stroke and is lighting up the competition. He has hit multiple 3's in the last nine games and is the relishing his 6th man role. Against the Lakers, Gordon hit a season high eight 3's in just 24 minutes of run and finished with 26 points. Then, he lit the Mavs up for 18 points (6 triples) and could have put up some serious numbers had the Rockets not blown them out.
Due to his previous injuries, it's easy to forget how much of a talent this man is. But, when healthy Gordon has always been a dynamic player. He is a vital part of this Rockets offense and a much needed spark off the bench. Plus, we are seeing a new defensive tenacity which had not been seen before. Gordon is currently averaging 17 points (3.5 triples), 2.7 boards, 2.6 dimes, and nearly 1 steal/block per game.

As always, the success of your fantasy season depends on the utilization of the waiver wire. To that end, let's review some options that may provide you with that spark your roster needs.
Aaron Gordon-Orl, SF/PF
When you shoot 0-12 as Aaron did against the Bucks, it's safe to say your minutes will now be under review. But, in the last four games Gordon has shown signs of life. With his minutes trending upward again, it would be worth monitoring his production to see if he can deliver. Against the Sixers, he dropped 20 points (2 triples), 2 boards, and 1 block. More recently against the Nuggets, in 22 minutes of run he finished with 11 points (1 triple), 6 boards, 3 dimes, and 1 steal. This type of line seems to be the prototypical evening for him. At 80% owned, he may have been dropped because of his poor play. But, with the injuries to some of the Magic's big men, Gordon's stock may be on the rise.
Omri Casspi-Sac, SF/PF
Oh Omri, you little trickster! You have fooled me many a times before, only to let me down as the season progressed. Which is why you are only 3% owned in standard leagues. But, his recent play has me taking notice again. His role is evolving and growing on a rather stagnant Kings offense, which is the only reason I would give him a flier. Omri has scored in double digits in three straight games. Last week he averaged 11.3 points (1 triple), 4.3 boards, 2 dimes, and almost 1 steal per game. The Kings started him over Kosta Koufos in the second half against the Jazz, but this didn't help deliver the win. If you are a glutton for punishment as I am, or have an interchangeable roster spot, why not grab him and see what he does.
Tim Hardaway Jr-Atl, SG/SF
With the injury to Kent Bazemore, Hardaway was given a crack at the starting lineup. Against the Bucks he finished with 18 points (3 triples), 4 boards, 4 dimes, and 1 steal. This line was a welcome departure from just the scoring he is accustomed to doing. Last week, Tim averaged 12.3 points (1.7 triples), 2.3 boards, 3 dimes, and almost 1 steal per game. With the MRI negative on Bazemore's knee, his return to the starting line up is imminent. But, even prior to his injury or maybe because of it, Bazemore has struggled. Meanwhile Hardaway, may have earned more playing time with his recent production. At only 9% owned, he is worth a look for points and some sporadic other stats.
Tim Frazier-NOP, PG/SG
In fantasy terms, owning a certain player can mean ceding certain stats. Take for example, Frazier, who by most counts is a fine player. But, his poor shooting percentages will likely cost you that category in the weekly match-ups. However, owners are content with "punting" those specific categories, when the other stats compensate for that. And, when the player finally starts to get it together and deliver in that specific stat, well that just makes you a stronger owner in this fantasy game.
Against the Suns, Tim put up his first career triple-double and finished with 14 points, 11 boards, 11 dimes, 5 steals, and 1 block off the bench. In the game before that against the Clippers, he finished with 20 points (1 triple), 1 rebound, and 11 dimes. The bench player hovers around 30 minutes per game, but his usefulness with vary based on lineups used. At 64% owned, he's worth owing, though he is a work in progress.
Since actuality doesn't always translate into fantasy relevance, I wanted to highlight some players who should be kept an eye on. These guys are an injury, coaching change, or big game away from impacting on a consistent basis. Mark them on your watch list.
Players on the cusp
Donatas Motiejunas-Hou, SF/PF
If and when D-mo ever passes his physical and the Rockets activate him, he will likely come off the bench. How he will fit into this offense and at whose expense is a good question. I'm just happy we can finally start to write about his talent and not his contract.
More from Space City Scoop
Nerlens Noel-Phi, PF/C
In making his season debut after knee surgery, Noel finished with 8 points and 1 steal in just ten minutes of action. Philly will likely bring him along slowly since they have an array of bigs at their disposal. However, sources are saying it's only a matter of time before he is traded. If traded, this will be an immediate boost to his fantasy appeal.
Kenneth Faried-Den, PF/C
Faried's inconsistent playing time hinders his fantasy potential. Against the Wizards, he was in Coach Malone's doghouse so he was given a DNP-CD (Did not play-coach's decision). But, in the very next game he finished with a double-double of 19 points and 10 boards. A very messy situation in Denver.
Juan Hernangomez-Den, SF/PF
To add to Faried's sporadic playing time is the fact that Juan is coming for his spot and has actually got back up minutes over Faried. Against the Magic, Juan put up a career high 14 points (4 triples), 4 boards, and 2 dimes. Did I mention how much of a mess Denver is right now?
Follow Space City Scoop as the Rockets begin a three game homestead and look to climb the rankings in the West.
This article originally appeared on