Houston Rockets Fantasy Outlook 11.21.16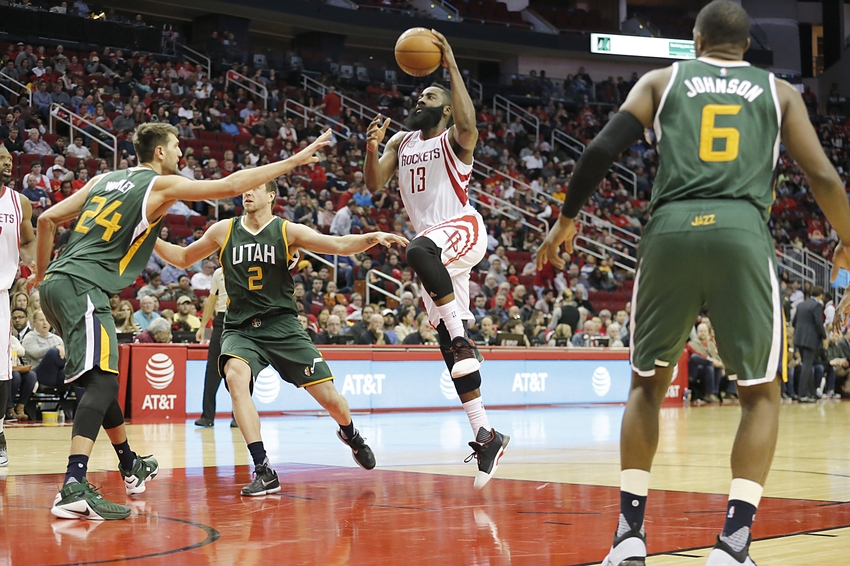 Analyzing our Houston Rockets and other players around the league to help make the most of your fantasy team for the week of Nov. 21st
Red Nations Fantasy Summit
The Houston Rockets went 3-1 this week and the only loss came at the hands of "The Brodie", Russell Westbrook. That particular game wasn't the prettiest, as evidenced by James Harden's 4/16 shooting effort, but in the end, it was still a very winnable game. The fact that the score was just a difference of two points, speaks to the effectiveness of the bench and the Rockets supporting cast. As a whole, this year's team seems to be a more cohesive unit and actually enjoy playing together. Oh and how did The Beard respond to the loss…just a triple double in a blow out win. You know, slight work.

From a fantasy perspective and also arguably in reality, James Harden is No. 1 player in the league right now. Against the Jazz in a matinee showdown, The Point Beard had 31 points, 3 boards, 10 dimes, and 2 blocks. As a fan, It is easy to expect this type of production night in and out, but the ease in which Harden is creating, should not be under valued. The man is here to create, as his commercial so eloquently puts it.
The Houston Rockets have four games this week against the Pistons, Raptors, Kings, and Blazers. I would expect the games against the Raptors and the Blazers to be the more challenging, but the "trap" games can have our boys play down to the competition. Now, before looking forward to this week's action, let's take a quick glance at some standouts from the Rockets over their last few games…
Patrick Beverley-HOU, PG/SG
The Rockets offense is gong to run through Harden, but Pat Beverley has assimilated to this new offense nicely. The tenacious guard has worked on his shooting stroke, so expect a couple of triples per game. But, Beverley's bread and butter has always been his defense. In fact, it's fair to consider him the defensive point, while Harden controls the offensive tempo. In his debut, Pat had 3 blocks and the following game, his active hands came away with 3 steals. Only 55% owned, Bev is worth a pick up for an owner, looking for a point guard, who can sporadically fill the stat sheet. Glad to have this man back!
Clint Capela-Hou, PF/C
The maturation of a player can, at times, be a grueling process and frustrating to watch. In Capela's case, it seems to be happening with each passing game. Against the Jazz, Capela had a career afternoon. The young center even showcased a few new moves, much to the surprise to those in attendance and our own Clyde "The Glide". Clint dropped 20 points (career high), 8 boards, 5 dimes, and 1 block. Still criminally under owned at 76%, he is fast becoming a must own center. Currently averaging 14 points, 10.5 boards, 1.8  dimes, and nearly 3 blocks per game. What more can I say?

As always, the success of your fantasy season depends on the utilization of the waiver wire. To that end, let's review some options that may provide you with that spark your roster needs.
Trey Lyles-Uta, PF
Obscurity can sometimes be the name of the game, fantasy wise at least. A player not worth owning, let alone tracking, can all of a sudden forcefully make you take notice. To that end, meet Trey Lyles. Against the Rockets, he had a season high 21 points and 5 boards. With the injured Derrick Favors to be out "a while", the Jazz only have Lyles and some elder vets (Boris Diaw and Joe Johnson) to rely on.
He started the season slow but broke out against the Spurs (15 pts, 7 boards, 3 dimes, 2 blocks), but couldn't find consistent minutes or production. However, in the last three games he has been able to increase his averages to 16.7 points (1 triple), 5.3 boards, and 1 steal per game. Only 39% owned, Lyles should flourish in his new starting role, albeit some inconsistency.
Will Barton-Den, SG/SF
Barton started the season hot, but an ankle injury forced him to sit out the last nine games. Sadly, injuries are an unfortunate part of the game. However, finally participating and making it through morning shoot-around, he was able to play on Sunday against the Jazz. In limited minutes off the bench, he put up 7 points, 3 boards, and 1 dime. Most importantly though, he was immediately given the starting SG job.
Gary Harris is out for the next four weeks, so Barton is a nice pick up, even when Harris returns. Prior to Will's injury, he scored 16 points, at least 4 boards, 3 dimes, and 1 block against Toronto and Portland. The Nuggets have four games this week and I expect Barton to find his rhythm, sooner rather than later. Only 51% owned, he should be picked up right away.
Matt Barnes-Sac, SG/SF
Once a team starts the season 5-9 and ranks 29th in offensive pace, you can expect some line up changes to come. Against the Spurs and the Clippers, Barnes was able to see almost 30 minutes of run. He responded with 15 points in both games (4 triples against the Clips), 7 boards, and at least 1 assist/steal/block.
Barnes was already producing top 125 value, but now looks to do more with the consistent run and starting job being given to him. Currently averaging 12.7 points (nearly 3 triples), 3.3 boards, 1.7 dimes, 1 steal, and 1 block. Only 24% owned, he's worth a speculative add to see how his role evolves.
Seth Curry-Dal, PG/SG
With J.J. Barea out the next six weeks (tear in left leg muscle) and Deron Williams out until early next week (calf strain), the Mavs are looking to rely heavily on Jonathan Gibson and Seth Curry. Curry is more of an "off the ball" type of guard, rather than a traditional point, but will see minutes at both guard spots.
Only 36% owned, he's currently averaging 9.8 points, 3.5 boards, 3.3 assists, and nearly 1 steal per game. Against the Magic, he was able to score 13 points (2 triples), 1 board, 4 dimes, and 2 steals. Since the Mav's lack depth, Curry's minutes are not in question. But, the disarray in Dallas basketball right now, seems to have scared owners off. Worth a hold.
Since actuality doesn't always translate to fantasy relevance, I wanted to touch base on some players who should be kept an eye on. These guys are an injury, coaching change, or big  game away from impacting on a consistent basis. Mark them on your watch list.
Sam Dekker-Hou, SF
I mention "Triple Dekk" here because of the injury to Trevor Ariza. Although, it looks to be nothing more than banged knees, Dekk could possibly see more run if Ariza can't go. As mentioned by me previously, it's his hustle that adheres him to Coach D'Antoni and the Red Nation.
Jonathan Gibson-Dal, SG
The dream of being in the NBA, or any goal actually, doesn't just stop if you go un-drafted or unnoticed. The burning passion to continue and hope that you have shown enough, in the opportunities given, can actually keep you up at night. Your mind speaks in this deafening silence and it's only audible to you.
More from Space City Scoop
Quite frankly, it's a haunting existence that is plagued with questions and uncertainty. But, "Without struggle there is no progress". Jonathan Gibson embodies a grind and persistence few of us will ever have. This young man took his craft overseas to hone his skill and because of injuries was finally given a shot with the Mavs. In just his second game, a few days after he was unemployed, he drops 26 points (5 triples), 6 boards, 3 dimes, and 2 steals. I have never been a fan of the Mavs, but Mr. Gibson I am rooting for you.
Want your voice heard? Join the Space City Scoop team!
Enjoy the season Red Nation and be sure to stay connected with Space City Scoop as our amazing team of writers keep you abreast of all things Houston Rockets.
This article originally appeared on