Houston Rockets Annihilate Knicks – Player Grades and Summary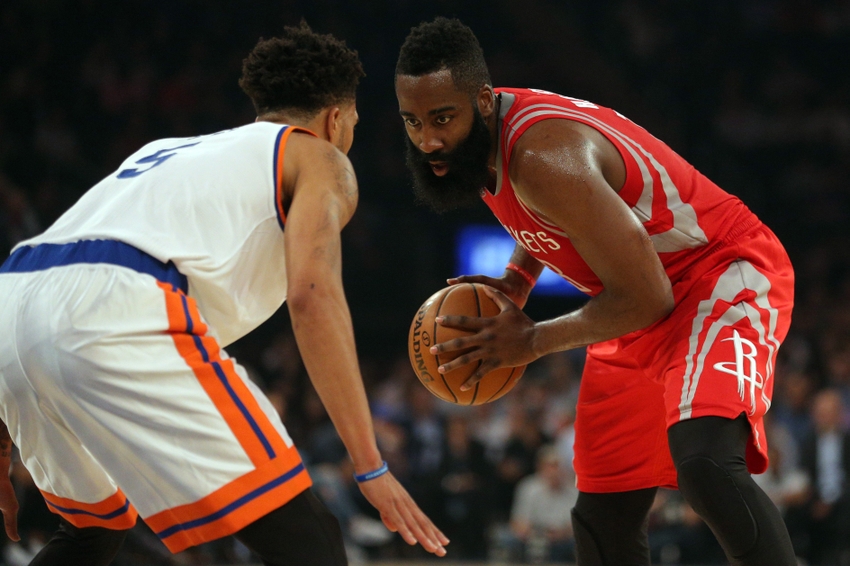 The Houston Rockets completely annihilate Knicks on their home floor. The Rockets improve to 1-1 on their five-game road trip.
Following a hard fought loss against the world champs, the Houston Rockets rolled into Madison Square Garden, Wednesday, the second stop of their five-game road trip.
The Rockets did not have time to enjoy the bright lights of Broadway, coming off the first half of their back-to-back. While in the Mecca of basketball, Houston got their first look at the revamped New York Knicks.
Houston got off to a blazing hot start behind a combined 23 points by James Harden and Ryan Anderson. They were able to jump out to a 12 point lead, but the Knicks battled back to close the gap within five, behind 2011 MVP Derrick Rose.
Unfortunately for the Knicks, they had no answer for Harden who lit Madison Square Garden up with 18 first half points. With their offense performing at their best, the Rockets led the Knicks 68-51 by halftime.
During the second half, Houston continued to click on all cylinders as they annihilated the Knicks on their home floor. After their 19 point win, the Rockets extended their winning streak to seven in the Big Apple.
Rockets Starting 5 Player Grades:
Clint
Capela
C,
Houston Rockets
C
After his subpar performance in Cleveland, Clint Capela had a better game in New York. However, I would have liked to see Capela become more active on the broads. 8 points, 6 rebounds.
Ryan
Anderson
PF,
Houston Rockets
A
Slowly but surely Ryan Anderson is starting to find his groove in Houston. In fact, this was Anderson's most efficient game of the season. He got the Rockets off to a hot start with back-to-back threes. As well as giving Kristaps Porzingis more than he could ask for on both ends of the floor. 16 points, 9 rebounds
Trevor
Ariza
SF,
Houston Rockets
B+
From one future Hall-of-Famer to another (in my opinion), Trevor Ariza had another tough defensive assignment in Carmelo Anthony. Similar to his defensive game against LeBron James, Ariza did a solid job containing the nine-time all-star. Most of Anthony's points came when guarded by another defender. Another great night for Ariza. 8 points, 4 rebounds, 4 assists.
Eric
Gordon
SG,
Houston Rockets
A
With the exploding performance coming from his backcourt mate, it was a quiet night for Eric Gordon. During the first quarter, it was easy to forget Gordon was on the floor. However, with Harden out, Gordon became the primary scorer for Houston's second unit. Gordon scored 10 points in the second quarter as he helped the Rockets push their lead to 20 before the half. Overall, best game of the season so far for the former Indiana Hoosier. 21 points, 3 rebounds
James
Harden
PG/SG,
Houston Rockets
A+
Perhaps playing against the NBA's most elite point guards has brought the best out of James Harden. Following what could be argued as the best performance of his career, the Beard had another spectacular game under the bright lights of the Big Apple. The Knicks had no answers for Harden who scored 18 first half points. The Rockets built a comfortable lead behind the best part of Harden's game. With that lead Harden then turned his attention to creating scoring opportunities for his teammates. 30 points, 15 assists, 6 rebounds.
Best Reserve:
Montrezl
Harrell
PF,
Houston Rockets
A-
It was a solid performance for the Rockets' bench as a whole. However, Montrezl Harrell stood out the most. While on the floor, Harrell provided the Rockets with a consistent scorer and rebounder in the low post. It was a career night for the Rockets second-year player. 17 points, 9 rebounds.
Best Opponent:
Enjoy the season Red Nation and be sure to stay connected with Space City Scoop as our amazing team of writers keep you abreast of all things Houston Rockets.
Carmelo
Anthony
SF,
New York knicks
C-
For Knicks fans, there was not much to cheer for. Thankfully Carmelo Anthony gave The Garden something nice to see. However, in the Words of Calvin Murphy, the Knicks performance was an embarrassment to basketball. 21 points, 7 rebounds.
During the game in our chat room I called the Dekker mishap citing it as a likely Shaqtin-A-Fool Candidate and sure enough the YouTube folks agreed.
More from Space City Scoop
Next up for the Houston Rockets they travel to Atlanta to face former Rockets big man Dwight Howard. The game is at 6:30PM CT/7:30PM ET Saturday, November 5, 2016.
Want your voice heard? Join the Space City Scoop team!
Enjoy the season Red Nation and be sure to stay connected with Space City Scoop as our amazing team of writers keep you abreast of all things Houston Rockets.
This article originally appeared on