Hoiberg Must Play Cristiano Felicio, Taller Defensive Guard in Second Unit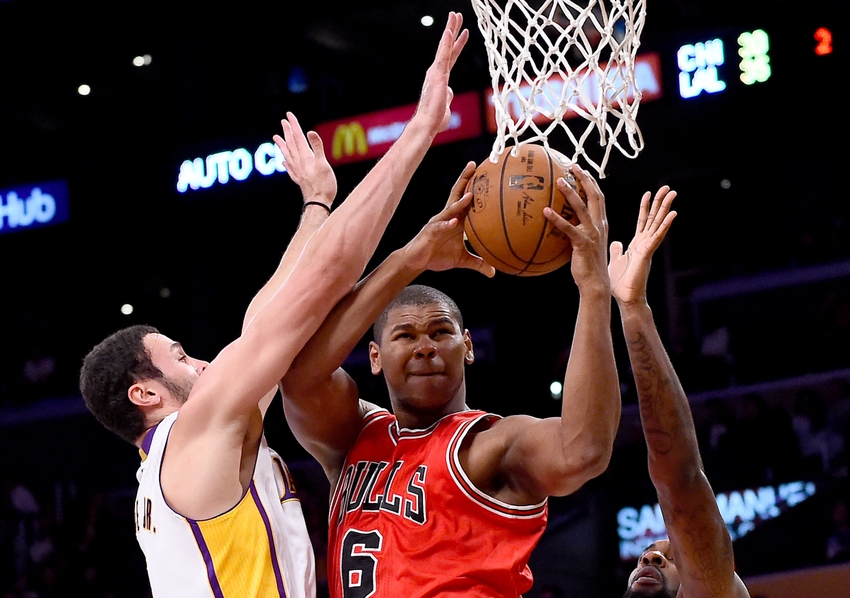 Unlike the failed experiment with Bobby Portis anchoring the defense in the paint, the Chicago Bulls have a proven pick-and-roll defender who can help: Cristiano Felicio.
After all the #FreeFelicio hashtags began to flow in begging for Bulls head coach Fred Hoiberg to use Cristiano Felicio in the second unit, the Bulls may be beginning to play him more minutes.
In the most recent loss to the Detroit Pistons, Hoiberg still plays Bobby Portis separately from Felicio. Last year, they played like a song together. Why does he forget?
Portis must play his natural defensive position as a versatile defender who helps out on defensive rebounding. It is time that the Bulls play Felicio to the point of starting him with Lopez. Hoiberg doesn't mix people enough until he's desperate, so expect the losses to pile up with player combinations that haven't worked.
The games against Portland and Detroit this also showed that Taj Gibson, in spite of impressive production on paper, has been a liability in the post against athletic bigs who can shoot and drive like Tobias Harris and Maurice Harkless.
Even Julius Randle finally figured out that he can play physical in the paint and actually beat him on the glass against Gibson. The Dallas Mavericks ran a rim-diving clinic with Gibson inside with Robin Lopez, barely able to do anything to stop the Mavs' lobs and backdoor cuts to the rim with their bigs. Hoiberg needs to pair Lopez with Felicio yesterday.
With Felicio playing the center position, they have a wall to get back on defense and stop run-outs if the Bulls point guard can hound the opposing playmaker or ball carrier and funnel him into Felicio for turnovers or to stop the ball movement.
Gibson is no wall and Portis isn't a shot-blocking menace. The Bulls need to play Felicio heavy minutes or lose games consistently with Portis forced to play inside and out of position when he should be hounding the perimeter.
The front count can't do their job without help from the back court D
All of this is moot of course when the Bulls do not stop the opposing playmaker.
Case in point: Portland and Detroit having their back court run rings around Isaiah Canaan and Jimmy Butler. Butler is obviously gassed now. It serves him right for not thinking about pacing his game and getting guys like Nikola Mirotic into the game so that he can lean on them to help him win and still get 20+ points a night.
More from Pippen Ain't Easy
Canaan cannot guard certain player types: Damian Lillard, C.J. McCollum, Reggie Jackson and even Ish Smith of all people. He is only good for a burst of about six minutes. Playing him for long stretches in the fourth quarter and the Bulls play their smallest back court defender against top scoring tall guards of opposing players.
Jerian Grant wallows in the bench when he could be guarding someone and stopping them. Opposing forwards only get their game going if the playmaker can run rings around the Bulls backcourt defender.
Why sit Grant when he is taller and has longer arms than smaller Canaan? Is Hoiberg blind to obvious mismatches that he can't see it doesn't work?
Butler is starting to play lax on defense and playing hero ball on offense. Time to trade him. Watch the film of the game and watch the fourth quarter. He elected to go shooting it out against Detroit instead of defending, and the Bulls lost.
Hoiberg forgets who plays well together
The biggest lesson for the Chicago Bulls may be the from Summer League experience where they had role guys helping everyone play better by boxing out, contributing and having the SummerBulls team flowing.
The Bulls need one of their guys to be a Hoiball forward: a post-up trap who draws defenders inside so he can kick the ball back to either Mirotic or McDermott, something Felicio was known for doing all of last year. How short is the memory of the coaching staff?
Do they have to spell it out to the team? They can actually shift Taj Gibson's production to Mirotic and Valentine, but why don't they?
The fact that Jimmy Butler has now been scouted and has been shown to have a hard time against double teams or blitz defense means that Fred Hoiberg must adjust immediately.
He can't wait after losses with the same mistakes: Portis playing out of position defending the paint instead of the perimeter, Rondo and Canaan being ineffective on defense against scoring guards who light it up while Jerian Grant sits.
Even R.J. Hunter could be used a shooter who can be used with plays instead of playing Butler all those extra minutes and gassing him out more for the next game.
Mirotic may be on the receiving end of what looks like a freeze-out where he is always open, either inside the paint against a lone defender or at the perimeter, yet nobody makes the return pass to get him into rhythm. Mirotic's offensive game is a a rhythm game, unlike Isaiah Canaan or Denzel Valentine who can light it up on spot touches in short minutes. The team must involve Niko in the offense at the expense of Jimmy touching the ball all the time.
It might be better to play Paul Zipser alongside Mirotic than Butler or Dwyane Wade and see the offense starts to hum.  Zipser can shoot with a hand in his face unlike Butler and he is a defensive presence who needs to get a feel of the NBA front court action. Zipser looks like a better fit than Portis defending the post which is his natural game.
When Felicio and Zipser help the team make a turnaround, I hope never forgets who among his team plays in sync with whom, and who plays well just by themselves (Gibson and Butler in particular are black hole players who are killing the team).  It's like a Pau Gasol and Jimmy team all over again. Can't anyone see this?
In the long run, Gar Forman may really have to choose whether Jimmy Butler is worth keeping as an ISO-heavy offense that slows down the team immensely, and who can be slowed down by just a double team or a long-armed defender.
Expect a string of losses with bad habits recurring from last year: ISO-ball hogging, no guard defense, shooters sitting when they could play and sets be designed for them, Fred forgetting his Summer League team chemistry.
Watch the Detroit and Portland game again and count how many times the opposing guard blew by Butler and Canaan in the fourth quarter to dump the ball to their big or score at will. That's last year repeating itself.
This article originally appeared on