Hill Continues to Impress In Utah Jazz Win Over Spurs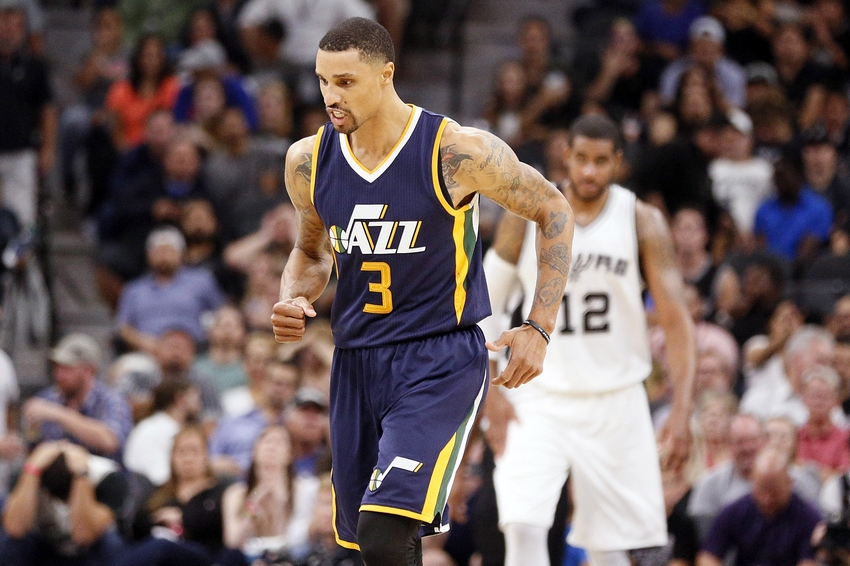 George Hill continued his impressive play so far this season by leading the Utah Jazz to a statement victory over the previously undefeated San Antonio Spurs.
Prior to Tuesday's road contest against the Spurs, the Utah Jazz were coming off a gut wrenching loss to the Clippers. Their offense hadn't looked up to snuff. They had lost 10 straight games in San Antonio. Simply put, their chances didn't seem all that good as they headed into the fourth game of the season.
Boy, do I sure love being wrong.
Unlike my inaccurate prediction of the outcome of this game, the Jazz came out with an energy and efficiency in the first quarter that was unlike anything we have witnessed this season.
Utah used a stirring performance in the first period of play in which they shot 72 percent from the field and 7-of-8 from deep to propel themselves to a huge 106-91 victory over the previously undefeated San Antonio Spurs.
The Jazz finished the game shooting an impressive 50 percent from the field and an even more scintillating 48.4 percent from deep to overpower Kawhi Leonard and the Spurs. It was undoubtedly an offensive performance to remember as the Jazz repeatedly took advantage of great ball movement to beat the Spurs at their own game.
Shame on me for being so doubtful of this team's chances.
And while there were so many incredible positive takeaways, many of which were already touched on by our very own Ryan Aston such as the smothering defense, solid bench play (particularly of Shelvin Mack and Trey Lyles), Rodney Hood's performance and of course the team's overall red hot shooting, one player in particular truly stood out above the rest – George Hill.
So far, Hill's addition to this Jazz squad has been nothing short of spectacular. In four games he's averaging 20.5 points (nearly double his career average) on 53.4 percent shooting and despite a rocky start from deep has already elevated his three-point percentage to 36.4 percent. And it's certain to climb from there.
In the win against San Antonio, Hill put up 22 points on 9-of-13 (69.2 percent) shooting while also logging seven assists. He also converted on 3-of-5 three-point attempts.
But stats don't even do justice to what Hill has brought to this team. His toughness, aggressiveness and ability to perform under pressure have been vital to the Jazz. And he showed it more in the win over the Spurs than in any other game so far this season. While San Antonio fell apart down the stretch, Hill came up big.
At one point in the fourth quarter, Hill effectively took over the game, scoring ten straight points and propelling the Jazz to sure victory. Of course he was also his usual incredible self on defense where he played a major role in holding both Tony Parker and Patty Mills below double figures.
The Jazz brought in Hill to be a leader on this young team and he surely has not disappointed. When they've needed someone to rely on, when they've needed a level head, when they've needed someone who they know will make good decisions and take care of the ball, they've looked to George Hill.
"Play like you've been there before. Coach Pop always instilled that into me my first three years here. Don't show really that much emotion, unless it's part of the game, but act like you've been there before. That's what I try to instill in the guys, move onto the next play every time." – George Hill
Against a daunting San Antonio defense, Hill didn't turn the ball over a single time and only has four total turnovers in four games this season.
Jazz brass expected Hill to be good, but I honestly don't think even they knew he would be this good.
It's obviously still early, but if Hill can maintain this incredible pace and leadership throughout the year, he may be lining himself up for his first All-Star appearance.
Of course the criticism on Hill in the past has been that he tends to take a back seat to his more talented teammates, much like he did with Paul George in Indiana.
But that can't be the case in Utah. When Gordon Hayward returns, Hill will have to continue to play with the same energy and continue to be a leader on both ends of the court.
If he's able to do that alongside a healthy Hayward, this team is going to become really scary, really fast. While their scorching hot first quarter against the Spurs probably set an unrealistic expectation of what they're consistently capable of, Matt Harpring said it well when he pointed out how that first quarter of play was a good representation of just how good this team can be when they're playing at their best.
And Hill's consistent three-point shooting, electrifying finishes at the rim, lockdown defense and level-headed leadership will all be key elements of the Jazz actually realizing this success.
More from Purple and Blues
George Hill has been Utah's best player so far. He proved that beyond a doubt in the Jazz's statement win over the Spurs. And as he's surrounded by more talent in a healthy Hayward and healthy Favors (who played just 15 minutes in Tuesday's contest), I only expect him to become all the more impressive.
All stats courtesy of NBA.com/stats
This article originally appeared on