Henry Ellenson and Michael Gbinije to join the Grand Rapids Drive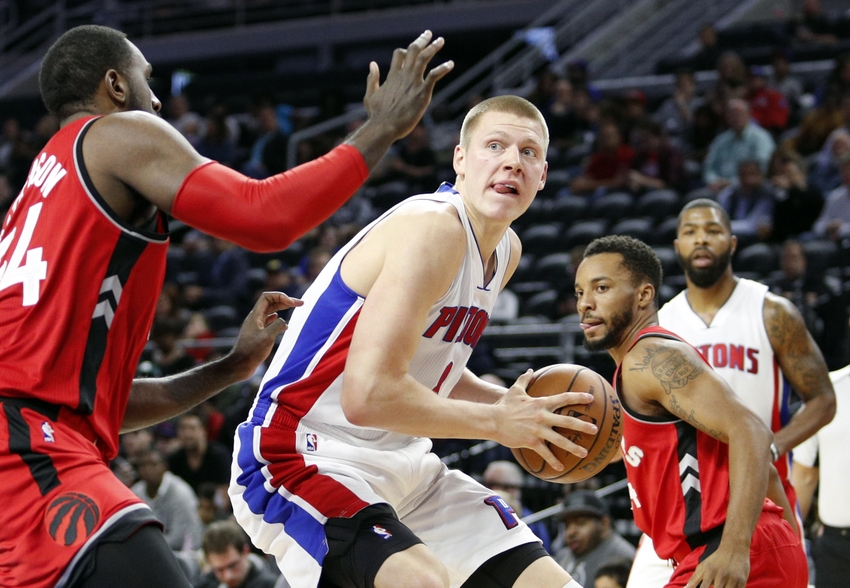 While the Detroit Pistons head out of town on their Western Conference road trip, Henry Ellenson and Michael Gbinije will be joining the Grand Rapids Drive.
Rookies Henry Ellenson and Michael Gbinije have gotten a taste of life in the NBA over the first few games of the Detroit Pistons' season, but now it's time to pack their bags.
While the Pistons head out west for their annual West Coast road trip, Ellenson and Gbinije will be off to join the Grand Rapids Drive, the Pistons NBA D-League affiliate.
During the season, especially during grueling road trips, NBA teams simply don't have much time to practice. For rookies who don't expect to see much time on the floor, that can invite stagnation and be a serious developmental detriment.
The solution in this case is to have the rookies work hard with the Drive.
Per Rod Beard of the Detroit News, Stan Van Gundy elaborated on the plan for Ellenson and Gbinije:
"Barring injury tomorrow, they'll practice with us Sunday and when we head west, they'll go to Grand Rapids for the week and practice, because they're still practicing hard and a lot of 5-on-5 and actually go two-a-day twice," Van Gundy said.
It's important the pair understand that this is not a demotion, and that they see the value in this move.
Van Gundy went on to say:
"It's for their development and as I told them, it's because we're so happy and so excited about them that we don't want them taking any step back," Van Gundy said. "They need to play basketball and continue to be coached and taught in live situations and they'll get that in Grand Rapids with Rex (Walters) and his staff."
Ellenson and Gbinije will get to practice with players who have NBA experience, such as Shannon Brown, Jordan Crawford, and Lorenzo Brown and Ray McCallum, both of whom they played with during training camp and the preseason with the Pistons.
It's expected this will be a temporary move, so watch for Ellenson and Gbinije to rejoin the team when they return from the West Coast.
This article originally appeared on